Preparing for your Beauty-ful Day
Haven't you heard of that famous bridal glow? Beauty professionals are there to help you look, and feel, your very best. Whether they specialize in health and exercise recommendations, feature-enhancing hair and makeup, or stress-relieving practices, your beauty team will help you shine on your wedding day!
---
Juicy by Mon Cheri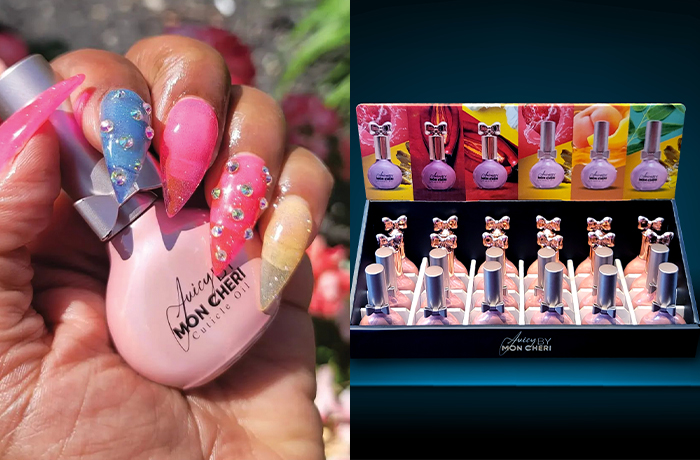 Juicy by Mon Cheri is a beauty brand that emphasizes natural oil-based products for cuticles and skin care. The brand was inspired by the founder's personal struggle to find a cuticle oil during the pandemic to heal her damaged nails from nail biting. Through research into the benefits of different oils, she founded Juicy by Mon Cheri, which is designed to nourish not only the nails but also the skin around them, promoting overall health and maintenance, especially for those with acrylics, gels, or other nail treatments. The brand features 6 unique cuticle oil scents to hydrate and strengthen nails, and the founder is a firm believer in the potency of natural, organic ingredients. The product line has since expanded to include body oils for moisturization, all utilizing the healing properties of black seed oil.
With its juicy scents and flavors, Juicy by Mon Cheri appeals to busy, fashionable individuals who prioritize both fun and results in their skincare routine, offering an edgy and luxurious skincare experience. Give your manicure a flawless look and a longer life with this intense cuticle treatment. With 6 scents to pick from, you can have hydrated and strong nails for your special day!
330-592-2983 | www.bymoncheri.com | Follow on Instagram
Morgan Szakal Makeup Artistry

Morgan Szakal, a licensed cosmetologist since 2015 with over seven years of experience in the bridal world. Morgan caters to the entire Northeast Ohio region but travels wherever she needed. She specializes in both airbrush and traditional makeup, always applied with high quality products and my creative expertise.
Morgan offers more individualized, one-on-one services like boudoir hair & makeup, makeup for special events, and even customized makeup lessons! Morgan specializes in makeup that will photograph beautifully, compliment your features and make you feel your most beautiful for any pre-wedding occasions. A superior makeup application enhances your natural beauty & makes you feel like the most beautiful version of yourself. It's what every bride deserves, and it would be Morgan's pleasure to give you that for your big day!
330-814-4172 | www.mhamolia.wixsite.com/website | Follow on Instagram
A White Pond Paradise Salon & Day Spa

The most essential element of our day spa is providing you an opportunity to "escape" and put the stresses of your daily life behind, while you are receiving results-oriented services.  With our experience and knowledge, we can help you achieve seemingly effortless results.  Our mission is to provide high-quality, personalized spa services.  We commit to our clients and staff to provide a professional, clean and healthy environment to receive and deliver these services.  It is also our mission to provide an opportunity for our staff to continue their education so they can further their careers and continue to provide the highest quality services to our clients.
At A White Pond Paradise Salon & Day Spa, we want to make sure you look your very best on your wedding day — it's one of the most important days of your life! Looking your best looks different for different people, so after consulting with you and your wedding party, we will recommend a schedule of treatments and services tailored to fit your needs. Makeup, manicures, and massages — our variety of packages have what you need to look as great on the outside as you're feeling on the inside.
330-865-7800 | www.awhitepondparadise.com/ | Follow on Instagram
Alt Bridal

All in salon services are provided by Missy Karp! She specializes in wedding hair for the Alternative and Altruistic bride! Missy loves all things hair and is proud to be able to provide completely vegan friendly services! We use vegan products that are cruelty free and environmentally friendly. Missy has been in the industry since 2010 and is driven by education and is always learning. She loves adding length with extensions or cutting short hair! When it comes to hair color her specialty is dimensional color in natural or fashion tones! Hair is a creative outlet for her and loves that her passion is also her career!
Alt Bridal strives to make you feel confident on your wedding day by helping you achieve your unique hair and makeup goals. It is her personal goal to make sure you are treated kindly and feel comfortable. There are so many things to worry about on your wedding day, but your hair and makeup should not be one of them!
440-785-1104 | www.altruisticsalon.com/alt | Follow on Instagram