Emily & Mary's Real Wedding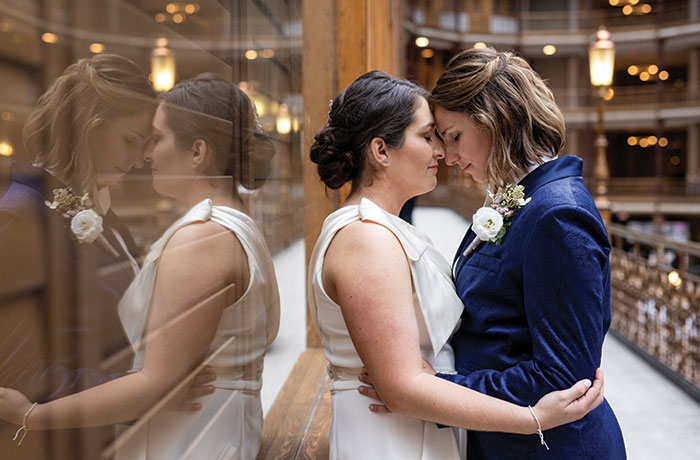 Emily & Mary's Real Wedding | Cleveland, OH
Emily and Mary's wedding at The Hanna Garden in the Cleveland History Center was an enchanting blend of nature and history. The lush greenery and vibrant flowers created a romantic ceremony, while the emotions exchanged during their vows hung in the air. The reception, held in the inviting Great Lakes Brewing Company tasting room, brought a unique touch. Guests indulged in delicious food and drinks against the backdrop of the city's brewing legacy. Laughter and shared stories filled the space, adding warmth to a day that beautifully combined love, nature, history, and camaraderie.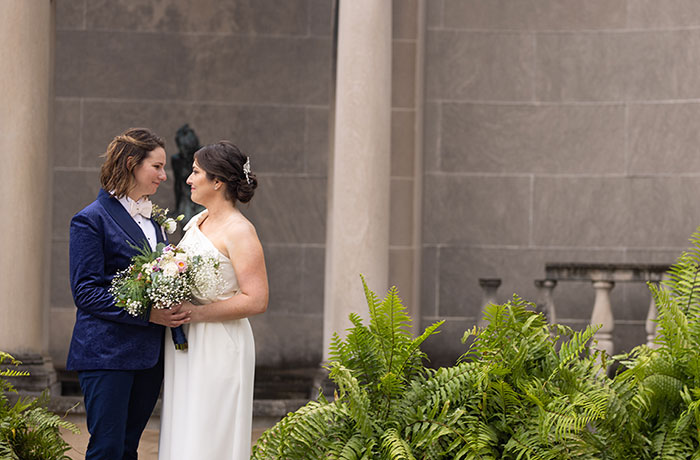 How They met
Emily and Mary were both involved in Stonewall Sports Cleveland, a nonprofit sports organization that focuses on the LGBTQIA+ community. Their journeys aligned as they became part of the same dodgeball team. Yet, their relationship surpassed the teammate dynamic, swiftly blossoming into something deeper and more meaningful.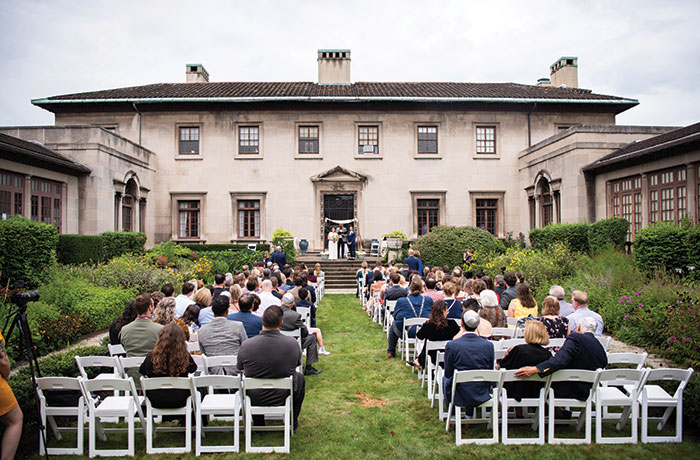 their engagement story
After a family beach trip, Emily and Mary took the scenic route home via the Blue Ridge Parkway. Despite the fog, a clear morning greeted them as they hiked to a waterfall. Emily set up her tripod and proceeded to propose at Linville Falls. Her words echoed the Parkway's motto: "The journey is the destination." This beautifully captured their shared voyage and the significant step they were about to take together.
Advice from the brides
"The day goes by fast so make sure to take some moments to take a deep breath and enjoy that you're getting to marry your best friend! Hire people who you can trust to take care of the little things so you can enjoy yourself."
Emily & mary's VENDORS
Bridal Shop: David's Bridal and Sumissura
Cake/Bakery: Emily's Mother
Caterer: Great Lakes Brewing Company
Ceremony Location: The Hanna Garden at the Cleveland History Center
Ceremony Musicians: Ensemble Mercury
Entertainment: Cleveland Premier Entertainment
Gift Registry: Create & Barrel and Bed Bath & Beyond
Guest Accommodations: Hyatt Regency At The Arcade
Hair Salon: Amp'd Salon
Invitations & Stationary: Minted
Jewelry & Accessories: Broestl & Wallis Fine Jewelers
Photographer: B. Frohman Imaging Design
Reception Location: Great Lakes Brewing Company Tasting Room
Transportation: Platinum Party Bus