A Seasonal Celebration: Cutting Costs on a Gorgeous Fall Wedding
Rustic color palettes, gorgeous outdoor venues, caramel apple favors and lace long-sleeved gowns? It's no wonder so many brides fall in love with autumn weddings! Along with all the whimsical touches of a blustery big day come the general uncertainties, like pricey bouquet arrangements and climate conditions; but have no fear, brides-to-be, Today's Bride has harvested the best planning tips for your seasonal nuptials!
Plan B Business
As many Ohio natives know, it's not unusual to witness a 65-degree heat wave and snowflakes – in the same week of November! This can make a backup plane essential to autumn weddings. Snowy roads and freezing temperatures can lead to delays. Many vendors have backup plans written in their contracts, but it's always a good idea to have a couple substitute vendors (and their contact information) in mind, just in case the weather gets in the way. This could end up saving you money and your wedding day plans!
Featured Florals
During this season, commonly popular bouquet options are pricey, so make your arrangement out of in-season options like sunflowers, garden roses, dahlias, and eucalyptus!
Cut the Cake
If you're smitten with a festive fall theme, follow the growing micro-trend of serving multiple pies over a large, decadent cake! Give guests a variety of flavor with piping hot apple, pumpkin and berry pies. Paired with vanilla ice cream and bourbon maple cider, this dessert can be a lot less expensive and more creative!
Venue with a View
Gorgeous gold, maroon and marigold toned trees are all the decoration you need for your ceremony site. Fall makes for an incredible outdoor ceremony and reception season! Take advantage of the natural furnishings by celebrating your ceremony on a quaint farm, a glamorous vineyard or a whimsical wooded area. A decked out barn or log cabin are amazing reception venues and, in most cases, more fun and less expensive than a hotel ballroom.
Soul Food Fun
Food is a great way to warm up guests! Arrange a mac & cheese station or carving table that allows guests to mingle while serving themselves reception fare. It depends on your venue, but by serving in-season dinner options buffet style, you can save money and spend it on a build-your-own s'mores bar!
Wraps for Warmth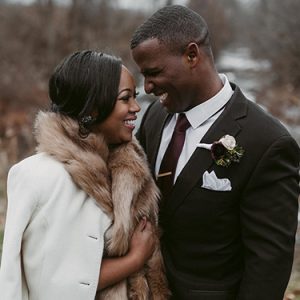 If your big day falls closer to the end of Autumn, you'll want to dress appropriately for outdoor photo-shoots. If your dress is sleeveless, opt for a textured organza wrap, a chiffon shawl or a faux fur cape as opposed to expensive transformation alterations! Find your perfect outerwear option here. You can modify your look throughout the night while saving money and staying chic and cozy!
Decorate on a Dime
With all the aesthetically amazing fall decor, you can stay true to the theme without breaking the bank. Use hay bales as alternative outdoor seating, pine cones as place card holders painted pumpkins as centerpieces and caramel apples as favors! All of these whimsical fall details can be purchased at your local farmer's market (and usually in bulk!). Much more colorful and less expensive than rhinestones and roses!
---
There are so many features that make a fall wedding unforgettable! Cut costs and ramp up the creative aspects of your wedding. You can then put your savings towards a harvest honeymoon! From the breathtaking backdrop of an outdoor venue to the variety of vibrant decor options, an enchanting autumn ceremony and fireside reception are perfect for celebrating your union.