Awesome Alternatives to the Bachelorette Party Bar Crawl
A bridesmaid's responsibility is to support and assist the bride with every wedding detail leading up to the big day. Help her choose the perfect dress, help her craft DIY centerpieces, and ultimately stand by her side as she weds her significant other. You've been chosen because you're one of her closest friends – but along with the title of "Bride's Best Friend" comes a whirlwind of responsibility and planning!
A major event leading up to the wedding day is none other than the BFF-infused, festivity-filled bachelorette party! It should be special and fun, allowing the bride and bridal party to let loose and bond before the big day. However, the night of the bachelorette party doesn't have to be followed by a heavy morning hangover. Browse our amazing list of alternative bachelorette party ideas!
Glamping with the Girls
Glamping (glamorous camping) is all about appreciating nature luxuriously! You don't have to break out the dusty sleeping bags or flashlights; you and the girls can relax and relish in the ultimate travel experience! Whether it's a weekend spent in a gorgeous log cabin, a bed and breakfast in Amish country or a cozy mountain lodge, adventuring glamorously with your girlfriends is guaranteed to make memories that will last a lifetime.
Spa Soiree
Sure, maybe you and the girls enjoy your monthly mani-pedi appointments, but when is the last time you all had the chance to truly relax at a spa? Book a day's worth of facials, massages, charcoal exfoliate treatments and mud baths! Give yourselves a chance to be pampered while preparing to look and feel your best on the day of the wedding!
Scavenger Hunt Celebration
Looking for something extremely budget-friendly but still incredibly fun? Put together a bachelorette party scavenger hunt! Split the bridal party into teams and give them a list of activities that they must document around town. Our ideas:
A snap of a stranger serenading the bride

A picture of the bride and groom's favorite restaurant

Video footage of your team toasting the bride with her favorite drink

A picture of your team improvising the bouquet toss, with a random object in a public place!
Classic Tea Party
When you were a child, what was more fun than getting your girls (and Barbie dolls) together for a spot of tea? There's still something whimsical about throwing a tea party! Dress up in your Sunday best and decorate a location with flowers and delicate details. Bring the bride's favorite tea (or some wine) as well as an array of finger foods. This is a simple and sweet way to bond with the bridal party and clear your head of wedding day worries.
Psychic Reading Get-Together
If you're looking to plan something a lot less traditional, engage in some futuristic story telling! Plan a group reading or individual sessions with a psychic! Many psychics offer a variety of services, from palm readings to tarot card readings. This is a super unique way to celebrate the future and kick off the night!
Dance Class Carouse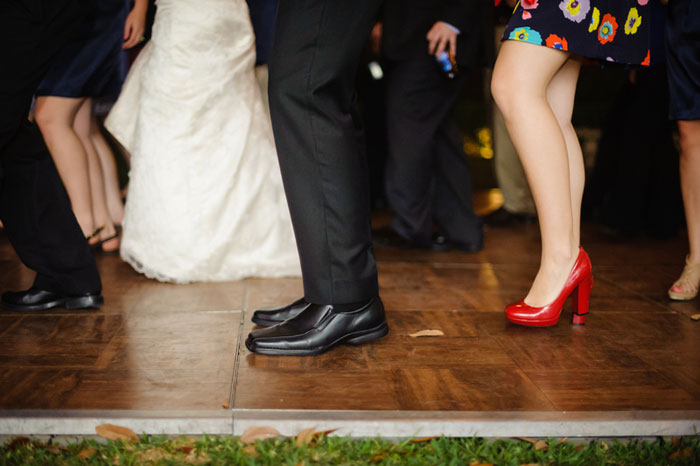 You don't need a crowded bar-room dance floor to get down – plan an extremely entertaining party at a dance studio! Spice up your night with some salsa lessons, learn a country line dance or get a little risqué with a pole-dancing class! You're guaranteed to pick up some moves for the reception while laughing and discovering some new routines!
Destination Weekend
Wedding planning can get stressful. Uncertainties and planning issues can ruffle feathers between friends and unnerve even the most easygoing brides. Sometimes, you just need to relax and take a break from figuring out every wedding day detail. Meet up with your local travel agent to soak up the sun at a beach house in the Outer Banks, hit the Vegas strip for some shopping and gambling or visit Nashville for a karaoke-filled bachelorette extravaganza!
Workout Spree
If health is a top priority or the bride is really focused on looking her best for the big day, discuss a workout-themed bachelorette party! Instead of bar crawling, try jogging to the nearest steam-room yoga studio. Zumba, cycling or even a color-run race is the perfect way to tone up as you fine tune wedding party particulars.
Concert Gathering
Why settle for a club DJ when you can hear live music from the bride's favorite band? Maybe her current favorite artist is coming to town, or you can find tickets to a reunion tour from your group's favorite band back in high school (when do New Kids on the Block come back to Cleveland?) Crooning away with her girls will create unforgettable memories for the bride. Bonus points if you get front-row seats or backstage passes!
Cooking Class Fiesta
Attending a cooking class is a win-win for everyone! You're learning new skills while cooking something delicious and spending quality time with each other. Learn new techniques while whipping up fancy fare! After your cooking class, show the entire bridal party some love by inviting the groom and groomsmen over to enjoy your dinner.
A night out downtown with your best friends is always a good time, but if you're interested in planning a unique bachelorette party, don't be afraid to think outside the box! Enjoy the outdoors, cross off some bucket list activities or take a mini vacation. Whatever you end up doing, focus on celebrating the bride's big day as well as your everlasting friendships!
For more Bachelorette Party Ideas, check out our Pinterest!
Happy planning!
-Written by Meg Kraft