Table Styles
Dinners can be awkward…especially when all you want to do is dance! Make sure you choose a reception table style that accommodates your guests and the size of your venue.
If you're having an intimate wedding, you have a lot of different options for food service, table design, and centerpieces. Large weddings can be more difficult. You'll have to find room to fit the number of tables, everyone's plates, and your gorgeous centerpiece. Learn more about different table styles and how to arrange them to make your style work at your venue!
Head Tables
At a typical wedding reception, you'd see a traditional head table – consisting of two 8′ tables side-by-side – at the front or raised on a platform of sorts. If this table is solely for the wedding party and newlyweds, they are all seated on one side of the table, facing the guests. If you allow your bridal party to have a plus one, modern brides and grooms have begun adding chairs on the other side of the table to create a more normal dinner setting. The negative of this style of seating is that your friends' plus one's could potentially block your guests and photographer from getting pictures of you and your new spouse.
King's Table
One way to battle this problem is by having a King's Table as your head. Similar to a traditional head table, the difference between the two is that the King's Table is rotated 90 degrees with the newlyweds sitting at the helm of the table. This allows all of your wedding party to bring and sit across from their dates while still allowing everyone a beautiful view of your union.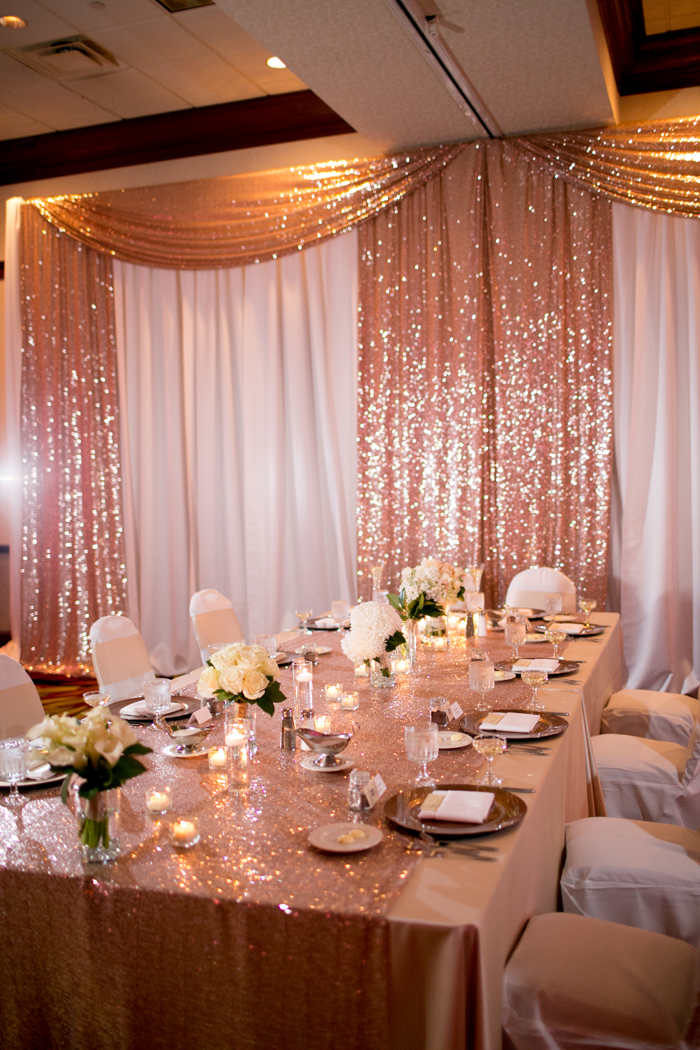 Staggered
There are alternative ways to arranging a head table, though. One way is to have a staggered head table where the bride and groom – or a small table that includes the bride, groom, maid-of-honor, and best man – are raised on a stage or a platform with a table beneath them containing the rest of the party and their dates.
Sweetheart Table
The popularity of the Sweetheart Head Table continues to grow, and is one of our favorite trends. We always try to remind engaged couples that your wedding is about YOU! And yet, between rushing through the events, sticking to a schedule, and mingling with guests, you often don't even get to appreciate your first moments of being married with your actual spouse. Having a Sweetheart Table gives you the time to just take in the moment with your new husband or wife and soak up your love and excitement at finally being married with no interruptions and no distractions. You can enjoy each other's company without being pulled into different conversations. Meanwhile, your friends and family sit just feet away at reserved tables!
Round Tables
Round tables are arguably the most popular choice when it comes to wedding receptions. They encourage conversation amongst your guests and don't take up much space. If you want a large dance floor but don't have a massive venue, round tables are probably a good choice for you. You can get a 6-seat round table or an 8-seat table.
With round tables, centerpieces should be space-appropriate and have some height. You want to make sure that your guests can communicate with each other easily as well as leave them enough room to comfortably eat.
Runners aren't very popular with round tables, so choosing a fun printed linen or alternating solid colors with prints adds some variety and interest to your decor.
When planning out your seating chart, try to allow for enough space in between tables that guests can walk freely. Though you want guests to be seated and eating during dinner, you don't want to force them to walk through a maze to use the restrooms.
Rectangular Tables
It seems that modern brides like the idea of long rectangular tables at their wedding receptions! Making for an interesting aesthetic and unique layouts, rectangle and square tables are giving today's brides that contemporary, one-of-a-kind feel.
The downfall to having long tables is that they do take up a lot of space. If you're have a more intimate wedding reception, rectangular tables can make for a fun new way to try out some of your favorite trends. If you expect a lot of guests, though, and want to ensure enough room for a dance floor, we'd suggest going with round tables and throwing a few square tables in here or there.
Mixed Styles
When you're trying to create a unique atmosphere for your reception, ask your rental, decor, and lighting professionals if they've seen any new trends or have a fresh spin to put on a common layout. They've seen it all, so they know what works and what doesn't when it comes to trying out new things.
To see more of our favorite table designs, check in with our Pinterest boards often!  Plus, choose the right centerpiece for your tables with this helpful blog!