The Perfect Fall Wedding
Whenever you're basing your wedding off of a season or a holiday, things can quickly get out of hand. You can have a wedding at Halloween without a black and orange color scheme, and Christmas weddings can actually be quite beautiful instead of cheesy and overdone. Similarly, fall weddings don't have to be filled with hay bales, mason jars, baby's breath, and leaves. There are a lot of other decor options to make your fall wedding reminiscent of the season without revolving around it.
Venues
Vineyards
Vineyards and Wineries are the typical venue that come to mind when you're considering a Fall Wedding, and that's because they make for some incredible photos and beautiful scenery! Though you may feel like this venue is overused, you can't go wrong with a vineyard wedding. You'll have access to outside if the weather is nice or can party the night away inside! Plus, you have amazing bar options right there!
Barn
Another typical-for-good-reason venue is a barn. Though the "rustic" themed wedding trend is starting to fade from popularity, there are so many different ways to decorate a barn. Add some twinkly lights, antique furniture with modern accents, and pops of color to make for a fall wedding venue that offers character and style.
Greenhouse
If you want somewhere different but don't want to chance the unpredictable weather, consider a greenhouse reception! You'll get a lot of natural light and will feel the warmth of the sun without the brisk cold in the air. Plus, it's virtually a blank canvas for you to design however you want!
Outside
One risk with having a Fall Wedding in Northeast Ohio is the weather. While September and October can see highs in the 70s and 80s, November can see as low as 18 degrees (or even colder!). If you're getting married in the earlier months of fall, though, we definitely suggest considering an outside wedding! Heated tents will allow you to appreciate the changing colors of the trees and watch the sunset with your new spouse. Plus, you can have bonfires (if your venue allows it) and roast marshmallows or make s'mores!
If you're not planning on having a church wedding, having an outside wedding with a gorgeous backdrop of the changing leaves can make for a beautiful photo-op. Because the ceremony usually takes place before the sun has set, it's a little warmer and allows for your guests to sit comfortably. Plus, you won't have to worry about providing fans or water to overheated guests like you would for a summer wedding! An organic arch, historic gazebo, or scenic garden make for a wonderful ceremony setting.
Find your perfect venue here! With locations in the country, on vineyards, in the city, or by the water, you're sure to find somewhere you love.
Colors
Rich, deep colors are perfect for a fall wedding. Deep maroons and burgundies and royal blues and purples are the perfect colors to complement your theme and flowers without standing out in a bad way. If you want something a little different, try a burnt orange or mustard yellow; be warned, though, that not all complexions look good with these colors. Have all of your bridesmaids try a sample on.
To break away from the norm, consider adding an unexpected pop of color! Bright yellow or a salmon pink don't normally come to mind when you think of autumn, but incorporating those colors in a subtle way can make for a unique theme and a one-of-a-kind wedding day!
Flowers
Who doesn't love sunflowers? The perfect flower for a fall wedding, sunflowers brighten up any room or arrangement and just bring smiles to everyone's face. We don't know how they do it, but sunflowers radiate happiness, which is the perfect accessory for your wedding day!
If you want more subdued colors that perfectly balance greens with rich colors, try orange roses, purple ranunculuses, red or purple tinged succulents, pine, red peonies, lavender, and hydrangeas.
For a more rustic, vintage, or natural feel, consider using lavender, lilac, or wheat stems. They look beautiful, yet don't take away from your beauty. Plus, they smell fantastic!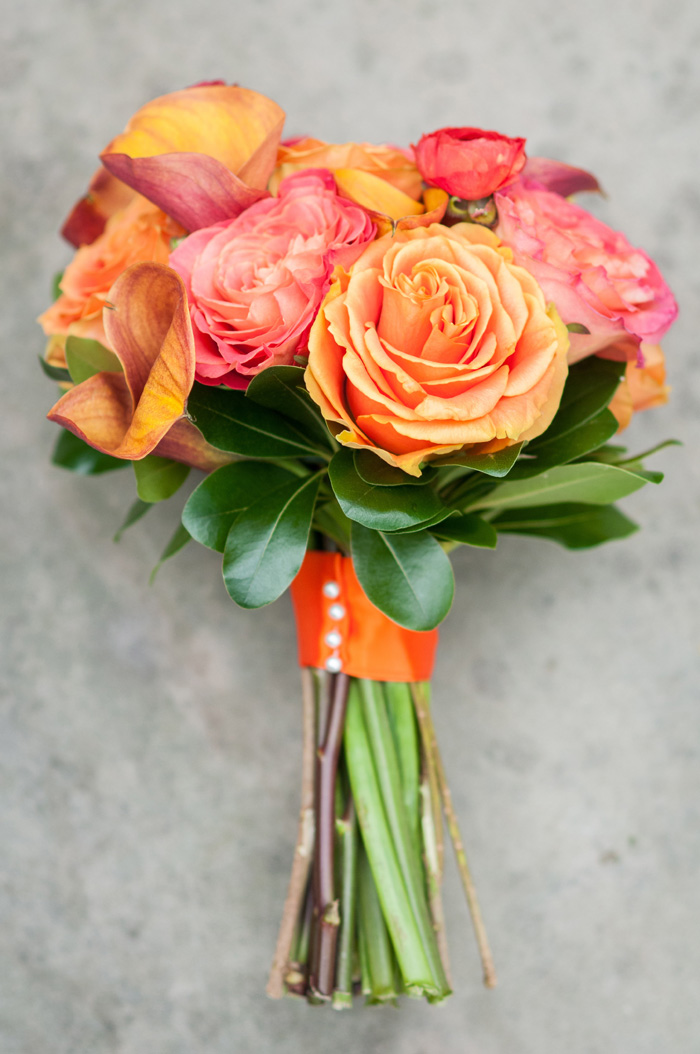 Fresh, bright colors are usually saved for spring and summer weddings, but combining the right colors together can create a fall look that doesn't have to be deep-toned!
Talk to your local florist about what flowers are in season and how you can combine them to create a bright and playful fall arrangement.
Dress
If you do decide to have an outside ceremony or reception, you might want to consider some options to keep warm. Though having long sleeves on your wedding gown may be the first idea that comes to mind, a lot of brides have been opting to wear a cardigan, shawl, or jacket with their ensembles in order to stay warm!
Another way to add a unique touch to your wedding gown for a Fall Wedding is to wear a print or a colored dress! Dip-dyed hems are huge right now, or add a floral print to the bottom of your gown to make a statement in a big way!
Still looking for your dream gown? Look no further! We have a list of all the best dress shops in the area!
Favors and Activities
Many engaged couples are deciding not to give their guests favors anymore to save costs, however, there are a lot of fun – and cheap! – ways to thank your guests for helping you celebrate this happy occasion. Caramel corn, honey from local hives, and ingredients to build the perfect s'more are super cute favors that you can be sure your guests won't leave behind!
Talk to these local wedding experts to get more ideas on fun favors for your guests!
What more perfect guest book to have at a Fall Wedding than a fingerprint tree?! With all of the changing leaves, you can provide different color ink for your friends, family, and loved ones to create a keepsake that will always remind you of the beauty that surrounded you on your wedding day.
With the sun setting earlier in autumn, take advantage of the night by having guests release led balloons or helium lanterns into the sky or leave your reception to a glowstick or sparkler send-off!
Desserts
Two words: Pumpkin. Everything.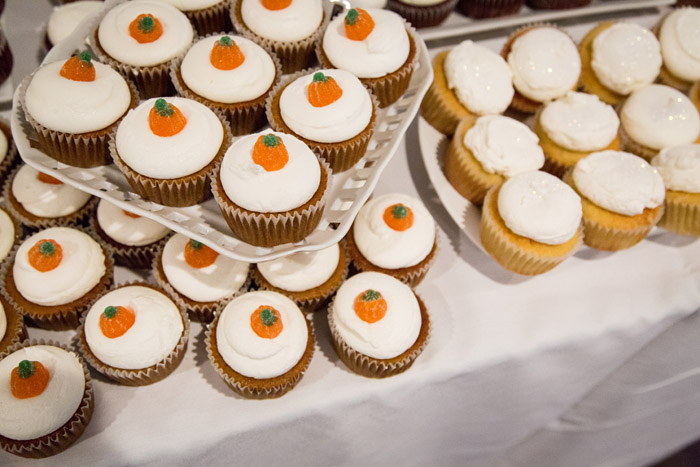 Mini pies, cupcakes, pumpkin cookies, spice cake…seriously fall desserts are the best. Go all out when it comes to this delectable part of the evening!
See what other seasonal flavors you can have at your wedding by meeting with local bakers – found here!
Decor
Pumpkins and squash may seem like an obvious choice when it comes to decorating your reception venue, but you can spice things up a bit by spray painting them a matte white or black or a sparkling metallic gold. Stencil on table numbers or hollow out and add succulents for a classier way to incorporate these seasonal favorites.
Twinkling lights are a must for a fall wedding. Again, they'll accent the night sky and creating a warm and cozy atmosphere – even if you're outside.
We love the table setting in the last photo. If you want a completely different color scheme and theme than the typical fall festivities, matte black, tan, burgundy, and burnt orange are a great way to create a gorgeous setting that reflects the season without feeling overdone.
Check out some local Decor, Lighting, and Rental experts here!
---
Remember: these are just ideas to inspire your Fall Wedding. You should find decor, colors, and flowers that make you happy – regardless of the season! You by no means need to follow the trends just because you choose to get married within a certain month. This is your wedding day and it should reflect what you love most. Feel free to take these ideas and alter them to fit your vision or theme!