10 Things To Know When Choosing Your Catering
Choosing your catering and menu can be one of the best tasks when it comes to wedding planning – especially since you get to taste some of your options! But between the excitement and the unknown, you can easily make some mistakes that will cause you to overpay.
We wish the most difficult thing about deciding on your reception dinner was choosing which delectable meal to serve, but there are a few other details to keep in mind like: how much to order for the cocktail hour, how many options to have, whether you should do buffet style or seated service, and more. Here are the 10 things you need to consider when meeting with your caterer.
Set realistic expectations for your budget
As with all aspects of your wedding, you want the catering to stay within the budget you've set. "Sometimes brides are enamored with the fairytale type wedding and have built the day beyond their budget," says Leslianne from Old Carolina. Go into your initial meeting with a budget already set in your mind and ask about options that fit within that number. "There are a lot of options to create the day of your dreams," Leslianne continues. Your caterer should be able to work with you to come up with a menu that pleases your taste buds and your budget.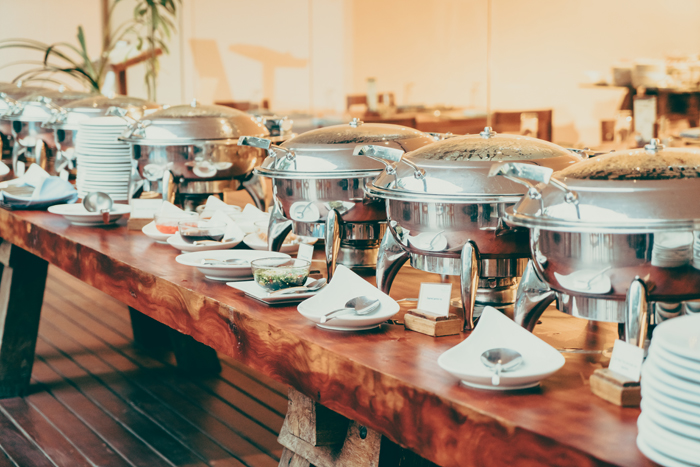 A buffet isn't always cheaper
This one might come as a surprise, as a lot of couples assume having a buffet service instead of food stations or seated service is a cheaper option. With a buffet, however, you're almost guaranteed to have leftover food. Instead of making exactly the right number of meals and charging you only for the food they prepared and served, with a buffet style, caterers often cook too much food and welcome guests to seconds which can end up costing you money.
Have an option for kids
If your menu consists of courses like shrimp scampi or risotto, kids probably won't be apt to try it. Instead of wasting your money on those dishes, offer kid's options like mac and cheese, chicken tenders, or pizza. These options are cheaper than paying for a fancier dish and will satisfy the children at your wedding (and their parents).
Have a filling vegetarian option
Observing any dietary needs is a necessity when ordering your menu, but keep in mind that a lot of people prefer a vegetarian option – like pasta or soup – but don't mark down their preference. Natalie, from Natalie's has noticed that often times, more vegetarians end up coming to the wedding than expected (like last minute dates or plus ones). "It may be a good idea for the bride and groom to make sure their menu consists of a good starch that is not meat based, such as a meatless base macaroni and cheese or pasta with marinara. This is a hearty dish that can fill someone up who is vegetarian without killing the budget."
Serve less food at your cocktail hour
While the cocktail hour gives the wedding party time to take pictures and get to the reception, Natalie warns that you should keep your schedule timely. You should have a limited amount of food to be served so that they don't ruin their appetites for dinner, but "if bride and grooms take a long time to take pictures during this time, guests become very hungry and will ravish this food." The cocktail hour is meant to be an appetizer and hors d'oeuvres course, not a main course, so do whatever you need to make sure they progress to the next course (the dinner) in a timely manner.
Avoid foods that aren't in season
Ordering side dishes or ingredients that aren't in season can do some major damage to your budget. Talk to your caterer to see what other options they recommend or similar tasting recipes.
Consider serving a late-night snack
Like with a cocktail hour, it's nice to offer your guests a little something to munch on as the night progresses. Fuel their dance moves with fries and a Coke or hand them customized bags of pretzels on their way out the door monogrammed with your names and wedding date. This can serve as your favor or as an extra gift to your guests for their presence in your celebration, but it will go a long way with out-of-town guests who didn't book a hotel room.
Don't order too much dessert
Keep in mind that not every guest will eat cake as they'll be busy out on the dance floor. Though we recommend ordering at least one piece of cake for each guest, if you opt to have a dessert station with cookies, cupcakes, candies, and other treats, you can offer less cake. Since you will likely leave for your honeymoon after the reception, you won't get to enjoy any dessert leftovers, so make sure you don't order too much. A good rule of thumb is that you should have 3 cookies per guest, .5 cup of candy per guest, or 1.5 cupcakes per guest.
Ask about and compare hidden fees
All caterers are different, and what one business offers as a complimentary service may be an extra fee with another company. Low prices don't always transfer to low bills. "Old Carolina includes tax, service charges and gratuity [in our price], but most caterers do not," says Leslianne from Old Carolina. "When a caterer has a really low price, be sure to ask questions because they may add extras like a 20% service charge, 18% gratuity, and charge separately for place settings and equipment." Do your research and interview your caterers to choose the best option. Don't just go by their website or initial quote. You may choose to hire a more expensive caterer because you feel that they really understand your vision and layout or you fall in love with one of their dishes.
What will you do with leftovers?
While this question doesn't necessarily apply to your menu or catering, it is something that most brides and grooms don't consider before their reception and end up dealing with in the moment. Before your wedding day arrives, brainstorm some ideas for what you can do with any leftovers. If you're having a buffet service, ask your caterer if they're responsible for disposing of the extra food or if you can keep it. If you've already paid for it, you should take advantage of the extra food by passing out any extras to your guests, wedding party, or freezing it for yourself. Some caterers might know of a place where you can donate leftovers, so ask them for recommendations or suggestions for leftovers. They are the experts., after all.
Find more local caterers here and use our free printables when you go to interview them to get the answers you need for a perfect reception dinner!