Your Proposal Stories
We asked to hear about your proposal stories, but we did not expect your stories to be romantic-comedy worthy! Be warned, you'll need tissues for this post.
stephanie & justin
Stephanie and Justin have been dating for 3 years after meeting at work. They plan to get married in September of this year and their proposal story is one all girls dream of having. "We took a trip to Chicago for my birthday. On the last day of the trip, we went to the John Hancock building and ate a very expensive dinner on the 95th floor. When dessert came out, the plate said "Will you marry me?" and then fireworks went off."
jessica & brian
Jessica and Brian met in a way that would foreshadow their own futures! "I was a bridesmaid in my friends wedding in Cincinnati. When visiting her, she decided to introduce me to some of her friends." Brian just happened to be one of those friends, and after making trips between Cleveland and Cincinnati while dating for two years, they're now planning a wedding of their own! Their engagement happened just before Christmas. "My family planned a trip to Oglebay to see the Christmas lights display a few weeks before Christmas. While we were there, my mom pulled into a parking lot to see the Nativity scene and stretch our legs. Brian pulled me aside to an overlook with a beautiful view and got down on one knee. Needless to say, I cried like a baby and I'm not even sure when I said yes! I'm so happy my family got to be involved in this moment."
Brie & Cody
Cody and Brie are proof that friends can be the best matchmakers! They met while in school at Kent State University through a mutual friend. "I was in my Junior year of my undergraduate degree and Cody was in his first year of his Masters program," Brie says. They now live in Kansas and Brie is working on her own Master's Degree, but they will be married in Ohio in September of 2018. Brace yourselves and grab the tissues, guys. This proposal is a tearjerker. Men, take notes.
"This past October, Cody and I were headed home to Ohio for one of his college friends weddings. We currently live and work in Kansas as I am finishing up my Master's degree in May, so any chance we get to plan a trip back home, we always try to make it happen! I was excited to finally be able to meet his college friends, but was sad I wasn't going to be able to see any of my other family or friends for our quick weekend getaway. We arrived in Mentor, Ohio on Thursday evening and Cody had told me we had to be at the rehearsal lunch on Friday afternoon. Friday morning arrived and Cody and I headed out for breakfast at the Scrambler before we were going to drive to the rehearsal lunch. At the breakfast table, Cody got up and told me he had left something in the car. I didn't think much of this comment but instead of Cody sitting back down at our table, his best friend Drew, sat down and starting eating with me! I was shocked to see Drew bur was thrilled because Drew lives out of state. I knew he was in town for the wedding and assumed this was a surprise breakfast to spend with them. Then Drew told me Cody wasn't coming back to the table and I had a very special day ahead of me. From that moment I had an idea what was coming my way, but wasn't sure how, where, or when Cody was going to propose. We finished breakfast and Drew drove me to my next "stop" on my adventure. It was to a nail salon! I was excited and wondered if Drew was going to be accompanying me or not, but to my surprise my college roommate Leah was inside waiting to get her nails done with me! I couldn't believe it! We had so much fun getting our nails done and me guessing what the rest of the day would look like. Next, Cody's mom picked me up from the salon and brought me back to his house. This was a surprise because all of Cody's family took off work to be there for the rest of the day! I had been tricked into thinking they were going to be working all day. Cody's entire family drove me to my next "mystery location" which I soon could tell would be Kent!! When we arrived in Kent his sister said she could use some coffee so we headed to Tree City Coffee and inside were 4 of my closest high school friends Natalie, Lauren, Gina, and Janel, and my best friend from college, Amanda. I was so happy to see all of them! When you live out of state, spending time with friends is limited, so my heart was so happy to see all of them in one place! We all had coffee and hung out for awhile and then we headed to Popped popcorn, my favorite shop in town and ran into my Mom and Dad! My mom and dad were the last people on my little "tour of the town" and they brought me to my final destination. On the front of Kent's campus is a beautiful area filled with trees and a new gazebo. My parents dropped me off and told me to walk to the gazebo and gave me a video to play on my phone that Cody had made. Cody had documented his plan for the proposal and made an adorable video for me to watch as I walked to him in the gazebo! When I arrived to the gazebo my eyes were already welled with tears of joy and he got down on one knee to ask me to marry him! I said yes, of course! Then all of our family and friends who had joined us all day came out from behind the trees and we all celebrated together! One of my best friends from college and her husband, Jordan and Ben, helped take photos and we all went to the Pufferbelly Restaurant to celebrate with dinner together. It was amazing to have so many people that I love all in the same room together! We ended the night with a Hulk at the Loft and celebrated with all our friends! I will never forget the amazing day when my best friend asked me to marry him and did everything to make it the most special day ever! He knew how much it would mean to me to see all of those people in one place, and he made it happen from states away!"
Rachel & kevin
Kevin and Rachel met a year and a half ago at work. "She was the hot new front end coordinator, and I was the grumpy grocery manager," Kevin explains. Though he asked a few times for her number, she turned him down, though "I got a consolation prize, her Snapchat name," Kevin says. Eventually, he hooked her enough that she offered him her number, and now they're engaged to be married in the fall of 2018. They had been talking about marriage before the Christmas holiday, but it wasn't until mid-January that Kevin popped the question.
"The 21st of January was a beautiful day, upper 50's to 60's out. Amazing for January. I decided halfway though my shift at my second job that I was going to do it that day. If I could get everything together. My biggest hurdle being I still had yet to talk to her parents! I had been thinking up until that day about many different ways to propose. Some were more public, some relied on friends being involved, others were at places too far away. But I had one idea in the back of my head. One that relied on Mother Nature to cooperate. So when the 21st rolled up being all beautiful and what not I knew it was all decided. So I sent a nervous but serious text message to her mom; "I would like to come by today and talk to you and your husband about my future with your daughter." No question what that's about. No backing out of that conversation. I didn't hear back, but I knew it had to be today, so I left work a half hour early, flew home to change real quick, and headed over to their house, a nervous wreck. Of course, things go very well and I get both of her parents' blessing. So now the next part, the important part. I text Rachel, "Ice Cream and park in Chagrin Falls?" Jenni's is in Chagrin and is my favorite parlor, as well as Chagrin having a beautiful park right all around it. Of course she's in, its beautiful out! So we get there, the ring is hidden in my pocket. Of course, the weather being so nice I had a light jacket on that hardly fit the ring box in it. So I'm worried that she's going to bump into it. But that's part of the reason ice cream is in the equation, it keeps her hands full. We walk around the park looking for a quiet place to sit. Eventually we make it back to the other side of the falls and sit down. We start to talk about our future and how we can't wait to spend forever together. I ask her if that's something she really wants to do. She replies "Of course," so I say "Really, well, how about this then?" And pull the ring box from my pocket. I can't open it. I have my arm around her and my right hand can't open it on its own. Eventually I get it open and she asks if she can have it now. The only reply I could have was "Well, only if you marry me" She said yes! We were fortunate to have a group of friends coming over that night for a completely unrelated reason and we got to enjoy an evening with them celebrating the engagement."
jessica & timothy
Jessica and Timothy are high-school sweethearts who have been through a lot to be together. "We went to rival high schools and had mutual friends. He always had a crush on me but I was in a long term relationship at the time. After that relationship ended he waited a few months and then swooped in! He lives in Washington because he is in the Navy and I live in Ohio, so I've had to make a lot of flights over to see him, but it's all been worth it!" Jessica says. They plan to be married in January of next year. Jessica was visiting him in Washington where he proposed on the beach..
"It was Veteran's Day, which was the perfect date because Veteran's Day is on 11/11 and I'm a cheesy wish maker at 11:11. Ever since I started flying out to see him we always pick out a day to go to the beach and watch the sunset while we skip rocks. So, on 11/11, he took me to a new beach for us to watch the sunset on the ocean. It was so beautiful. We started skipping rocks together as always and then he said he was going to make a slow mo video of me skipping rocks, so he set up his camera and started handing me rocks to throw. He kept handing me terrible rocks for skipping because he was nervous, so I yelled at him jokingly to pick better ones! He started saying, "how about this one?" every time he handed me a rock and after I threw a few more I turned around to grab a new one from him and he was on one knee and said, "or how about this one?" He then continued to tell me how in love with me he is and asked me to marry him. And we got it all on video! It was one of the best days of my life!!"
alicia & steve
Steve and Alicia have been together for six years. "We met Freshman year as we lived in the same dorm room at John Carroll University. She was walking down the stairs one day as I was walking up and my eyes lit up! I knew she was the perfect one for me," Steve gushes. Knowing that Alicia loves surprises, Steve planned the ultimate surprise in New York City for their proposal.
"So three years ago we did a love lock in Central Park, NYC and it was truly a turning point in our relationship as we were doing a long distance relationship at the time. We told each other we were never leaving each others side and forever we will be together. Well I wanted to do something special as she is a special lady and I took her back to that exact spot and got down on one knee. She had mentioned it would be nice to have a photographer to capture the moment years ago and thank God i remembered! It truly was the cherry on top to have such an incredible photographer there to capture that raw emotion and love we had. We both say now it was a feeling I can never explain."
sarah & phillip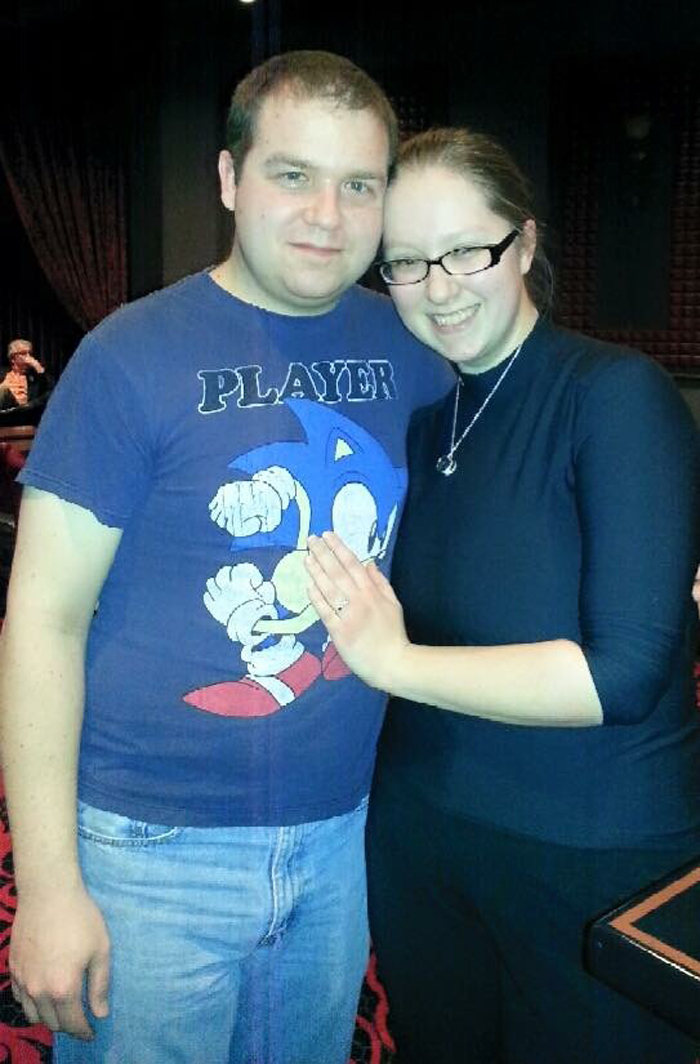 As so many couples do today, Sarah and Phillip met on an online dating site – Plenty of Fish. They've been together for over a year and are planning to get married in 2018. "On February 13th, 2016, Phillip surprised me and came to where I worked at the time, the Rocksino. He watched the comedy show then hung out and waited while we cleaned up. My co-worker, Carolyn called me over, saying she needed my help, and once I got to her, she told me that Phillip wanted to talk to me. So I walked over to him and she followed me. He took my hand, seemingly very nervous, and got down on one knee, in front of all of my co-workers (who all knew beforehand) and proposed. Carolyn recorded the whole thing for us and it was absolutely perfect. I was surrounded by co-workers and friends in a place where I loved working."
Congratulations to the happy, engaged couples! We love hearing the stories of how you fell in love and got engaged, and we can't wait to be a part of your journey as you plan the wedding of your dreams!