Hayley Paige Spring 2017 Collection
Love blooms in the spring! So many brides will be getting married between May and October, and even more will be getting engaged! Spring is the perfect time to look for your wedding dress as many bridal designers release new collections with the turn of the season. Hayley Paige – one of our favorite designers – is no exception. Check out her newest – and jaw-droppingly gorgeous – Spring 2017 Collection!
style 6700 lumi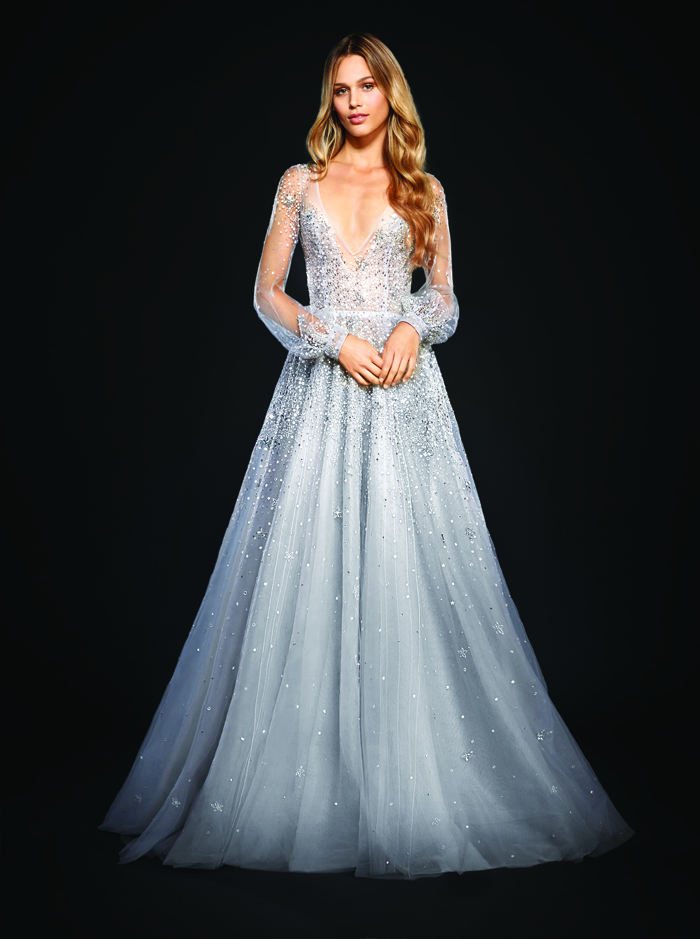 Subtly colored gowns are all the rage right now. Whether you opt for the popular blush or go a little more adventurous with a blue or lavender, brides love straying from the traditional white to make their dresses all their own! Hayley Paige's Lumi gown will illuminate the dance floor as you dance the night away! Love this dress but afraid of the periwinkle? This dress is also available in ivory!
style 6701 kenny
This dress is all about accentuating your curves! Enhancing and showcasing your upper half with gorgeous beadwork, it adds volume to your lower half to create an elegant figure. The silhouette is simple and traditional, yet features like the slit, illusion back, and plunging V will make you feel sexy for your man!
Style 6702 Hollace
Bringing floral appliques out of the 80s and into the 21st century, this wedding gown somehow balances sex appeal and innocence all at once! You'll feel sophisticated and regal with this ball gown, and your confidence will soar with the open back and transparent bodice.
Style 6703 Laney
If you want an ethereal wedding dress, look no further than the new Laney gown by Hayley Paige. Seriously, does it get dreamier than this? You'll feel like you're floating on clouds with this layered look. Combining blush, lavender, and ivory to get this opal-like color, your dress will look completely different in every picture and pose.
Style 6704 Dare
While this dress may be the most "traditional" in the new collection, it's by no means ordinary! We're all about the back of this gown. You'll look like the regal queen you are as you walk down the aisle but your guests are sure to lose their breath when they see your back!
Style 6705 Chandler
We are speechless! There are no words to describe just how stunning this dress is. The open back and simple skirt balance the incredibly detailed front to create the perfect dramatic and extravagant gown. Plus, IT HAS POCKETS!
Style 6706 Maverick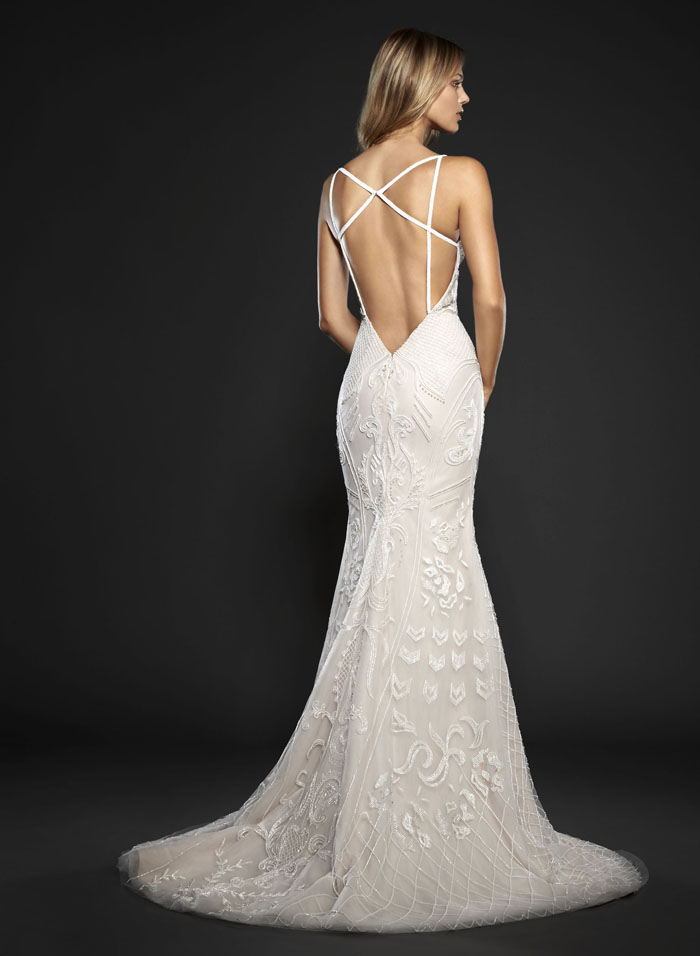 If you want to be a glamorous boho goddess at your wedding, the Maverick is for you. The trumpet-style skirt falls beautifully after hugging and showcasing your figure. And can we just admire the detailing for one second, please? The embroidery on this gown is out of this world and adds the perfect amount of definition and texture to a simple silhouette.
Style 6707 Winnie
It seems like killer back features are Hayley Paige's dynamic with this collection because, wow! Not only does this dress just make our jaws drop to our chest, but it looks comfortable!  The loose cuffed sleeves give a dramatic and debonair impression which continues with the cascading lace appliques. Accenting a creamy, ivory gown with white details like this is the perfect way to please both yourself and your tradition-loving family members.
Style 6708 Rae
This gorgeous fit-and-flare combines the sexy look you want while keeping you completely covered. If you're more modest but want to accent your curves, this dress is perfect for you! It may seem like the bodice is see-through, but there is a nude lining that ensures everything stays in place and nothing is revealed. The tulle skirt balances the sexy silhouette with a touch of elegant innocence.
Style 6709 Chandon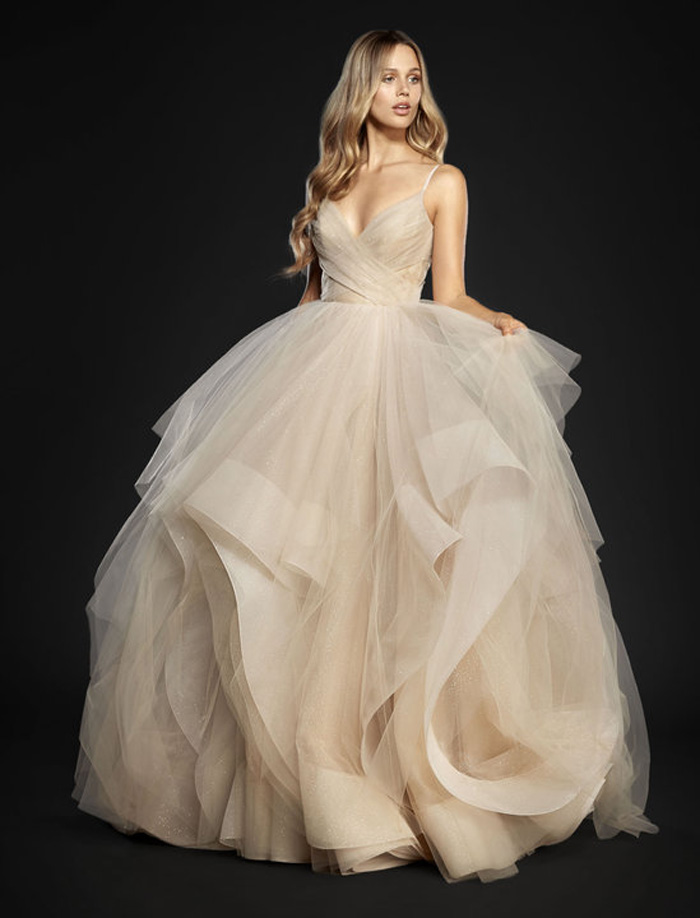 We don't know how it does it, but this dress is somehow ethereal, dramatic, elegant, and dreamy all at once. You'll have no trouble feeling like a bride in this gown. Plus, it comes in this gorgeous blush if you want a unique look or white to be the classic bride.
Style 6710 Celine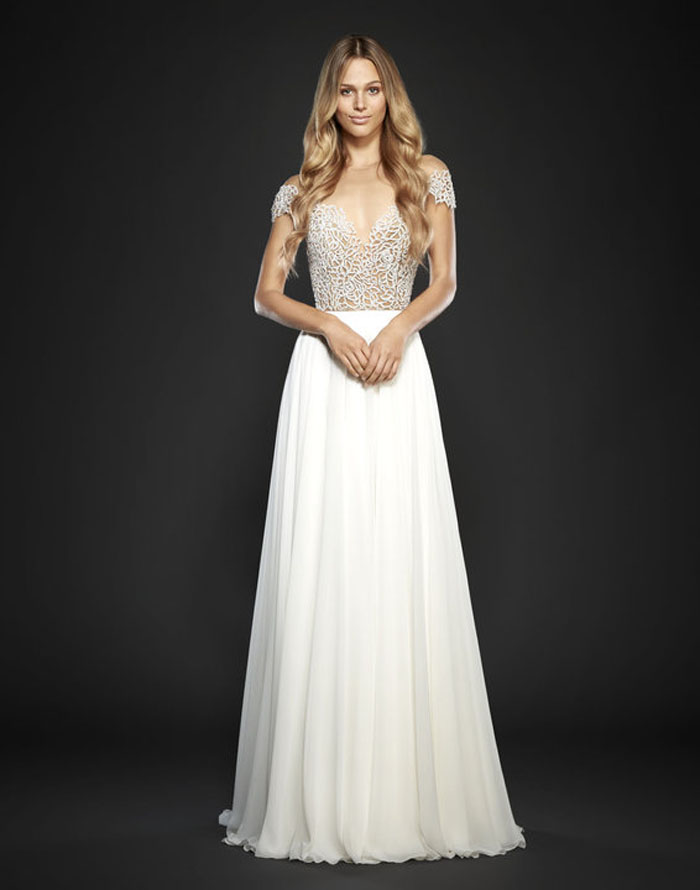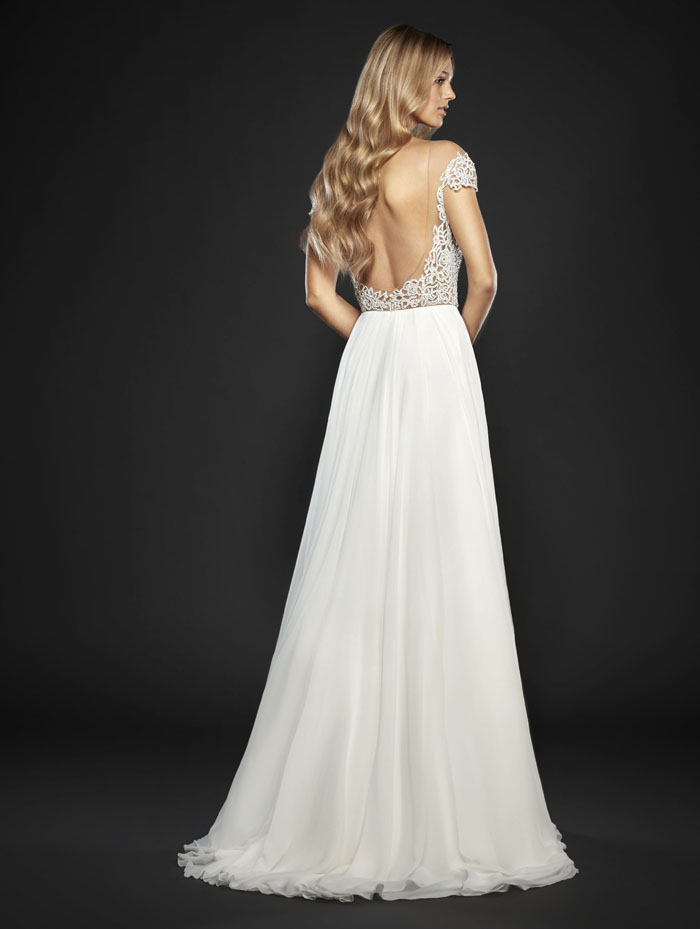 Off-the-shoulder gowns are huge right now, but brides hate feeling like they have to constantly pull their sleeves up. This illusion off-the-shoulder cap sleeve combines beauty with comfort! Plus, the silhouette ensure that you'll easily be able to walk and sit and move around all day – which is key to enjoying your reception!
Style 6712 Jem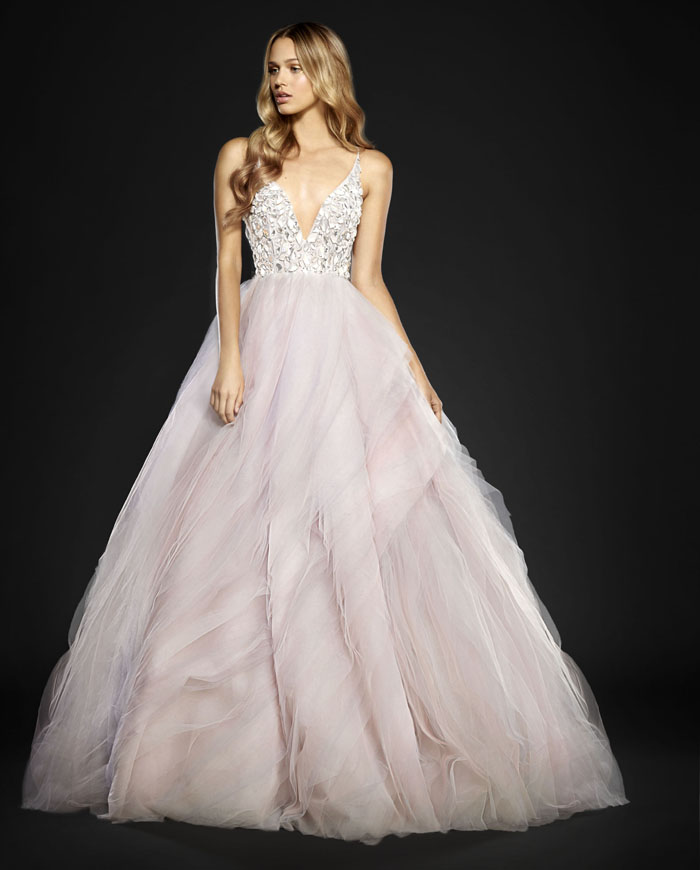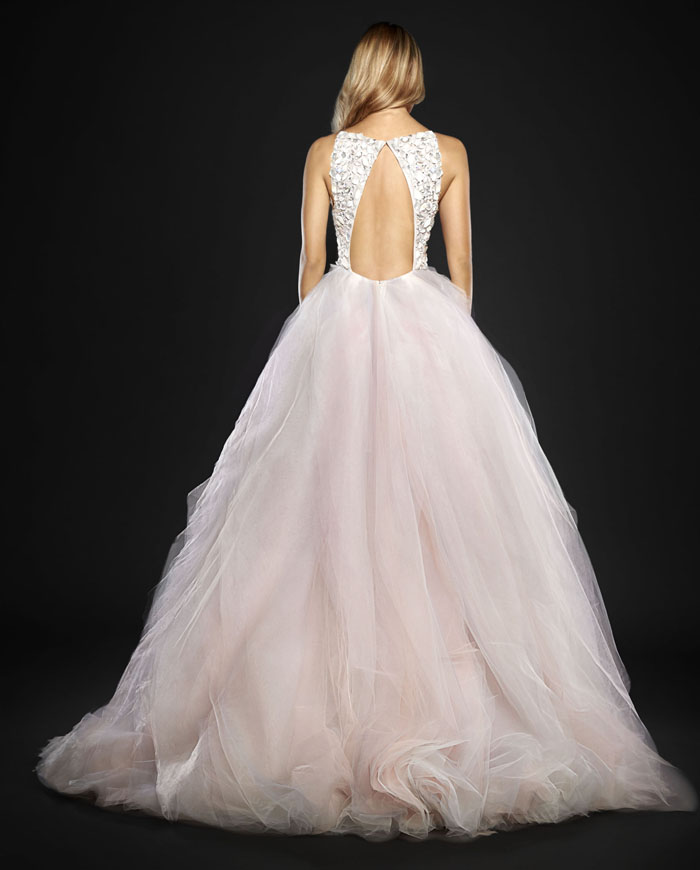 If you long to be a blinged-out bride, Jem is the dress for you. Available in ivory or this beautiful blush/lavender, the raw layers of this skirt give it an edgy vibe while the rock candy bodice adds some glam and sparkle.
If you've fallen head-over-heels in love with any of these gowns, visit Radiant Bride, or check out your local Bridal Shops for more! See more of Hayley Paige's bridal designer gowns and view more photos of this collection!