Wedding Weight Loss
Every bride wants to look beautiful on her wedding day. To achieve this, you might get facials, have your teeth whitened, and get a spray tan. Many brides decide it's time to get in shape! Here's how you can do it in a healthy way.
Learn to Love Yourself
We're firm believers that you don't have to change a single thing about yourself for your wedding day. You are beautiful the way you are (even Bruno Mars agrees!). Your fiance fell in love with who you are now. Don't hold yourself to impossible standards that you see in Hollywood. Instead, love your body and what it does for you each day. Would you ever call your best friend fat or point out her problem areas? So why are you doing it to yourself?! If you want to lose weight for yourself – so you can feel stronger, healthier, more energetic, and self-confident – then go for it! We're all about empowerment. But if you're doing this just for the sake of vanity and looks, then reevaluate your motivation.
One way to be happy with the body you have is by finding clothes that make you comfortable. On your wedding day, that means finding a dress that showcases your favorite features. If you like big butts and you cannot like – or more specifically, your big butt – then consider a form-fitting mermaid gown to hug your curves. There are also ways to create a silhouette that you want but may not have. If you've never had a defined waistline, elements like draping and ruching on a dress can create that hourglass figure you're looking for. Figure out what features you love and talk to your bridal dress consultant to see how you can emphasize and highlight them!
Develop a timeline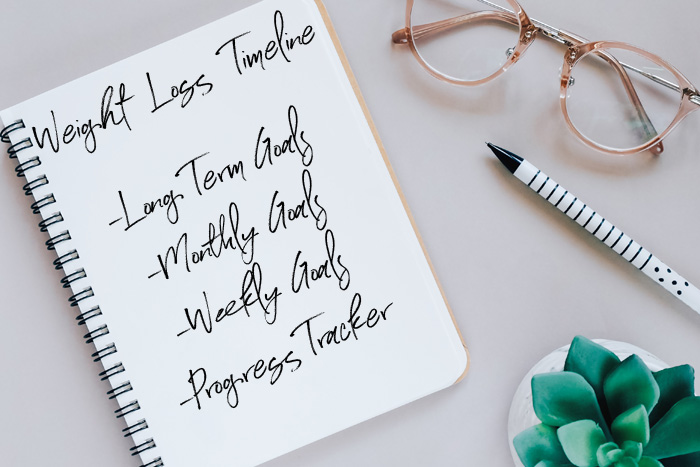 It's unhealthy and unrealistic to plan to lose 20 pounds in one month. That being said, it's important to establish a fitness and diet plan early on in your planning process – about 8-12 months til the wedding day. Write down weekly and monthly goals that will help you achieve your overall weight loss goal. You could keep a journal where you document your goals, caloric intake, fitness schedule, and menu. This way, you can see what you need to improve on and track your progress as time goes on.
Avoid Fad Diets
The only way to see results is to put in the work. No pain, no gain, right? You have to sacrifice some things you love – like Pop-Tarts and nightly snacks – and you have to burn calories in order to see weight loss. Anything that tells you differently is either lying or hurting your body. Diet pills, momentarily-popular fads, and non-invasive treatments only provide temporary results and may leave side effects.
While some diets – like Paleo, Gluten-free, or Atkins – do have some beneficial elements to their plans, you shouldn't rely solely on them to get the results you want. What these three plans have in common is that they restrict carbohydrate consumption for weight loss. Foods high in carbohydrates, such as bread and pasta are restricted and replaced with protein-rich foods (like meat and eggs) and foods low in carbohydrates (like green, leafy vegetables). While you may see short-term weight loss, it's due to less water retention and glycogen (stored sugars). Long-term, this lifestyle just isn't realistic.
Fuel your Body
Fruits. Vegetables. Proteins. Good fats. Water. Base your meals around these five elements and we promise you'll see a change in the shape of your body. Make small changes at first, like replacing a pack of gummies with a handful of grapes. Instead of chips, choose almonds. And put down that pop. Water will fill you up and keep you hydrated. In fact, water is so fabulous that a lot of the times you think you're hungry, you're really just thirsty!  When you're craving something sweet or salty, drink 8 ounces of water and see if you're still hungry. Start drinking a glass of water before every meal. You'll be surprised at how much less you eat.
By choosing the right foods, you'll find that you have more energy and motivation and that you're hungry less often. When you eat chips, you don't feel full, so then you eat a few cookies, and then you decide that ice cream sounds pretty good. Instead, bite into a crunchy and juicy apple with a scoop of peanut butter. You'll feel full, won't be hungry in 15 minutes, and will have ingested fewer calories. You'll see a difference not just in your body, but in your energy levels.
Meal-prep
Prepare meals for the week with your fiance on Sunday! Sunday food prep day is not only a good practice to get in the habit of, but you'll be spending quality time together. This could become a ritual throughout your marriage and is a great way to start a hectic week. When you get healthy together, you can keep each other motivated and on-track! Plus, planning ahead makes it easy to grab a prepared meal as you walk out the door or microwave a pre-made dish if you get home late from work.
find your workout
Whether your goal is to lose weight, tone up, or simply de-stress from wedding planning, exercise is a MUST! You'll feel naturally happier, sleep better, and it will reduce stress. Score for both you and your fiance!
It's important to find a type of exercise that you love. If you dread going to the gym every day, struggle to get through a run, or feel silly at Zumba, then you're going to avoid going. If you don't go, you won't see the results you want! Find a workout that you enjoy doing. You might not look forward to going, but at least you won't come up with any excuse to not go. Buy a new workout outfit to get you pumped up. Try out a few classes, talk to your friends, or meet with a personal trainer to find the style that's right for you. You may like the stretching and concentrated movements of Pilates or Barre; you may like the intensity and sense of empowerment of kickboxing; or, maybe you want to push yourself in weightlifting! Whatever it is, exercise with moderate to high-intensity at least 30 minutes a day, three to four times a week. Use your off days to do something low impact and relaxing like Yoga or walking with your pet.
do it together
While you may decide to go it alone, you'll find that you may feel more accountable, have more fun, and see more results when you get in shape with a friend. Ask your wedding party to meet you at a class or go on daily walks with your fiance. Having someone by your side to push you when you lose steam, motivate you when you want to give up, or just make you look forward to each workout will make this process more enjoyable.
---
Again, your fiance thinks you're beautiful exactly the way you are – and we agree! But if you're determined to get in shape – and it's for the right reasons – make sure you're losing weight in a healthy way.