6 Ways to Save Money on Your Honeymoon
You just spent most of your savings on creating the celebration of a lifetime, and now you're looking for cheap ways to relax. We have a few tips that will keep your expenses low.

1. Travel in the off-season.
If you get married in the summer, some locations – like ski resorts – may offer lower rates as their tourist season slows. If you're hosting a winter wedding, now is the perfect time to get a little sunshine by hitting a beach. The water may still be a little too chilly to swim in, but you can relax and unwind from the stress of planning your wedding.
2. Use a travel agent.
When planning your honeymoon, a travel agent will be your best friend. It may seem like a cheaper option to book online, but a professional has access to discounts by booking flights, hotels and resorts, transportation, and excursions all together. They work directly with resorts to get you the best rates offered and you usually don't have to pay them for their services! You don't have to worry about a thing; just relax and enjoy your dream vacation.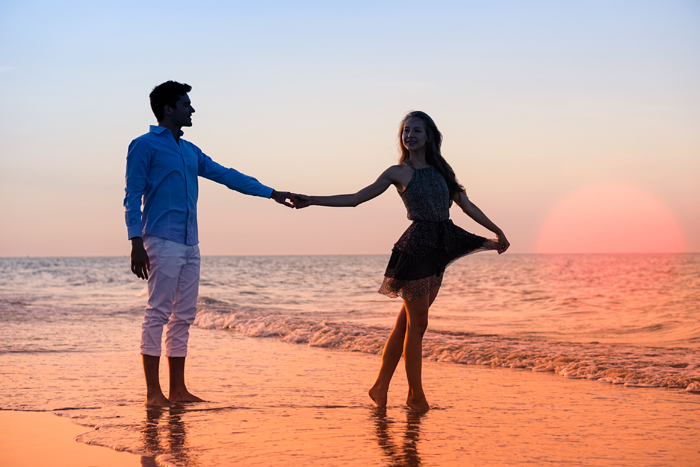 3. Check out all-inclusive resorts.
Though the initial ticket price of staying at an all-inclusive resort may seem intimidating, they cover all of your meals, drinks, flights, and sometimes even excursions. Everything will be covered beforehand and you won't have to worry about how much you're spending on the essentials. Instead, you can focus on making memories and finding the perfect souvenir to bring back for your friends and family.
4. Look into travel reward credit cards.
Getting credit cards that earn you points at hotels, flier miles, or even cash back to use on your wedding expenses can heavily impact your honeymoon budget! You can end up with a free flight or discounted overnight stays. If you get cash back, put it into a separate savings account specifically for your honeymoon fund! This way, you won't feel tempted to spend it on bills or deposits and will be able to splurge on that expensive excursion you're dying to do or have an elegant dinner by the sea.
5. Start a honeymoon registry.
A honeymoon registry allows your guests to buy you an excursion, fancy dinner, room enhancement (like decorations or chilled champagne), or simply contribute to the expense! There's nothing wrong with wanting a new set of pots and pans or matching silverware, but if you want to ask for something unexpected and meaningful, include a honeymoon fund along with your traditional registry.
6. Consider honeymooning locally.
Taking a boat tour off Lake Erie, exploring the riverfront of Cincinnati, or staying at a bed-and-breakfast in Amish country balances your need to get away with your limited budget. Ohio is filled with romantic and thrill-seeking spots for you and your new spouse. Make several "day-cation" itineraries to explore nearby destinations or get away for a week long, intimate stay in an area you've never visited before!
---
Executing the wedding of the century isn't cheap, so consider your budget before booking your honeymoon. There are so many options when it comes to planning a budget-friendly vacation; talk with a travel agent to see what options are within your budget and enjoy your first vacation as a married couple. Remember: it's not where you go or what you do, but who's beside you that matters!