Quail Hollow Resort – The Wedding You Envision
Finding a wedding venue is one of the first steps in wedding planning. Though you may have a specific vision in mind, it can be difficult to find a place that embodies everything you're looking for in one space. This is especially true if you're looking to have both your ceremony and reception there. Luckily, there's Quail Hollow Resort.
atmosphere
Quail Hollow Resort is located on 700+ acres of Quail Hollow Country Club. With multiple options both inside and out, they have a space for nearly every couple's style and tastes. Imagine saying "I Do" in front of a crackling fireplace and then celebrating the rest of the night with dinner and dancing in the Grand Ballroom! This ballroom features elegant chandeliers, drapery, wall coverings and accommodates up to 300 guests. For a more casual, smaller get-together, the Pavilion Room has two walls of windows, a multi-level floor, and paddle fans, accommodating up to 150 guests.

Experience
Most couples don't even realize half the benefits that come with a Quail Hollow wedding. A Maitre D'/Day of Coordinator is complimentary, along with a bridal suite to prepare for the ceremony. You'll also get a complimentary King Room after the wedding, with chocolate covered strawberries, champagne, rose petals, and decor!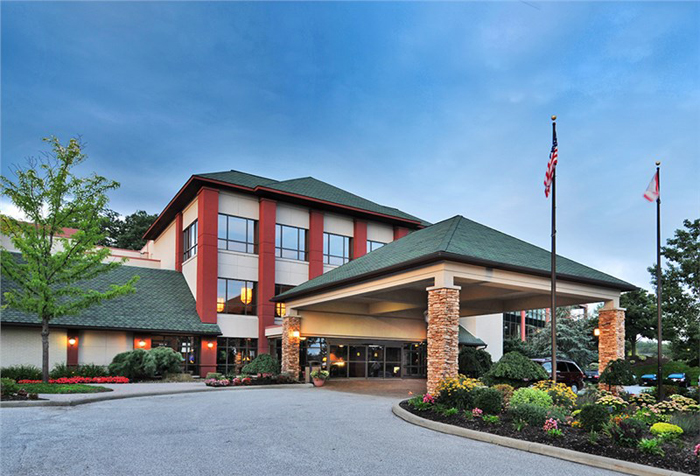 "One question we get asked the most," says Julie Drury, "Is 'Do the Bride and Groom have to guarantee a certain number of guests?' None of our event spaces require a certain number of guests," Julie answers. However, there is a food and beverage minimum that must be met. This minimum is based on the day of the week and the time of the year.
Luckily, it's easy to meet that minimum. Quail Hollow has so many food options to explore! Choose from plated, buffet, family style, or even duo-plated entrees! Quail Hollow also offers late night snacks to ensure your guests don't leave hungry. With hotel accommodations for both you and your guests, you can even stay overnight! Wake up the next morning with a champagne breakfast.
---
Quail Hollow Resort has the options you want, and the service you need. With gorgeous backdrops, overnight accommodations for your guests, and a Maitre D' to ensure everything is taken care of, all you'll have to worry about is getting married! See more photos, then request pricing to check availability and set up a viewing!