Real Bride Blogger, Abby – Choosing a Wedding Theme
Our Real Bride Blogger is back this month to talk about choosing the wedding theme. She discusses updates from past blogs, what she's checked off her to-do lists, and her tips for narrowing down your inspiration to focus on one theme!
Hello, brides and grooms!
I hope you all had a marvelous July! Before I get into this month's topic, I wanted to give you an update on my bridesmaid proposals (as promised in my previous blog). I wanted to provide them with something that they could wear to wedding-related events (like dress shopping or the bachelorette party), so I got them adorable Bridesmaid t-shirts on Etsy! Here are a few pictures: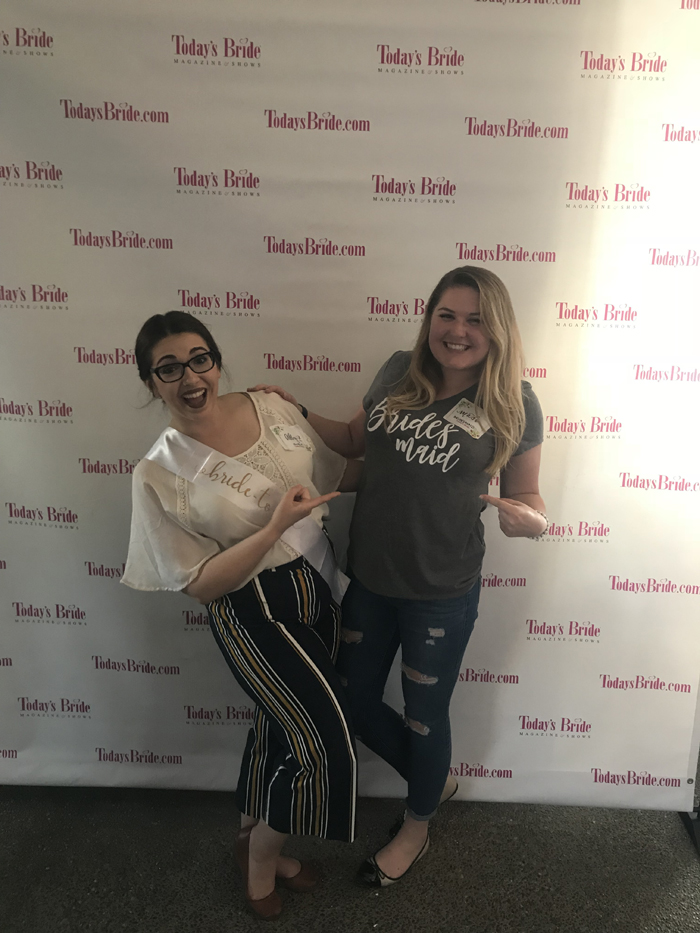 My bridesmaids LOVE the shirts, and I didn't break the bank buying them. I paired them with a handwritten note asking if they'd be a part of the big day, which they also loved. This goes to show: you don't have to go over the top to ask your bridesmaids to be a part of your big day (unless you want to!).
So, since we last spoke, I've made some BIG decisions for our wedding!
In the past month, we:
–          Booked a photographer
–          Found a DJ (that we're putting the deposit down on this week)
–          Picked out wedding colors
–          Made a project plan for things like our guest book
All because we figured out our wedding theme!
Now when I first started this wedding planning journey, I had NO IDEA that themes were a thing. I just figured that you picked your wedding colors and called it a day. As it turns out, there's much more to a wedding's coherency than just colors.
On a scale from 1 to 10, 1 being very decisive and 10 being extremely indecisive, I'm somewhere around a 13. I like to keep my options open on just about everything, from the food I eat to the clothes I wear. (Choosing a major in college was SUPER FUN for me.) So, knowing that I had to stick to a theme was stressful.
At first, I tried to create an all-encompassing theme that I entitled: "modern but vintage, al fresco and ethereal wedding with a dash of class and sass." That really didn't roll off the tongue well, and try searching THAT on Pinterest. Themes are such an important part of wedding planning – they give you a guide to solidify decorations, bridesmaid dresses, and pretty much everything else that goes into the appearance of your big day. So, I had to really figure out what worked for my fiancé and me, and I knew I had to be specific. Here's a breakdown of how we chose our theme:
Venue
Every space has an aesthetic feel and color palette that you should be conscious of when choosing your theme. If your venue has a lot of bright colors present without decoration, it might be wise to work within those boundaries instead of choosing colors or styles that compete with the natural look of your wedding location. The venue we chose has a natural beauty. It can stand on its own without decoration, or can be elevated with personal decorations. This definitely worked to our advantage as we began choosing a theme. We knew that our venue utilized neutral colors in its decorating, and that it had a classic and romantic feel to it.
Our likes and dislikes
Let your natural personalities play into choosing a theme! Your day should be a natural reflection of who you are as a couple. Don't try to be something you're not to fit into a wedding "mold." Robby and I quickly figured that "rustic" or "shabby chic" weddings weren't for us, as they don't fit in with our personalities. Robby hates the color yellow, and I didn't want red anywhere near our wedding. Little decisions like these helped us eliminate themes, thereby narrowing the field of options.
Real Weddings
Getting to creep on someone else's wedding is SUPER helpful when planning your own. This is one of my favorite features on the Today's Bride website – you get to look at REAL, UNSTAGED weddings. These people aren't models. They have BUDGETS. They're just like you and me. Looking at real weddings helped me have realistic expectations of what I should aim for on my own day.
Our guests
This point actually helped me the most on deciding our theme. Think about what you'd like your guests to experience. I knew that I wanted something that my friends and family could get dressed up for. I want them to have an entertaining evening that allows for conversation, dancing, and memory making. Envisioning what your guests are wearing, what kind of food they'd be eating, or what they're doing at the reception helps solidify what you'd like your wedding to be!
What you'd like to wear
Are you a bride that loves short dresses, or a groom that wants to wear a bright green tux? Factor those into your wedding theme! Remember that you want to choose colors and accents that enhance YOUR appearance – it's your day, after all! Robby and I knew that he'd be wearing a navy tux on the big day, so we picked colors that coordinated with that.
---
Robby and I have decided on an upscale, garden themed wedding. We love gold frames, romantic candlelight, and greenery, but want that ethereal feel that a garden wedding provides. It's the perfect combination of romantic and classy that allows for more fun and personalized touches. (Now we just have to figure out what those personalized touches will be!) Our colors will be emerald green and gold, with accents of pinks mixed in. I can't wait!
The next time you hear from me, I'll (hopefully) have my wedding dress. I am super nervous and excited to go dress shopping this coming weekend. Stay tuned for next month's article, where I'll provide you with all the details on who I brought, how I picked the salons, and what dress(es?) stole my heart.
Much love to you all,