Best Date Night Ideas in Northeast Ohio
One of the most important pieces of advice to newlyweds is to never stop dating. That can also be helpful in the wedding planning process! When you make time to step away from the stress and just be with each other, you remember what you're planning for. Whether you live in Cleveland, Akron, Canton, or the surrounding areas, use our list of fun date nights for ideas!
Cleveland
Be a Tourist
Cleveland has so many cool spots to hit up that you may have overlooked because you've lived here all your life! Visit the Rock N Roll Hall of Fame, Cleveland Zoo, West Side Market, Christmas Story House, Great Lakes Science Center, The Arcade, East 4th Street, or the Aquarium. Better yet, hit up as many spots as you can using only public transportation! You'll see new sights, meet some great people, and may even find your new favorite spot!
Game Night at Punch Bowl Social
Punch Bowl Social is a fun date night out – whether it's just the two of you or a group date! Challenge each other to bowling, foosball, ping pong, arcade games, mini golf, and even karaoke! Rack up the points and whoever loses buys dinner and drinks. But no sore losers, here. It's all about having fun, laughing, and making memories together.
Watch a Game
From the Indians to the Cavs, Browns to the Monsters, Cleveland has some great sports teams to cheer for! Admittedly, not all of them can be classified as "great", but we Clevelanders stick by them, nevertheless! No matter what the season, there's probably a game going on nearby that you can grab tickets to. Cheer on your favorite team or player, and win or lose, you'll have a great time in each other's company.
Dinner and Dancing on the Nautica Queen
Imagine sailing into the sunset with your beloved. It may sound like the ending to a rom-com movie, but it can be your reality! Reserve a table on the Nautica Queen for a buffet dinner, dancing, and gorgeous views of Cleveland. For beautiful weather, head up to the top deck. You'll sail past the First Energy Stadium, Rock N Roll Hall of Fame, and have beautiful views of the skyline. If it's raining or chilly, you can stay inside and dance the night away to your favorite tunes.
Akron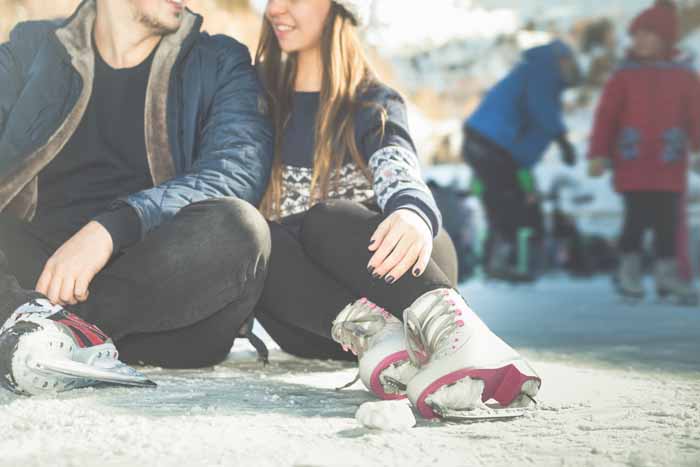 Activities at Lock 3
Lock 3 in Downtown Akron has a variety of activities throughout the year! From ice skating in the winter, to live concerts in the summer, and tons of fun festivals year-round, there's always something to do. You could even pack a picnic and enjoy each other's conversation or challenge each other to see who can get the best photo. If you're ice skating or doing bumper cars on ice, you can grab a hot chocolate and warm up afterwards. For warmer weather, walk down to Canal Park and watch a Rubber Ducks game!
Tour the Akron Art Museum
Stuck inside on a rainy or snowy day? That doesn't mean you have to binge-watch The Office for the 10th time (though we're not judging if you do!). Instead, you can gaze upon some of the finest paintings, sculptures, exhibits, and performances at the Akron Art Museum! Walk through the outdoor garden and take in the unique and breathtaking architecture. You could even attend one of their many events! Stop by on a Thursday for free admission.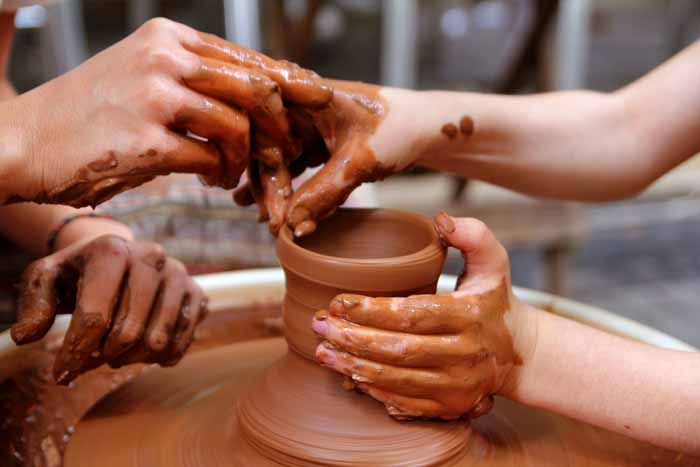 Take a Class at Hale Farm and Village
Though Hale Farm and Village is only open between June and October, visiting this open-air museum is a must! There are 90 acres of animals, gardens, historic buildings, and demonstrations. You can even join in by taking a class! Become an expert in bee keeping, glass blowing, weaving, pottery, candle making, or more! As most of the farm is outside (hence, farm) wear your walking shoes and be prepared for any weather.
Take a Cuyahoga Valley Train Ride
Be transported back to a simpler, more romantic time when men courted women and girls wore their beaus letterman jackets with the Cuyahoga Valley Train. It has a stop right in Downtown Akron! Hop on and get off at one of the stops along the way to explore the area. Or, book one of their special events like Ales on Rails, Grape Escape, Dinner on the Train, or you can even ride an old steam train! The train offers a super cool photo op and is an experience you'll be glad you had.
Canton
Dinner and Drinks at Gervasi Vineyard
There's so much to do at Gervasi Vineyard, you could make it a weekend getaway! Make reservations at the Bistro, sit by the lake with a glass of wine, visit the Crush House or Still House, stay in the villas, or take a tour of the vineyards. Go during one of their craft fairs, take a cooking class, or practice yoga! This oasis is the perfect retreat for a weekend or a date night to get away from the stress of wedding planning.
Try the Craziest Cocktail at That Pop-Up Bar
That Pop-Up Bar beside TD's Tailgate on Tuscarawas St. is Canton's hidden gem. Started as a Christmas Pop-Up Bar, it has exploded into a full-force fan-favorite! They've covered everything from Charlie and the Chocolate Factory, Tiki Bar, Halloween, and Fairy Tales! They go all out and over -the-top with their decor and menu. But each theme is only around for a limited time, so stop by before they break down and pop-up again! It's the perfect place for a new date night experience each month.
Tour Fannie May Chocolate Factory
Do we even have to say anything about this? It's chocolate, people. You get to see, taste, smell chocolate as you walk through a factory and live out your Willie Wonka dreams. The guided tour is free and typically lasts 45 minutes. Meanwhile, you'll get a behind-the-scenes look at how their chocolate delicacies are made and sample their treats fresh off the factory line. Buy your favorites for your friends, relatives, or even wedding guests at the gift shop afterward!
Have a Scavenger Hunt in the Hartville Flea Market
The Hartville Flea Market has both outdoor and indoor vendors who each rent out space. You can find an assortment of collectibles, handmade items, unique gifts, produce, and so much more. For the ultimate shopping or scavenger hunting experience, go to the Memorial or Labor Day Fleas, where hundreds of vendors have booths. This is another date night that can be even more fun when you invite other couples! Come up with a list of items or people you need to find – like a man in a blue jacket, small dog in a purse, or a vanilla scented candle. Then break up into teams based on gender or couple and have fun!
---
No matter what you decide to do for your date night, you'll have a blast just being together. Talk about what you'll do as a married couple, imagine your life together 25 years down the road, and laugh over old memories.
Do you have other date night ideas? Share your favorites with us in the comment section below!