Cake Glossary
Choosing your wedding cake is so much more than picking a flavor. But it can be hard to decide on a cake you love when you have no idea what goes into a design. Learning about different techniques and types of icing will help make your choice so much easier!
Icing
BUTTERCREAM
A frosting most commonly used on birthday cakes because of it's creamy and rich flavor. You can texturize the buttercream for a dramatic finish or smooth it out for clean lines, making it more popular in weddings.
FONDANT
A modeling-clay-like frosting with a thick consistency but a smooth finish. Rolling it out and draping it over the cake allows for designs like weaving, quilting, and creating figurines. While the result of it's consistency made it popular at weddings, it has recently become less requested due to it's taste.
GANACHE
Serves as a glaze, icing, or filling. Itis made by pouring hot cream over chocolate and whipping for a smooth, shiny consistency.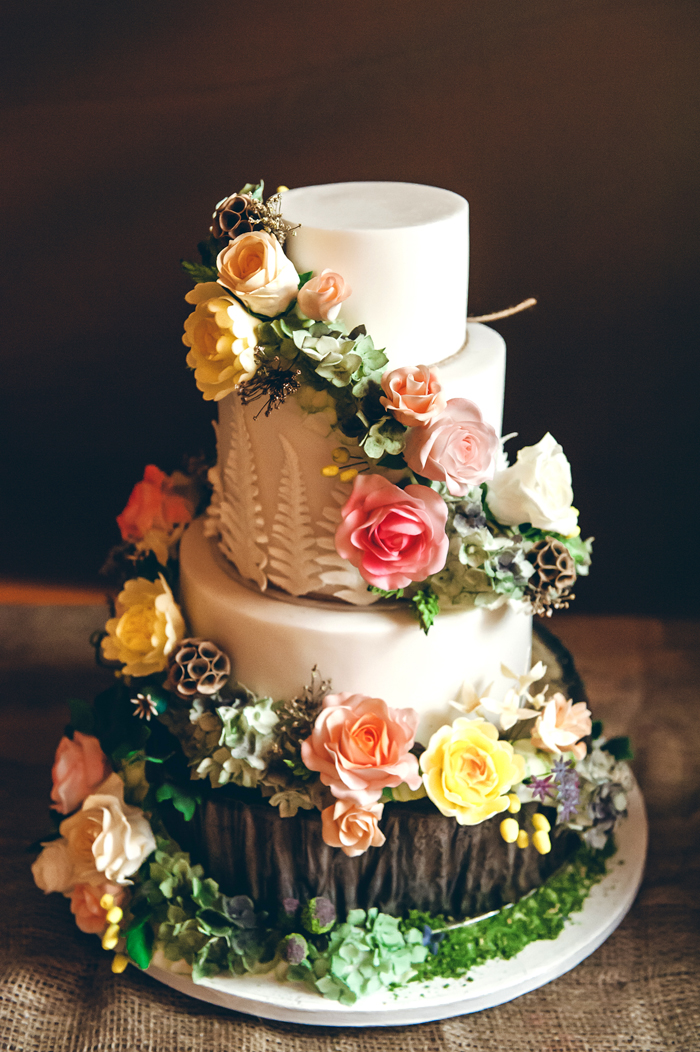 GUM PASTE
Similar to fondant in both uses and texture. However, because gum paste dries very hard, it is not used to cover a cake like fondant may be. Gum paste is a great choice when creating realistic figurines, decorations, and flowers. The result is a lasting keepsake or delicious treat.
MARZIPAN
Similar to fondant except that it is made with almond paste. This paste gives it more elasticity and a nutty flavor.
Techniques
AIRBRUSHING
A technique used to paint the cake. Using food color and an air compressor, an artist can create patterns, images, and the ever-popular ombre effect.
CAKE POPS
Delicious, mini-cake desserts that serve as the perfect addition to your dessert table or as favors! You can get multiple flavors and add toppings, which makes this a crowd favorite.
---
Find Local BAKERIES:
---
DRIP CAKE
A technique where melted chocolate or ganache is drizzled over the top of the cake. It creates a smooth finish on top and the liquid concoction drips down the side, giving this technique it's name.
GROOM'S CAKE
Serves as the dessert at the rehearsal dinner and is sculpted into a hobby or interest of the groom. Traditionally, groom's cakes consisted of dark chocolate and/or liqueur. This was to act as a contrast to the wedding cake, which is usually white or light-colored and very regal. Get design ideas for your groom's cake here!
HAND-PAINTING
A popular technique where the artist paints the cake freestyle. Perfect for watercolors, lettering, and flowers, it makes a cake truly one-of-a-kind. We recommend asking to see an album of work before booking this technique. It can also help to request a specific artist to work on your cake.
NAKED CAKE
A recent wedding trend where the cake tiers and fillings are seen through a very thin film – or none at all! – of buttercream. It works best on darker cakes like chocolate and red velvet, and is a great option for couples who just don't love icing. It is often adorned with fresh fruit, flowers, or greenery.
---
Find Local BAKERIES:
---
Figure out which features of a design you love most before going to a tasting! Look for a cake artist who specializes in that. And don't forget to ask them for tips and advice! They know what works best and will make sure your wedding cake looks as good as it tastes! Get more cake inspiration on our Pinterest Board!