Recycling Your Alterations
You recently bought your wedding dress, but it still needs to be altered. Wedding dresses are not cheap, and, understandably, you don't want to throw away the pieces they cut off. But what exactly can you do with the extra pieces to the dress? We've found some interesting ideas to turn that fabric into wonderful keepsakes.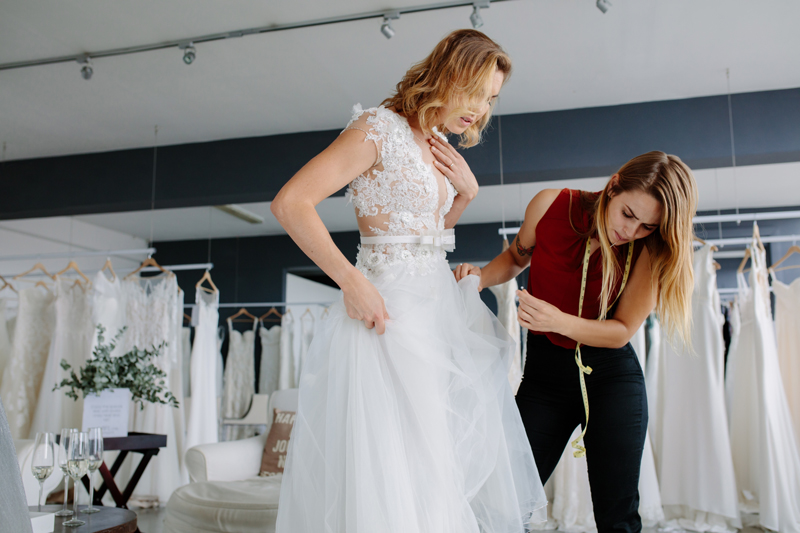 Incorporating It Into Your Wedding
Have you gotten a garter yet? What about your undergarments for the day of? Have you purchased the lingerie you planned on wearing for your boudoir photo shoot or the night of? Chances are a tailor can transform those scrap pieces of fabric from your gown into one of those options to wear.
Find Local Alteration EXPERTS:
Or what about a ring bearer pillow? Maybe a bow to add to your flower girl's dress? Not only would it be a cute addition, it would be a neat way to incorporate your dress into another part of the bridal party. If you only have small pieces, wrap it around the stems of your bouquet or the bridesmaid bouquets. Depending on how much – or how little – they took off your dress, you could even turn it into a shawl or sash for your mother, the groom's mother, either grandmother or even your bridesmaids! Turn extra fabric & lace into a clutch for your bridesmaids, mother, or soon to be mother in law. Not only can this gift be a nice "thank you" for all they've done, but it's another way for them to feel included from your special day.
Don't forget about the men! Another option is to turn it into a handkerchief for your father or grandfather — as they may need something to dry their tears with watching you marry the love of your life Lastly, you could always give it to your groom as a pocket square to wear for the wedding. (How cute is that?!)
Treasuring It as a Keepsake
Maybe you don't need to incorporate your dress scraps on your big day, but rather keep them in a different way. You may opt to have it turned into a keepsake drawstring bag, which could be used to store mementos and jewelry from your big day! However, if a keepsake bag isn't really your style, you may decide to turn it into a stuffed memory bear (just like a teddy bear).
The fabric could be transformed into a mat for a picture frame or the background for your wedding scrapbook. Another nice reminder of your wedding day is a pillow for your living room or bedroom. If you have a lot of fabric leftover, like an entire train, have it turned into a skirt or dress to wear for your first wedding anniversary.
If you're planning on having children in the future, have it made into a dress for a ceremonial event, like a christening, or have it made into a beautiful baby blanket for when that next special day comes. You may even want to keep it saved for special holidays: try turning it into a table runner for when the family comes over or having it made into a Christmas tree skirt.
---
No matter what you choose to do with it, your options are endless. There's no right or wrong way to go about recycling your alteration leftovers. As long as it's good for you, it's good for everyone else, too!