Wedding Menu: Well Planned Means Well Done
It is time to plan your meal. Caterers will be your best coaches here. You are responsible for one wedding reception; caterers are responsible for dozens each year. Trust, or at least listen to, their wisdom. Interviewing a handful of caterers and sifting through their recommendations will be the most valuable for a successful reception. Here are some guidelines to keep in mind along the way.
Explain to your caterer the number of guests you are expecting, the presentation, your ideal menu, your budget, and the venue. They will tell you what seems to work. Caterers know the customary portions. You do not have to calculate each guest's appetite. If you are, however, wondering how caterers portion your meal here is an example of a standard guideline.
Ideas to save time and money on your big day:
* When choosing between buffet, family-style, and plated service keep in mind the latter requires more wait and kitchen staff.
* Increase your menu selections. Guests will most likely take less of each item if there are more choices.
* Determine the demographic of your guest list. Do not forget men tend to eat more than women.
* If you are providing your own alcohol keep it simple – beer, wine, and a few signature cocktails are perfect and add a personal flair to your event. A full bar service will be more costly than just beer and wine. Money can be saved there and few people would object.
* Leftovers can be packaged for guests to take home or delivered to a local shelter.
* Stay true to your actual guest count. Most catering companies do not plan for a percentage more.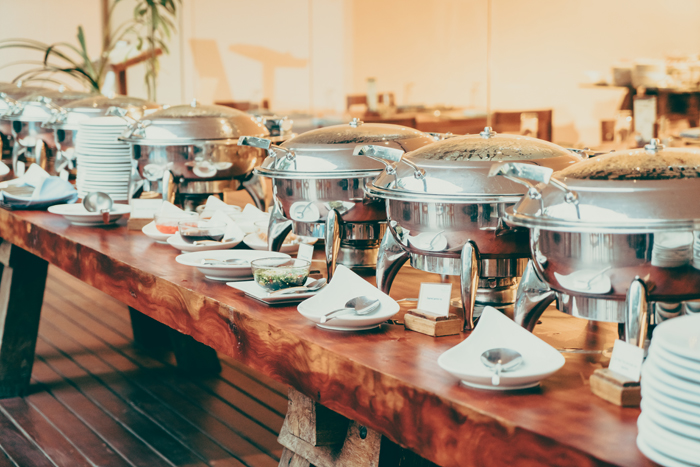 Unsure what to ask potential caterers?
Get our Catering Printable