New Year, New Services, Same Legendary Receptions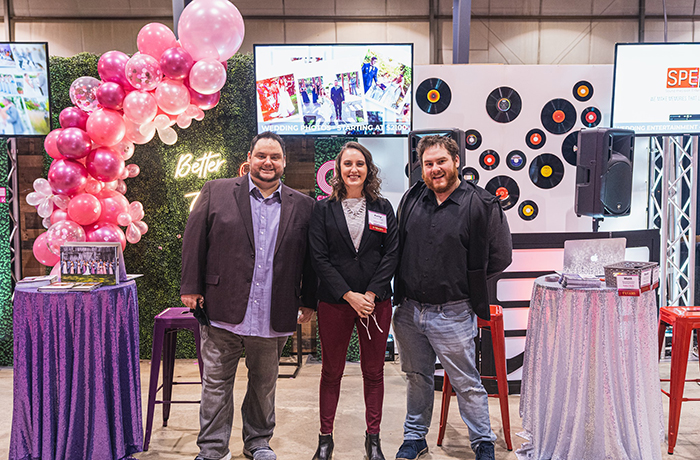 "Allow us to reintroduce ourselves; We are Sound Precision Entertainment, one of Cleveland's most awarded wedding production companies!"
New Year, New Services, Same Legendary Receptions
With the new year right around the corner, you're probably scouring the internet for the latest wedding trends 2022 will bring. How are couples making their wedding an out-of-this-world experience? How are they personalizing their special day to make it both memorable and unique?
Sound Precision Entertainment has the answers. From their unmatched talent to their modern equipment, Sound Precision Entertainment is the wedding entertainment company you HAVE to check out! And just in time for 2022, Sound Precision Entertainment is introducing FOUR new pieces of equipment to their award-winning services: Cold Spark Fountains, 'Dancing on the Clouds,' Co2 Blast Guns, and Digital Photo Booths. Read more about each of these innovative reception enhancements below and be sure to stop by their booths at an upcoming Today's Bride Wedding Show!
COLD SPARK FOUNTAINS
Cold Spark Fountains are all the rage right now. They'll only continue to gain popularity in 2022. The machines shoot cold sparks straight into the air, creating a "sparkler" effect perfect for your first kiss, reception introductions, first dance, and reception exits. They're also safe for indoor use, as the sparks are cool to the touch (looks can be deceiving)! But really, they aren't going to burn anyone or catch anything on fire. They're FOR SURE going to 'wow' the crowd! 
'DANCING ON THE CLOUDS'
There's no doubt you'll be on cloud 9 on your wedding day. Bring the expression to life by dancing on the clouds for your first dance together! This unique reception enhancement creates a romantic, dreamy feel on the dance floor. Not to mention it looks incredible in photos. Pair this enhancement with uplighting and cold spark fountains to give your guests something to talk about for years to come!
Co2 BLAST GUN
While you and your friends are bustin' a move on the dance floor, keep cool with the Co2 Blast Gun! The Co2 Blast Gun shoots out frozen liquid Co2 in smoke form and disappears within seconds after you stop spraying. Ask about the backpack accessory Sound Precision Entertainment offers for easier movement around the dance floor!
DIGITAL PHOTO BOOTH
With a completely customizable digital photo booth, you and your guests will have a blast striking poses all night long. Better yet, you can even opt for boomerangs, GIFs, and videos. The sky is the limit with Sound Precision's cutting-edge digital photo booth!
New wedding trends come with each new year. But lucky for Northeast Ohio couples, we can depend on Sound Precision Entertainment to always provide an out-of-this-world, personalized experience! Which new service are you most excited about?
---
When you choose Sound Precision Entertainment as your reception entertainment company, you'll have peace of mind that you're not just working with a vendor, but a partner.
"Simply put, we care," Sound Precision Entertainment's CEO Scott Terranova said. "We prove this by working hand-in-hand with our clients. We go out of our way to make sure we're not just performing 'cookie cutter' events. We create customized experiences and we put our money where our mouth is by investing in new equipment and education."
---
Sound Precision Entertainment is an award-winning event production company that has a proven track record of throughout the greater Cleveland area over the past 13 years. With a team of young, charismatic, talented individuals, Sound Precision Entertainment is able to breathe life into your unique wedding vision. Be sure to follow along with Sound Precision Entertainment on Facebook and Instagram.
Photo Credit: Cuff Link Media