Local and Affordable Bachelorette Party Ideas
Your bachelorette party is a time to spoil yourself and make fun and lasting memories with your best friends. While the most popular bachelorette party consists of hopping from bar to bar wearing a sash and tiara (who doesn't love a little extra attention?!), that itinerary isn't for everyone. If you want to include younger members of your party or just aren't huge on drinking, we've come up with a list of ideas that are both affordable and nearby!
Water Park
From Cedar Point Shores, to Castaway Bay, to Kalahari Resorts, there are water park options for all seasons! Relax on a lazy river, pump up the adrenaline on a speed racing slide, or catch up with your girls in the wave pool. This one is perfect for large groups, as you can all separate and do your own thing, yet meet up afterwards for dinner.
Canopy Adventures
If the weather is right, check out some of the outdoor adventures Northeast Ohio has to offer like Go Ape or Lake Erie Canopy Tours. You'll swing from vines, walk across rocky bridges, zip line, and do rope challenges. This is definitely something to check off your bucket list, and what better time to do it than right before you make life's biggest leap?!
Escape Room
Think you and your friends have what it takes to escape? Beat the clock and solve the puzzles in one of the area's dozens of escape rooms! What's great is that there are so many to choose from, so you can find the perfect theme for your group. Choose from lighthearted (perfect for kids), suspenseful, or even downright scary! No matter what, you're bound to have a great time and make awesome memories.
---
Find Local BACHELOR(ETTE) PARTY VENUES:
---
Take a Class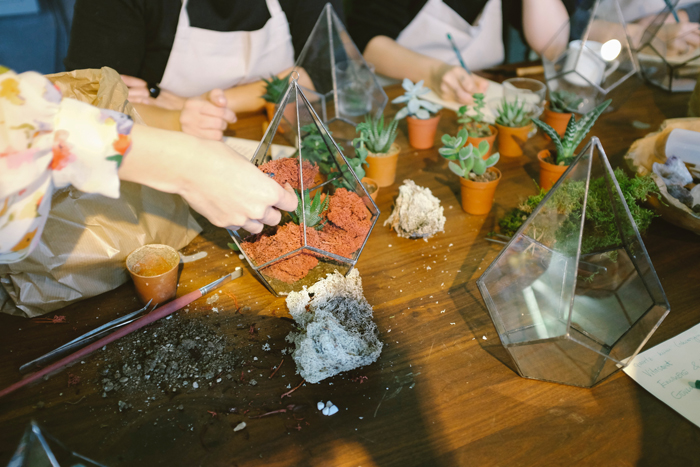 Is there something you've always wanted to learn how to do? Now is the time! Spin pottery, learn the Tango, master cooking risotto, or blow a glass ornament! You could even paint your own wine glass or make holiday decor. Whether you live near Akron, Cleveland, or Youngstown, there are bound to be unlimited options near you.
Amusement Park
Ohio is known for it's easy access to some of the best amusement parks! With Cedar Point and Six Flags right in our backyards, you can take advantage of the speeding roller coasters without having to travel too far! Want to get away? Make a trip to Hershey Park or Kennywood in Pennsylvania. Fun rides, yummy food, and great memories await!
Indoor Skydiving
While your entire party may not be on board with the idea of skydiving, you could easily convince them to do indoor skydiving! Not only is it super fun and exhilarating, but it's great practice for the real thing. Depending on where you go, you may even have a virtual reality option where it'll look like the real thing! Suit up and test your bravery with this adventure – perfect for adrenaline junkies!
Cuyahoga Valley Train Ride
We highly recommend taking this excursion in the fall, but it's perfect for any season! You'll have a day-long pass and can download an app to listen to a tour and description of what you're seeing. Get off at different stops to explore the area or simply enjoy the atmosphere of the 1940-esque luxury steam train. They even have beer and wine tasting options with tasty hors d'ouevres for an upscale and sophisticated bachelorette party.
---
Whether you want something exciting and adventurous or relaxing and kid-friendly, there are so many bachelorette party options around Northeast Ohio! Try out one of these or come up with your own and share it below!
For attire, games, and decor inspiration, check out our Pinterest Board!