Tips For Healthy Hair On Your Wedding Day
Gorgeous, flowing locks are the look every bride wants on her wedding day. Can you imagine walking down the aisle with dry, frizzy hair? Of course not! Ensure that you have supermodel-worthy, healthy hair with these tips and conditioning treatment recipes!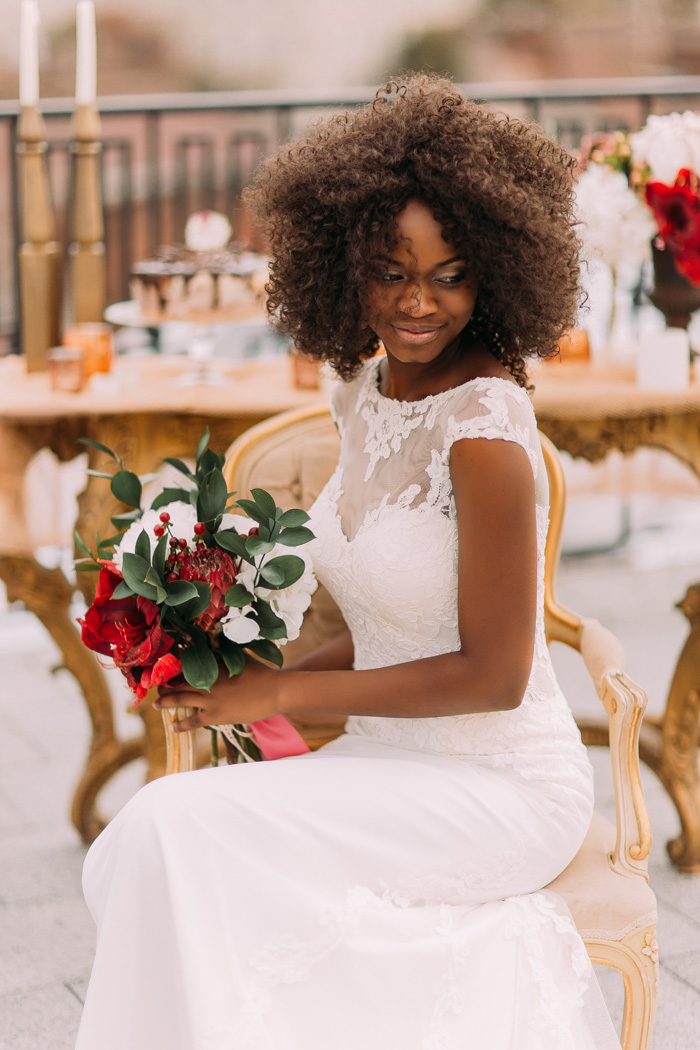 Creating Selena Gomez-like hair doesn't happen overnight – especially if you often blow dry, straighten, or curl your hair. Damage from heat and environmental elements like UV rays from the sun, wind, etc. can make your hair dry, frizzy, and will keep it from growing. Some tips you may want to take advantage of are: Ditch the cotton or jersey pillow-case.
Sleeping on silk pillowcases is a much better alternative. Though they may be slightly more expensive, trust us, it's totally worth it. For starters, it reduces breakage, which means longer, stronger hair and less split ends. Whereas cotton increases static friction which can cause knots, you'll wake up with silky smooth hair – they don't call it silky smooth for no reason – that's easier to style. Plus, silk is typically hypoallergenic, which is great for sensitive or acne-prone skin.
Don't overwash your hair.
Hair doesn't need to be washed as often as we think; a simple rinse of water will usually suffice just fine. If you have thick hair, you only need to wash it two to three times a week. In between, use dry shampoo or rinse with water. When you do wash your hair, make sure to rinse the shampoo out thoroughly. Remaining product can cause buildup, which leads to greasier-looking hair and will stunt growth. Remember to only apply conditioner from the point of your ears downward – never at the roots.
Use water temperature to your benefit.
According to tradition (or your grandparents), people would soak in a warm tub before jumping in to a cold shower to bathe. Why? Wouldn't you want to shower in warm water? It turns out that they knew what they were doing. Warm water opens your pores, whereas cold water closes them. Apply your hair products using warm water so the follicles and shaft can absorb and utilize them. Then, rinse the product off with cold water so the pore can trap the product inside and treat your scalp.
Air dry your hair as often as possible.
If you can get away with skipping the blow-out, do it! Again, the extreme heat damages the shaft of your hair, takes away shine, and causes breakage, making your hair seem dry and frizzy. Letting your hair air dry or towel drying can be a much healthier way to let your hair dry naturally…but only if you use a microfiber towel!
Use microfiber towels.
Instead of cotton towels, invest in some microfiber towels. Microfiber towels absorb excess moisture much quicker, which will lead to less blow-dry time. We don't know how or why, but the science in the fabric of the towel actually reduces frizziness, and hey, we're not going to look a gift horse in it's mouth. When you're using this towel, be gentle with your locks. Instead of scrubbing your scalp raw, gently press and squeeze the moisture out of your hair or twist up on top of your head.
---
conditioning treatments
A lot of the ingredients you already have in your pantry or fridge can be combined to create a natural, organic, and safe way to treat your hair. We recommend combining one ingredient from each of the categories below for the ultimate mask. Experiment with amounts until you create a thick paste. Coat on your hair and cover with a shower cap for 20-30 minutes 2-3 times a week.
SHINE
Coconut Oil
Honey
Corn Starch
Greek Yogurt
GROWTH AND STRENGTH
Shea Butter
Eggs
Olive Oil
Mayo
DETOX
Jojoba Oil
Baking Soda
Lemon Juice
Apple Cider Vinegar
Everyone's hair is different, so try out different combinations of ingredients to find the mixture that suits your hair best. Or, consult with a beauty specialist to get a professional conditioning treatment. It costs more than using ingredients like these, but you'll see instant results!
Want some tips on how to get healthier skin? Check out this blog! And don't forget to visit our Pinterest for trendy hair styles for your wedding day!