Local Bakeries Create Wedding Cakes Inspired by Jewels
At Today's Bride, we have 2 major goals. 1) Helping you find inspiration and new trends and 2) connecting you with local businesses. The new edition of Today's Bride Akron/Canton magazine does just that! Inside, you can find wedding cakes designed by local bakeries with jewel tones in mind. See them and find out more in this blog.
Aquamarine – Acme Fresh Market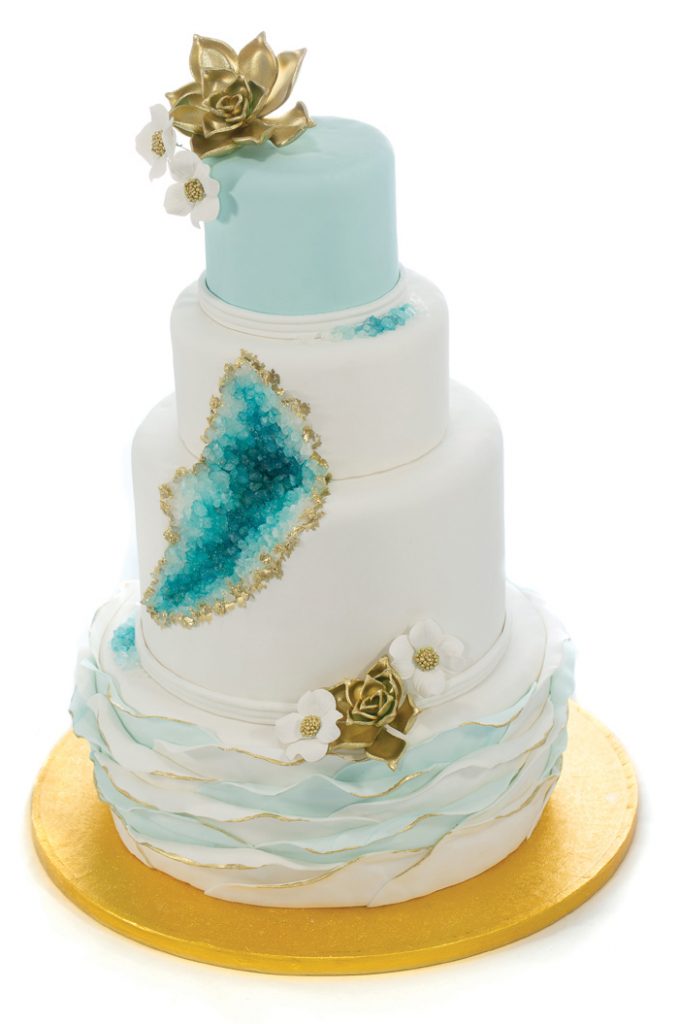 OH Snap! Photography

OH Snap! Photography
Traditionally, wedding cakes are white. Modern couples like to incorporate colors and textures. Acme Fresh Market combined the two with this stunning cake! Using fondant to create a smooth finish perfectly contrasts the textural, sugar stone geode. Outlining the geode, sculpted into succulents, and dusted on the ruffles, the gold accents make the aquamarine color stand out even more!
Diamond – Acme Fresh Market
OH Snap! Photography

OH Snap! Photography
Because diamonds are transparent, how is it possible to design a cake that isn't boring and stagnant? Acme Fresh Market took on the challenge and surpassed our expectations! What you get is an elegant and luxurious design fit for the most lavish wedding! As if the dazzling ribbons around each tier and the individual crystals placed on the quilted second tier weren't enough, they created an entire cascade of fondant flowers accented by crystal brooches. Also, the black ribbon and brooches add a bit of color that make the crystals stand out even more.
Emerald – Tiffany's Bakery
OH Snap! Photography

OH Snap! Photography
Tiffany's Bakery pulled out all the stops with this emerald cake design. They combined several techniques, including sugar work, ruffles, piping, and edible flowers. It also shows that your cake can compliment your color scheme without having to be overly dramatic or vibrant. The cascading flowers are so dynamic because of the subtle changes in shade and color, which accent the stand and cake topper perfectly.
Opal – Buehler's
OH Snap! Photography

OH Snap! Photography
The variety of colors in the opal stone could make designing this cake a bit overwhelming and difficult. Shades of blue, pink, purple, and green would easily over-stimulate your eyes and quickly lose a sense of elegance. Buehler's masterfully rolled this color palette into fondant, implementing the ever-popular marble trend! The sugar crystals sprinkled on the bottom tier is a delicate combination of the top two tiers, allowing the cake to maintain it's grandeur.
Amethyst – Buehler's
OH Snap! Photography

OH Snap! Photography
Though amethyst can be smooth and pristine for jewelry, it's more commonly a raw, uncut gem. Buehler's paid tribute to this natural beauty in their cake design! Instead of covering the cake with smooth fondant, they iced it with imperfect buttercream. Buttercream also makes the ombre effect seen in the second tier easier to execute. The raw geode, loose crystals, and succulent-like clusters also give this cake a very nature-esque feel.
Onyx – West Side Bakery
OH Snap! Photography

OH Snap! Photography
Onyx is a beautiful black stone that often features parallel bands ranging in color. Though there are many techniques and features to this cake, it comes across as very minimalist. The stripes along the bottom tier represent the imperfections found in the stone while the fondant pebbles represent the stone itself. To break up the smooth fondant, West Side Bakery incorporated the trending drip cake technique. Finally, the cake is topped with a so-green-it's-almost-black flower to add visual interest.
Morganite – Mel's Sweet Shop
OH Snap! Photography

OH Snap! Photography
Blush. Millennial pink. Rose gold. Morganite. Call it what you want, we love it! This four tiered cake designed by Mel's Sweet Shop is the modern bride's dream! The sugar crystals provide texture and also break up the drama in the first and third tier. The monochromatic second and bottom tiers make the top and third tiers more impactful. Both tiers are covered in marble fondant and accented by edible gold foil. Top this masterpiece with a giant gold flower for one dramatic display!
---
Find Local BAKERIES:
---
You know all those cakes you love on Pinterest? Those are all possible! Local bakers know how to execute the latest trends and how to tailor them to your wedding. Contact one today to start designing your dream wedding cake.