Best Accessories for your Wedding Day
You've selected your bridesmaids, ordered the flowers, booked a reception hall and said yes to the perfect wedding dress. It's safe to say that you're almost ready for your wedding day! Before you can walk down the aisle and say "I do," you'll want to ensure that you look – and feel – your very best. No outfit is complete without a few accessories. Likewise, your wedding accessories should pull your entire look together and highlight your natural beauty. From your shoes, jewelry, undergarments, and more, it's important to not forget about these wedding accessories as you approach the big day.
Wedding Shoes
After you choose your wedding gown, a comfortable yet stylish pair of shoes is probably the next most important part of your bridal look. There's a lot to consider when choosing the perfect pair of shoes, starting with the style. You can choose from a comfy pair of flats or elegant stiletto heels depending on your style preference. You'll also want to consider your wedding venue. If you're thinking about getting married outdoors, high-heeled shoes might not be the best option. Instead, opt for a fashionable pair of sandals or wedges. After you purchase the perfect pair, make sure that you bring them along to your first dress fitting. Wearing the correct shoes with your wedding dress will ensure that your dress is hemmed to the perfect length.
Jewelry
A great way to accentuate your bridal look is by adding the right jewelry. In addition to your engagement ring and wedding band, it's up to you to decide the other elements you'd like to wear. It's important to wear jewelry that compliments your wedding dress. For instance, a pair of dangle earrings with a matching necklace might look great with a strapless wedding dress, while a few bracelets and a pair of diamond studs could perfectly embellish a trumpet-style gown with a high neckline. And if your dress is fully adorned with glitter and rhinestones, you might not want to go overboard with jewelry, and instead choose a few smaller pieces to help you really shine.
Undergarments
Ensure that your wedding dress fits perfectly by wearing undergarments that hug your body and feel comfortable against your skin. If your dress is super form-fitting, like a mermaid or trumpet style gown, shapewear is a great option. A comfortable pair of seamless underwear will help stay invisible underneath your dress all day long. A bra that fits your body offers the support you need for the dress to not only look great on you, but for you to look great in the dress! Stay away from bright colors, though. You don't want anything peeking through!
A garter is another traditional wedding accessory that you may wish to include on your big day. As an undergarment, the garter will be concealed under your dress, so you can even decorate it to your liking or use it as your something blue. Then, keep it as a momento from your special day.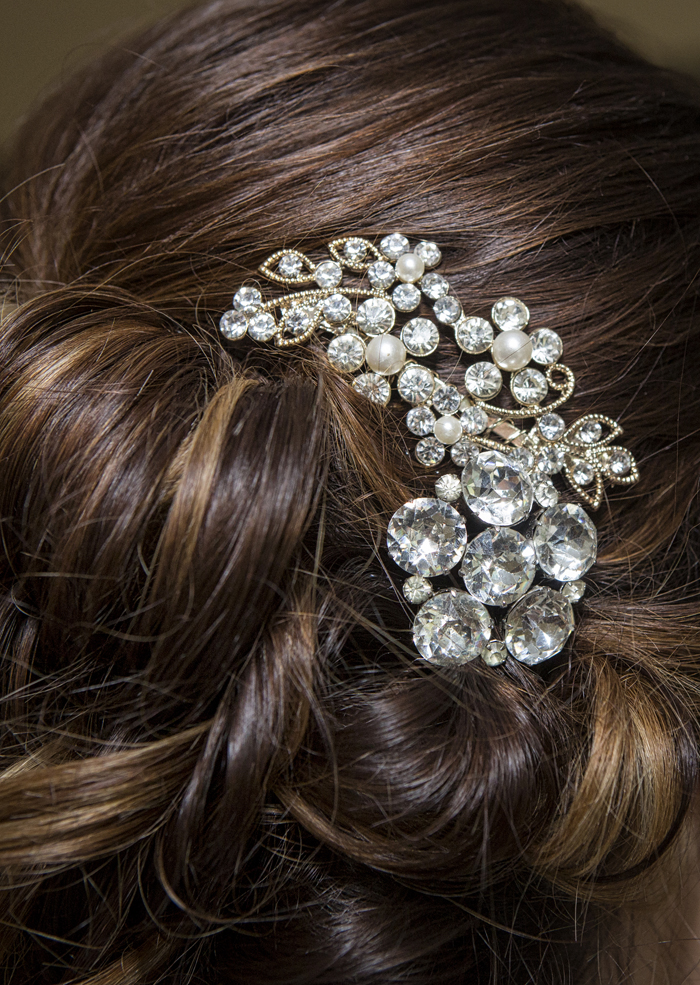 Hair Accessories
You have a variety of options when it comes to styling your hair for the big day. Once you decide whether you want to sport an updo, rock a ponytail, or leave your hair down, you can accessorize with hair pieces. The traditional veil is always a great option, or you can shake it up by choosing a long, elegant cathedral veil, or a short, classic birdcage veil. If a wedding veil doesn't match your style, there are other hair accessories you can consider. Whether you're looking for an ultra-glam look or for a few simple accessories, you can choose from headbands, barrettes, hairpins, clips, and other hair pieces – like flowers or feathers – that highlight your bridal attire and help you feel even more beautiful when you walk down the aisle.
Purse
Purchasing a small purse or clutch is a great way to keep necessities like makeup, tissues, and your cell phone close by during your wedding reception. Plus, you can always hand it over to a bridesmaid or family member so that you don't have to worry about losing track of your belongings. It's your wedding day, so all you should be worried about is having a great time with the people – and the special someone – you love!
---
Now that you have the wedding accessories you need, you're all set for your big day! What other ways are you planning to accessorize your wedding dress? Share with us in the comments section below!