Saving Money for your Wedding
Spending money is a love/hate relationship. You love shopping and all of the great purchase you make, but seeing the amount left in your bank account afterwards can be disheartening. Spending on your wedding is the same way, but luckily, we have a few tips on how you can start saving more money and have more to spend!
Before Your Wedding
Collect Your Change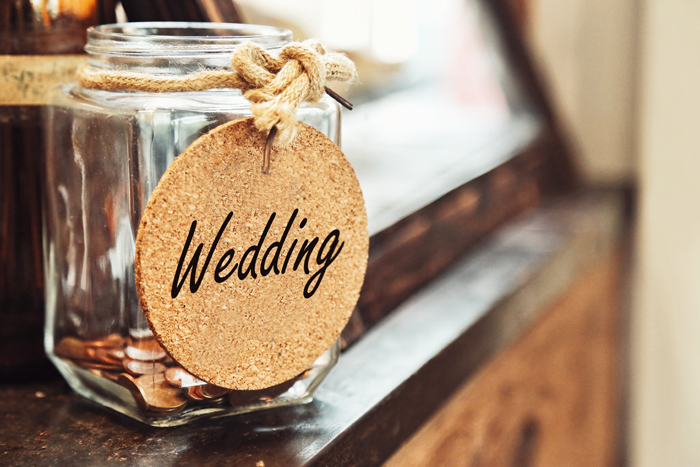 This may seem old-fashioned and not worth it to roll up all those coins for minimum payout, but every penny counts! If you don't use cash often, this may not be the best way to go – especially if you're trying to save quickly. If you're looking to save anywhere you can, ask your friends and family if they have jars of coins sitting at home they'd be willing to donate to your wedding. Make sure to roll all the coins yourself rather than using a machine coin counter, as they take part of your savings as payment. While it takes a lot of time, you could end up rolling a few hundred dollars' worth of coins, which could pay for your cake, dress alterations, or a fun addition like a photo booth!
Tip Jar
The Tip Jar idea is very similar to collecting change, except it's not exclusive to coins. At the end of the day, throw in a few dollars. If you decided to skip your morning coffee run, throw in the amount you saved. Completed your goal of running 5 miles? Reward yourself by throwing in $5! This money can add up quickly and go toward vendor deposits.
Save Increasing Amounts Every Day
If you search online for tips and tricks to save more money, you'll probably see this suggestion. Each day of the year, add that many dollars to your account. On the 15th day of the year, transfer $15; on the 210th day of the year, transfer $210. Another way to do this is by separating it into months so later into the year you're not transferring large sums from one account to another. Instead, you start over every month by saving $1 on the first day of the month and $30 or $31 on the last day. You'll save about $575 every month!
Save Every $5 Bill You Get
This is another common money-saving hack, but really only works for those who use cash regularly. Every time you make a transaction or break a large bill and receive a $5 bill back, put it away in a jar, shoe box, or wherever. If you do this with every $5 bill you come across, soon you'll save hundreds – even thousands! – of dollars.
Make and Stick To a Budget
This may seem obvious, but sit down with your fiancé and establish a monthly budget and a savings goal. Write down your monthly bills and how much you owe, how much you plan to pay towards credit cards, and what you spend on things like gas and groceries. Then track and record all of your superfluous expenses throughout the month. At the end of each month, sit down to review and decide what you're spending too much on, what can be eliminated, and where you need to be more frugal. Adjusting where you spend your money can help you make smarter spending choices which can save you more money to spend on your wedding!
Download our Free Budget Printable.
Eliminate Luxuries You Don't Need
Instead of getting a gel manicure every month, have a girls' night with your bridesmaids and do each other's nails! How often do you really use your cable? If that's something you can go without, consider nixing it for a few months in order to save more. Do you pay a monthly fee for the gym or a membership that you don't use? Eliminate any unnecessary payments. These cuts can be temporary or permanent depending on the frequency of use.
Cut Coupons
This money saving technique is quite time consuming and often doesn't seem worth it, but if you find that you spend a lot of money at the grocery store or tend to go over budget, using coupons can help keep you under budget and may allow you to get more products. Simply stated, it gives you more bang for your buck!
You can also consider opting for a generic brand of items rather than name brand, or buying in bulk. Store brand food items are typically made from the same ingredients as the brands you love, but have a cheaper price. Bulk items tend to offer a slight discount when you buy in larger quantities. Buying generic peanut butter, cereals, soups, etc. and stocking up at bulk supermarkets can add up to a lot of savings.
Pack your Lunch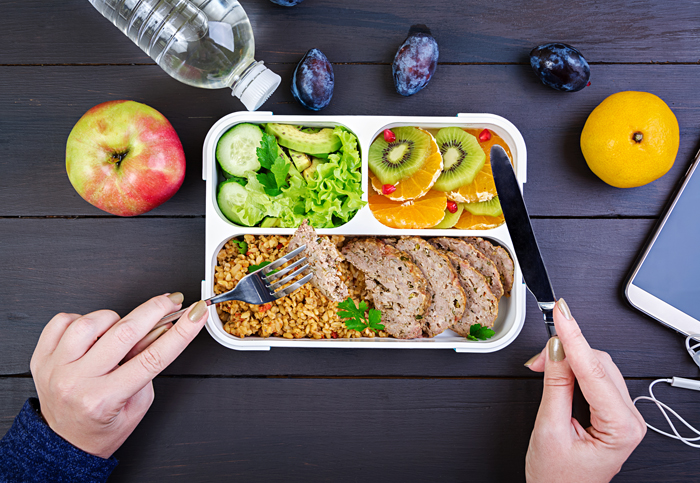 We totally understand how mornings are: you wake up late, rush out of the house, and don't have time to pack a lunch. With this routine, you end up spending $5-10 everyday on lunch! Instead, pack your lunch the night before work so it'll be ready to grab on your way out the door. You'll end up saving around $50 a week, which adds up quick!
Declutter
Go through your clothing, purses, books, coats, etc. and sell them to make more money. If there's a shirt you love but never wear, try selling it online or at a thrift store. Once you start going through your stuff and selling what you don't need, you'll see a big profit! Plus, you'll have a lot less clutter in your life.
Use Cash Back Credit Cards for Every Purchase
This suggestion can get dangerous if you don't immediately go into your account to pay it off, but as long as you stay on top of your statements, using a cash back credit card can result in tons of savings! For every purchase – gas, a quick snack or beauty products from your local drug store, your electricity bill, whatever it may be – use a cash back credit card instead of your debit. That way, you earn money back on everything you've purchased and can reap the rewards at the end of each month. Just be sure to go in to your account as often as possible and pay it off, or you could end up with debt instead of savings.
Planning Your Wedding
You may not know, but you actually don't have to pay a travel agent for their services! By booking through an agent, you can get special discounts, free package enhancements (like excursions or room upgrades), last-minute flight price changes and more! Plus, you'll know that the resort is reliable and you'll have a point of contact if anything goes wrong.
Rent Decor
Making your own wedding decorations is a dangerous task that most likely won't turn out how you imagined. If you end up renting items that you attempted to make at first, you'll be frustrated by the amount of money you wasted on products like glue, modge podge, glitter, paint, and more.
Find Local RENTAL COMPANIES
Don't Get Married During the "Wedding Season"
Because the weekend dates from May to October are in higher demand, vendors are likely to charge more for their services in these months, known as the wedding season. In off months, like November through March, you can expect discounted prices, as demand isn't as high.
Get married on a Friday/Sunday
Saturdays are the most common day for a wedding celebration, and most vendors don't work or expect to make money for the rest of the weekend. If you're willing to book them on an alternative day, they may offer you a discount so they can generate more revenue!
---
We understand how costly a wedding can become and how stressful finances can be– especially since you're about to start a marriage. Using these money saving tips, you can feel more comfortable about making those deposits and payments while maintaining a healthy bank account.