Wording your LGBTQ Wedding Invitations
As a same-sex couple, it may seem difficult to plan certain aspects of your wedding when the rules don't apply to you. With wedding invitations, the rules of wording are pretty similar to what tradition has always dictated. But if you need some guidance on where to start and what to say, we've made it easy for you.
The Name Game
Parents' Names First
In a traditional wedding, the names of the parents are listed first. If one set of parents is considered to be "hosting" the wedding, their names go first, followed by an invitation to celebrate the marriage of their son or daughter to their fiance. If both sets of parents want to be mentioned, it's typically [parents' names] & [parents' names] request the honor of your presence as their children marry.
Couple's Names First
The couple themselves can request the presence of their guests without or along with their parents. Simply list your names and use one of the sample wordings below followed by the ceremony details to formally invite your guest. If you'd like to include your parents' names but they aren't contributing to the wedding, list your names followed by "along with their parents, [names] and [names], request the honor…"
Whose name gets listed first?
The bride's name is usually listed first in heterosexual marriages. This is because her family typically pays for the majority of the wedding. If either of your families is contributing a hefty amount to your budget, you should still follow this rule of thumb. However, more and more often the couple foots the bill these days. If that's the case for you, you can order the names however you want! Alphabetically or phonetically, there is no wrong answer.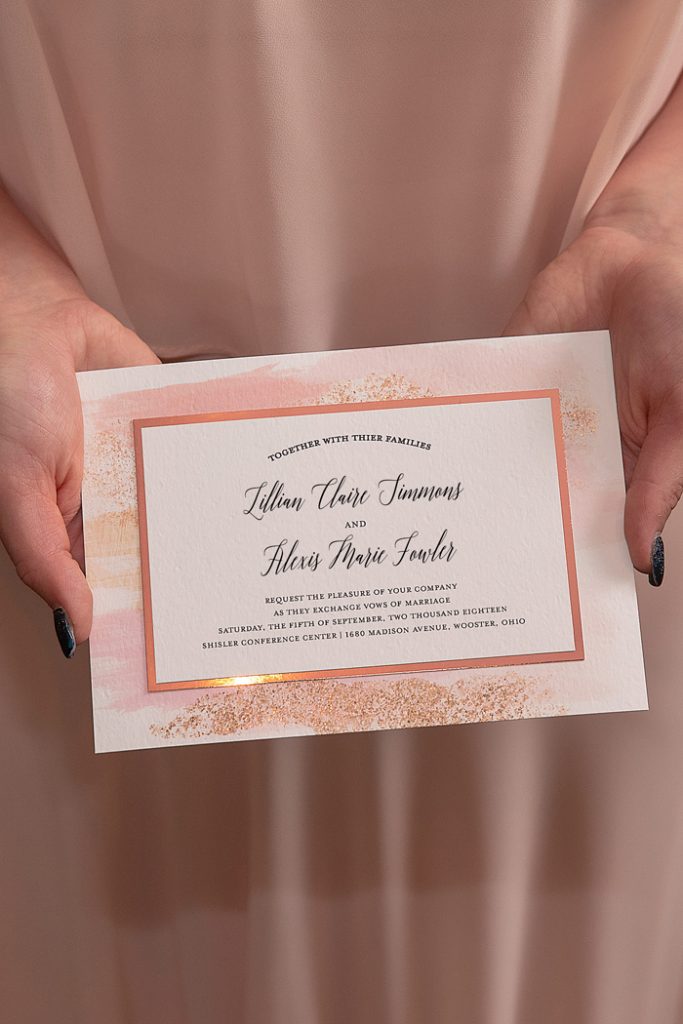 Get more etiquette tips here.
Sample Wordings
Together with their families/parents
Invite you to share in our joy as we are united in marriage/ join us in our celebration
Request your presence/ the pleasure of your company as they exchange vows of marriage/ celebrate their union of love
Joyfully invite you to share in their celebration of marriage
Join us in a celebration of love, friendship, and laughter as [name] and [name] exchange marriage vows
Please join [name] and [name] as they join together in marriage
You are cordially invited to witness the wedding of…
You are happily invited to the wedding ceremony of…
Invitations by Kate

Streamline CLE
---
Find a Local STATIONERY EXPERT:
---
Now that you know how to write your invitations, find out who to send one to, how to address them, and how to assemble them! Sound like a lot of work? Hire an expert, instead!