Choosing a Wedding Cake with Nothing Bundt Cakes Strongsville
Wedding cakes are the visual focal point of the reception. You want yours to look different, but you can't afford a 5-tier masterpiece. How can you have a unique cake (that also tastes great) without overpaying?
Nothing Bundt Cakes Strongsville combines everything you're looking for in a cake! They taste great, look gorgeous, provide the wow-factor your guests want, and are affordable! Go through the process of choosing your wedding cake in this blog. At the end, you'll be calling Nothing Bundt Cakes, for sure.
Unique
We get it; you want your wedding cake to stand out. You want it to be unique. That's hard to do when people have been getting married for centuries and everything's already been done a time or two. Well, we can almost guarantee that you've never seen a cake quite like Nothing Bundt Cakes Strongsville!
"Many people don't realize that we do wedding cakes," Liz, the owner of Nothing Bundt Cakes in Strongsville, says. You can have bundt cakes tiered, dripping in frosting, and topped! Use your own cake topper or fresh flowers to complement your theme. "Couples can stop in for a wedding cake consultations and receive a complimentary dozen Bundtinis to take home and taste."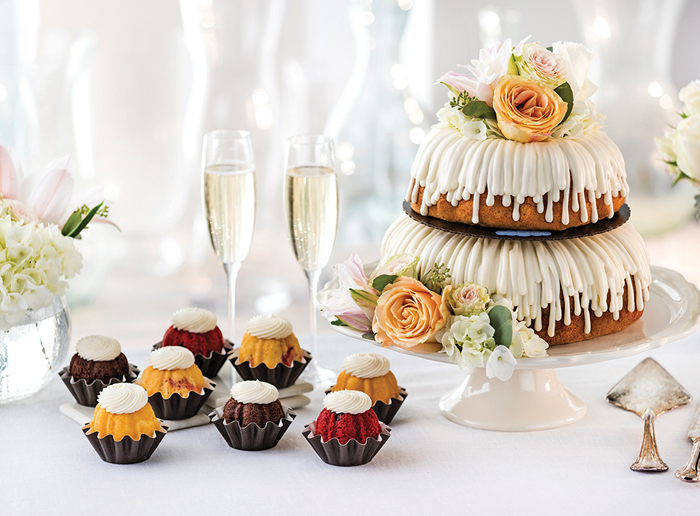 Tasty
Speaking of tasting, we know from experience when we say that Nothing Bundt Cakes are DE-LIC-IOUS! They're soft and moist, sweet and flavorful. Sometimes you'll taste a bland white cake or a lemon cake that only has the slightest whisper of lemon. Not with Nothing Bundt Cakes. The amount of flavor will shock you, but it's not too overpowering!
Plus, they have just the right amount of icing! "Often times, a cake looks beautiful but is dry on the inside or it's covered in too much frosting," says shop owner, Liz. "The cake flavor gets lost in a sea of buttercream. Nothing Bundt Cakes are frosted with the perfect ratio of frosting to the cake; they perfectly compliment each other."
"The couple should have a cake that they will truly enjoy eating and also one that doesn't break the bank. We strive to fulfill both of those wishes."
Liz Rowan, Owner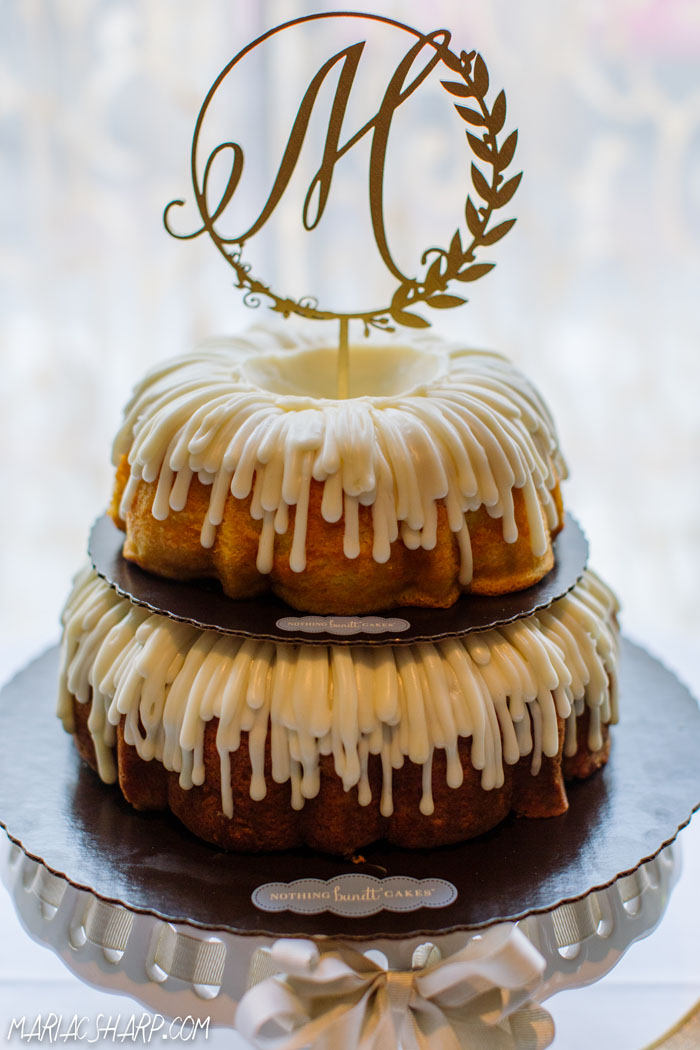 All About You
As with every aspect of your wedding, you probably have a few ideas about your wedding cake. You simply need someone to help you execute it, right? Nothing Bundt Cakes wants to hear your ideas and vision. Are there specific colors you're envisioning? A flavor you both love? They'll listen to your wish list then discuss the available options until you come up with a cake you love. 
Tiers vs Tinis
Nothing Bundt Cakes can create a tiered wedding cake, or set up a display of Bundtinis for your wedding! These are miniature bundt cakes that are perfect as a single serving, bite-size treat. You can have an array of flavors and colors to complement your scheme or diverse taste buds. And you don't even have to sacrifice the wow-factor! "We offer the rental of a cake tower that holds over six dozen Bundtinis as well as delivery and setup," Liz assures.
Because Bundtinis are single servings, you'll need quite a few. "We suggest 1.5 to 2 Bundtinis per person if it will be the only dessert.  If the couple is serving other goodies, we suggest a 1:1 ratio." It can be quite beautiful to have a two-tiered bundt cake with an array of Bundtinis surrounding it. But no matter how many you serve, we can almost guarantee there won't be leftovers. (And if there are, send them our way!) 
For more advice on how much food, dessert, and drinks to plan for, check out our Wedding Menu: Well Planned Means Well Done blog!
---
The most important aspect to choosing your wedding cake is taste! Trust us, your guests will remember if you serve dry or bland cake. Then, you need to find a bakery that focuses on YOU. Finally, decide how you want to serve your cake. Nothing Bundt Cakes covers all the bases. Schedule a consultation (and take home a dozen Bundtinis!) today!
"Nothing Bundt Cakes Strongsville is the most delicious, unique, fun, and joyful choice for your special day!"
Liz Rowan, Owner