Adding the "Wow" Factor to your Wedding
Want to throw a wedding that your guests will be talking about for years to come? Want to stand out among the dozens of other weddings they'll attend this year? Blow your guests away by adding the "wow" factor with Wedding Enhancements and Special Effects from Rock The House Entertainment!
What is the "Wow" Factor?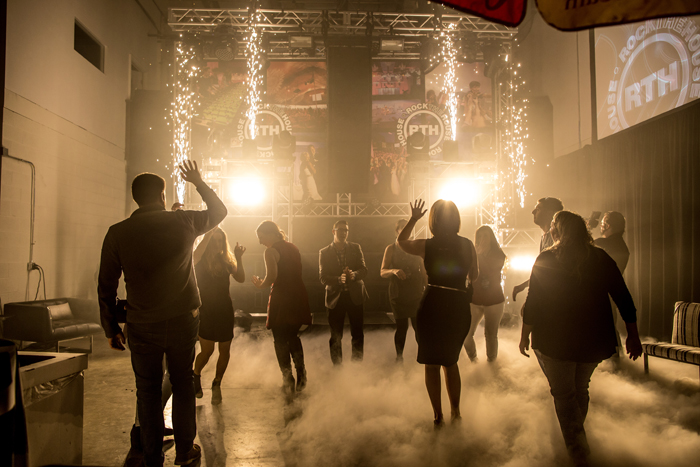 "Wow" factors are those aspects of your wedding that go above and beyond what your guests were expecting. It could be having your dog as the ring bearer, having the groomsmen perform a choreographed dance, or even having indoor fireworks! Jeff Kutz, Vice President of Sales at Rock The House Entertainment, defines the "wow" factor as "providing something exceptional that you don't see at your average wedding. When a couple comes to us and says that we exceeded their expectations and made their wedding more than they could have imagined, we know we've provided that 'wow' factor.'"
Why do I need it?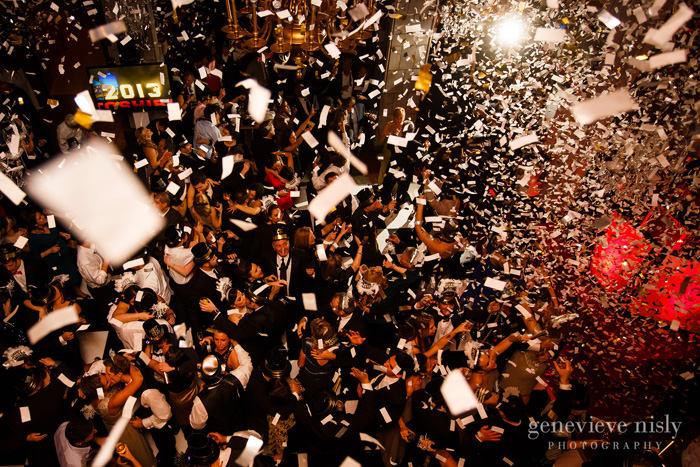 These days, the number one trend in weddings is to have a unique wedding that personifies your relationship as a couple. If you're getting married during what is known as the wedding season, May to October, keep in mind that your guests may be attending 2 or 3 weddings each month! "When this happens, weddings tend to blend into each other, style- and theme-wise," Jeff notes. How could yours possibly stand out as unique? That's where the "wow" factor comes in. "If there's something you can do that guest will really remember, your wedding will stand out from others and feel uniquely 'you.'"
What type of "wow" factors can I incorporate into my wedding?
There are a ton of options you can have to surprise and delight your wedding guests. Imagine a confetti explosion when the Officiant pronounces you officially married! Or making your indoor space a winter wonderland with beautiful snowfall! Current couples love pyrotechnic features like Sparkular indoor fireworks and enhanced lighting, but Rock The House Entertainment also has stepped up the classic oldie-but-goodies when it comes to photo booths! "We love to go beyond just a green screen or classic photo strips. Some unique options are the Mirror Booth, mosaic photo walls, and animated GIFs."
Sparkular & Night Sky Effect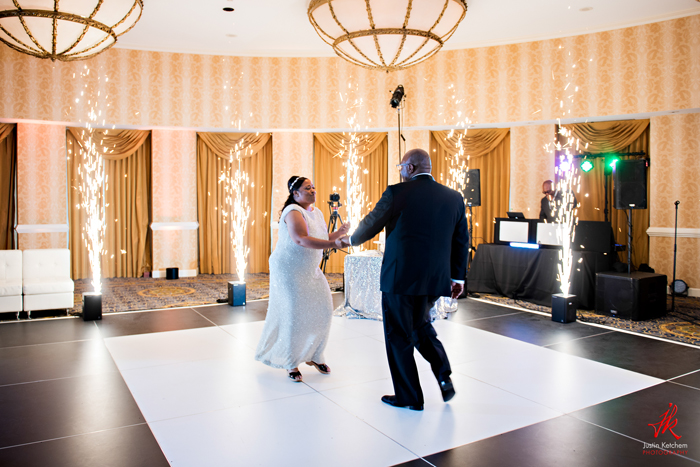 You know those pictures of a couple leaving their reception where the guests are sending them off with sparklers. They're gorgeous! Now imagine that on an even larger scale. You can arrange to have giant indoor sparklers go off as you share your first kiss, as you enter your reception, or even during your first dance! And don't worry about losing the attention of your guests. Sparkular pyrotechnics enhance your wedding and bring more attention and focus to the couple. "We've never once had a couple or their parents call us after an event and say that it wasn't worth their investment."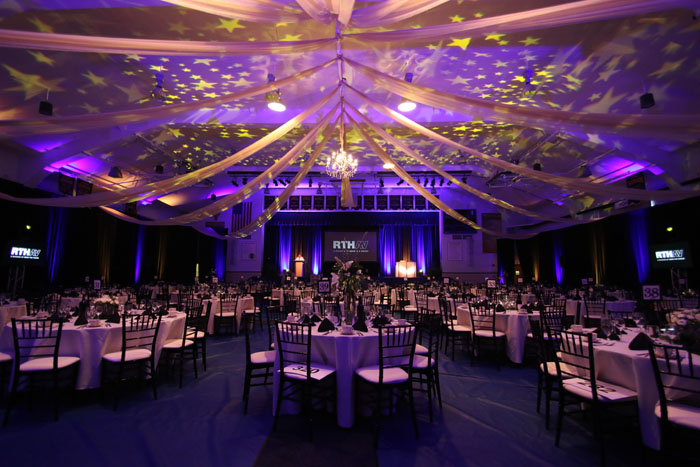 Another lighting effect Rock The House Entertainment offers is the Night Sky Effect. "From twinkling laser stars to epic galaxy shapes and cloud projections, our lighting designers will help you create a magical ceiling-scape!" Jeff says. Similarly, they can also project a gobo stencil light or video production elements on the ceiling or wall, too.
Dance in the Clouds, Snow Fall, & Confetti Drop
These three features are dance floor favorites. Imagine tying the knot on New Year's Eve and dropping confetti all over your guests at the stroke of midnight. Or doing a graceful waltz among the clouds for your first dance. Rock The House Entertainment wants to make your vision a reality and will do their best to come up with a way to make reality even better than your imagination.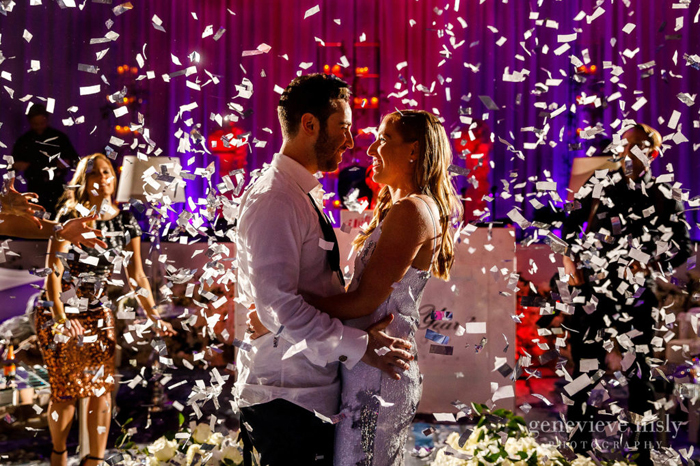 One concern you may have about Dancing on Clouds is how it could affect the air in the room. Jeff informs couples that this cloud is not like the fog or haze machine that you used in your high school theater productions. "These options use special water or oil based fluids, which can smell or bother some people with allergies or sensitive eyes. With our 'Dance in the Clouds' service, the low-lying cold flow effect is created with dry ice and does not produce a smell, affect those with breathing issues, or ruin your dress."
Live Performances & Silent Discos
One "wow" factor that your guests won't be expecting – but won't soon forget – is having a performance! You could hire a comedian or magician for your cocktail hour or reception or add some humor to your ceremony with a mime! "Rock The House Entertainment employs and works with a number of different specialty talents like professional dancers, stilt walkers, fire-breathers, and all manner of artists." This also can be the perfect way to incorporate a cultural element, like Bollywood or Hula dancers.
If you and your fiancé like different music and can't decide on a playlist (check out this list of popular songs for help) or you want to shock your guests with a completely unexpected experience, consider a Silent Disco! Each guest will receive a pair of headphones for the night and can choose between 3 music channels. Essentially, your reception playlists can be curated to please every guest on the dance floor! The best part is that, from the outside, there will be tons of people dancing to silence. Entertaining for those dancing and watching!
---
From DJs and bands, to lighting and photo booths, to bringing the "wow" factor, Rock The House Entertainment ensures that every wedding is unique, personalized, and the party of your life. With 20 years of experience, you can trust them to make your wedding truly a night to remember.