The Most Popular Wedding Songs for your Reception
One of the biggest wedding trends of 2019 is making your wedding an experience for your guests. You want them to remember it for years to come! The last thing you want is for them to be bored or ready to go home at 7pm. One way to ensure they have a great time is by playing feet-tapping, shoulder-shimmying music to get them out on the dance floor!
When it comes to wedding music, there's no one who knows it better than Rock The House Entertainment. They've been making musically memorable weddings for the last 20 years! We caught up with their General Manager of Entertainment and Signature DJ/MC, Nick Duve, about choosing the right songs for your reception.
Most Popular Songs
It's your big day. Obviously, that means you will want to play some of your favorite tunes! But it's also a celebration for your friends and family, so crowd pleasing top-tappers are a must as well. How do you find the right mix? And how do you ensure your DJ understands your overall vibe? "An experienced DJ uses popular wedding songs to guide people to the dance floor. Depending on what the crowd reacts to, that is when you start really getting into a vibe as a DJ," says Nick. "A successful wedding DJ knows how to balance the 'must-plays' of the couple with the vibe of the guests. It's about reading the room and customizing throughout the night to create a unique experience for each and every wedding."
Uptown Funk by Bruno Mars
Yeah by Usher
September by Earth, Wind & Fire
I Wanna Dance with Somebody by Whitney Houston
Can't Stop the Feeling by Justin Timberlake
Don't Stop 'Til You Get Enough by Michael Jackson
Turn Down for What by DJ Snake & Lil John
Should you have a live band put their twist on these crowd-favorites or a DJ play the original? Find out Rock The House Entertainment's advice in this blog!
Today's Bride Favorites
I Want It That Way by The Backstreet Boys
Don't Stop Believin' by Journey
Wagon Wheel by Old Crow Medicine Show or Darius Rucker
This Will Be by Natalie Cole
Somebody to Love by Queen
I Love Rock N Roll by Joan Jett & The Blackhearts
When working with Rock The House, their wedding sales team coordinates closely with the couple to make specific notes on the must-play and do-not-play lists, as well as preferred genres. This ensures that the DJ is fully aware of their preferences going into the wedding. And yes, while some people are loving on the "Macarena" once again, this could be a dance-floor-killer for others .
Incorporating "Cheesy" Songs
Some songs have been overplayed at weddings or have gotten a "traditional wedding song" reputation. But nothing should stop you from playing your favorite songs at your wedding! Some songs that get overplayed at one point and go out of style come back into fashion. Take for instance, "Africa" by Toto, "Everybody" by Backstreet Boys, or a variety of the nerd-rock Weezer jams. They're everywhere!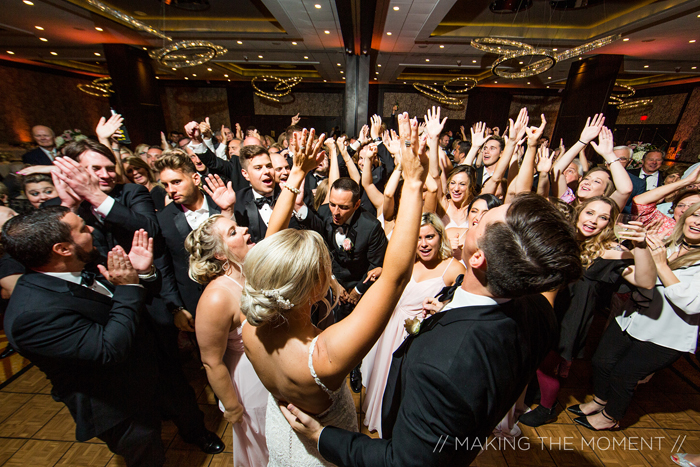 "The 'Macarena' was well-loved at weddings in the 90s. Eventually, it joined the 'do-not-play' list for most couples," says Nick. "Now, we are starting to see it worked back in to weddings. But most guests probably don't want to spend the full 4-minutes doing the same moves over and over. The key is that later in the night when everyone's dancing (and drinking), you mix in a little bit of a song like that and the crowd goes nuts. It's a little bit of fun and nostalgia, but not too much of a weird thing."
As long as you have an experienced DJ – like those at Rock The House Entertainment – who can read the crowd, you won't have to worry about your guests leaving the dance floor.
---
Rock The House Entertainment sends a minimum of a 2-person team to each wedding! This ensures that one person can focus on choosing the best music while the other is interacting with your guests, leading the line dances, and keeping you on schedule. They can even provide a photo booth, lighting, and videography! Visit their profile to learn more and get in touch with them for a wedding reception your guests won't soon forget.