Venchise & Aaron's Upscale Vintage Wedding
REAL WEDDING | CLEVELAND
Something Old, Something… Repurposed? Venchise and Aaron's Real Wedding goes to show the wow factor of bringing vintage items back to life. From using old Catalog Drawers as a cupcake display to the "Mr. & Mrs." throw pillows decorating that swoon-worthy love seat, this couple didn't overlook a single detail when planning their perfect day. Added bonus: their dog made an appearance during their ceremony! See how they brought it all together below.
WEDDING THEME: Vintage Nerd Travel
WEDDING COLORS: Burgundy and Gold

The groom looked like a true gentleman in this 3-piece suit from Men's Wearhouse!

The Groomsmen looked dashing in suits from Men's Wearhouse, and the Bridesmaids were gorgeous in
David's Bridal gowns!
Our wedding day was perfect, even though it wasn't. I woke up with a bad cold and my husband had a migraine all day. We had to change our photo location 3 days before the wedding. I forgot my robe at the hotel. Our dog didn't have the right bow-tie on. I could go on and on. But none of that mattered the day of, or now. We had so much fun! Our ceremony was everything we imagined, and our reception was the best party we've ever thrown. We wouldn't change a single imperfect thing.

Advice from the Bride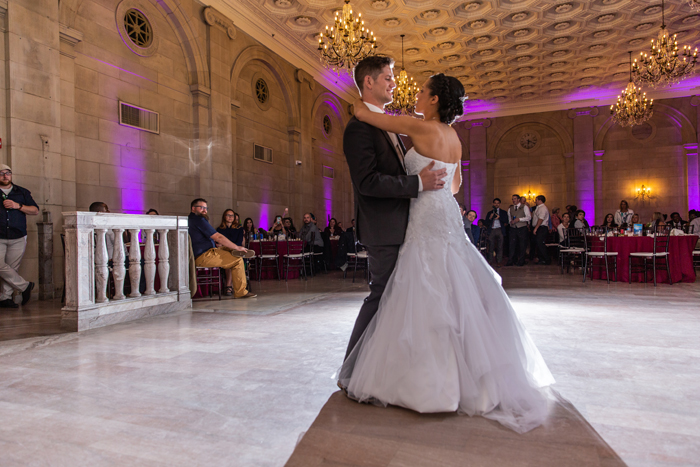 Can you believe how beautiful this venue is?! Check out Ariel Pearl Center for your wedding – they have multiple venues to fit your style!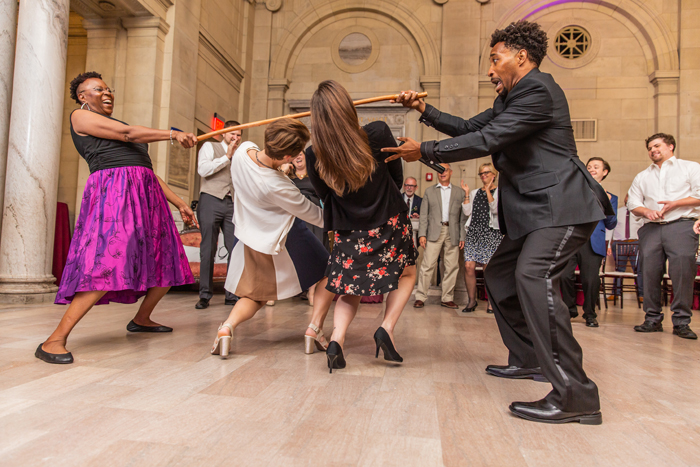 Bridal & Bridesmaids' Attire: David's Bridal
Cake: Caliber Cupcakes
Catering: Green Machine Food Truck
Ceremony Site: Garfield Memorial Church
Decor: L'Nique Specialty Linen Rentals
Entertainment: DJ Hope
Florist: Breezewood Gardens
Makeup: Arra Hair Salon and Spa
Men's Attire: Men's Wearhouse
Photo Booth: Rock The House Entertainment
Photographer: The Cleveland Photographic Co.
Reception: Ariel Pearl Center
Transportation: A-1 Mr. Limo