From Muggle to Mrs: Melissa and Kim's Magical Wedding
Melissa and Kim's real wedding | wickliffe, oh
Welcome to Melissa and Kim's wedding of witchcraft and wizardry. These 'Potterheads' achieved a magical aura by mixing loads of décor and details one might find at Hogwarts with modern moody florals and rustic accents. But not everything was explicitly Harry Potter themed. The couple made efforts to give their wedding day a Hogwarts feel, rather than a totally on-the-nose theme. And the results? MAGICAL. So, wands at the ready! This LGBTQ+ Real Wedding with a touch of Hogwarts will have you waiting for your own owl-post invitation. Take a look!
---
Melissa and Kim's Bridal portraits
Melissa and Kim's Love Story: 
"We first saw each other on Bumble," says Melissa. "But Kim didn't swipe right — haha! We met a few weeks later at a LGBTQ+ social mixer for a non profit that I'm on the board of,
Stonewall Sports Cleveland
. I recognized her from Bumble and struck up a conversation right away. And, the rest is history!"
---
"The Unbreakable Vow"
Kim's proposal
This proposal story is extra special, because it comes in two parts: Melissa's and Kim's. Kim got on bended knee and asked Melissa to be her wife at Christmastime.
"It was what Melissa thought was just an average Christmas dinner," says Kim. "Little did she know that a surprise was waiting for her under the Christmas tree! After deciding I wanted to propose, I reflected on our mutual love of Harry Potter. I decided I wanted to incorporate that into the proposal! I spent a full day hollowing out a copy of Harry Potter and the Half-Blood Prince and wrapped it like a parcel from Hogwarts. Melissa didn't notice that everyone in the room was taking pictures of her — or that I was on bended knee behind her. She opened the book to the chapter "The Unbreakable Vow" with the ring sitting upon it. It was an emphatic, resounding yes."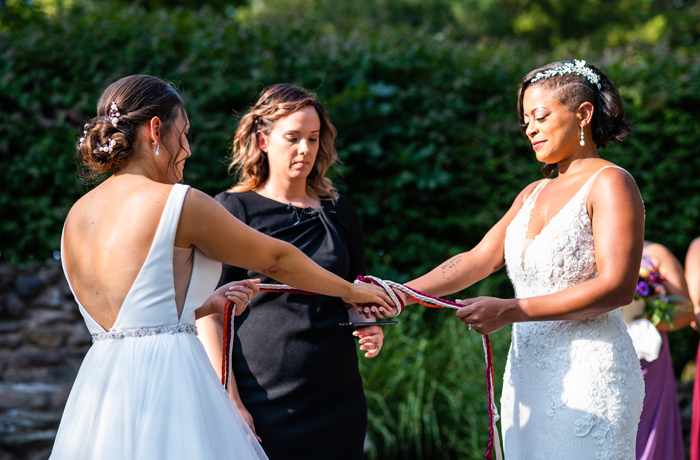 Melissa's Proposal
So, after Kim's proposal was accepted, Melissa's proposal was submitted — straight to Rai of Love, a charity founded by the very photographer of this Real Wedding, Jodi Hutton Photography!
"Right after Christmas I ordered the custom ring I chose for Kim and thought about how I wanted to propose," says Melissa. "I saw a post that said 'Ohio Wedding Giveaway' on my Facebook Timeline. The post came from a nonprofit that donates an entire wedding each year to a couple in need: Rai of Love. I sent in a video submission telling our story. I poured my heart into describing our unsupportive families who wouldn't come to our wedding. Also, I described how Kim just went back to nursing school to save lives. If they chose us, I wanted to make the whole thing a surprise to Kim. Unbeknownst to me, my close friends also submitted essays nominating us to win. And, guess what? They chose us!
What Melissa didn't know was that when her friends convinced Kim and her to go to a local gay bar one evening for a post-dodgeball drink, Jodi and her amazing team of vendors would be waiting there to surprise both of them. "Just like I'd planned to surprise Kim!" Melissa says. The entire Stonewall Sports league was in on it, and their friends brought Kim's engagement ring with them. Melissa and Kim were surrounded by excitement, happiness, and, most importantly, the love of their close friends.

Kim (left, above) wore a Mikaella ballgown from Medina Dress Rack, while Melissa (right, above) wore a Justin Alexander fit and flare from Belle Amour Bridal. All of the wedding party sported styles from
David's Bridal
in shades of wine, plum, and grey.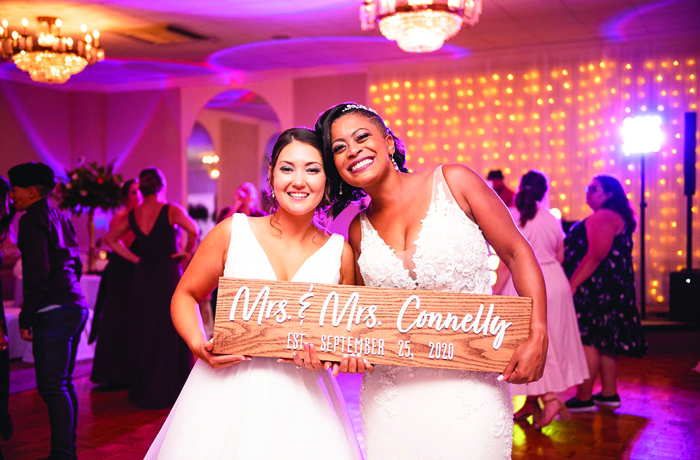 ---
the magic of decoration
Melissa and Kim's planning created a magical, Harry Potter-inspired wedding. We say "inspired" because that's fits better than "themed," which would have the potential to look like the birthday party our parents threw us when Harry Potter and the Goblet of Fire came out in 2005. (Which was totally epic, but not the kind of vibe you want for your wedding!) Overall, this wedding is giving us whimsical and rustic vibes with a hint of minimalism and modernity.  And, the Harry Potter Easter eggs you'll find throughout this section are pure magic. We've said it a million times over: your wedding should be a reflection of YOU, above all else. We love that Melissa and Kim invited their guests into a piece of their world, full of storytelling, laughter, and love — "one of the hardest and strongest forms of magic."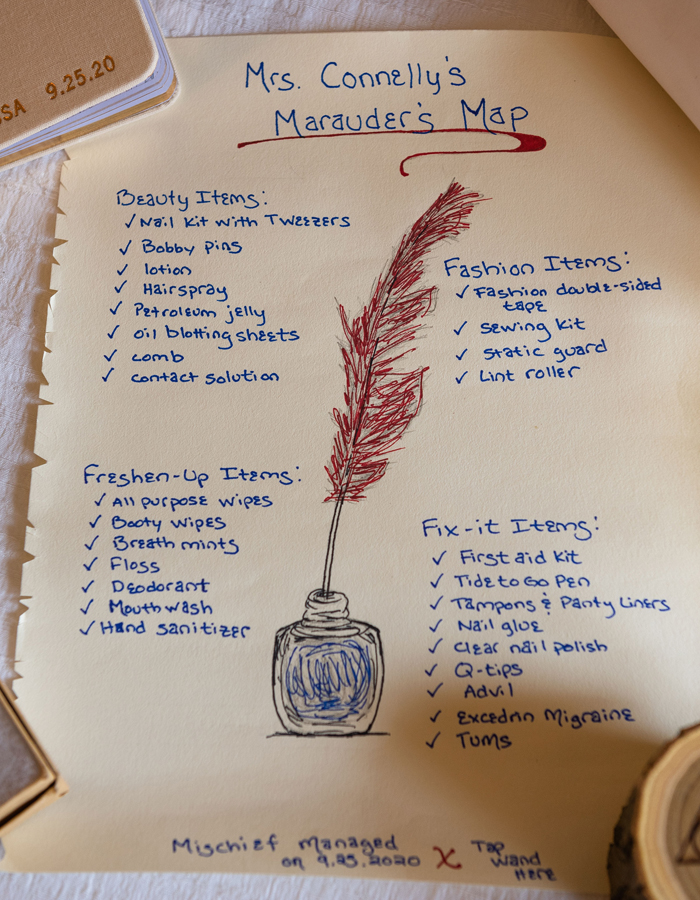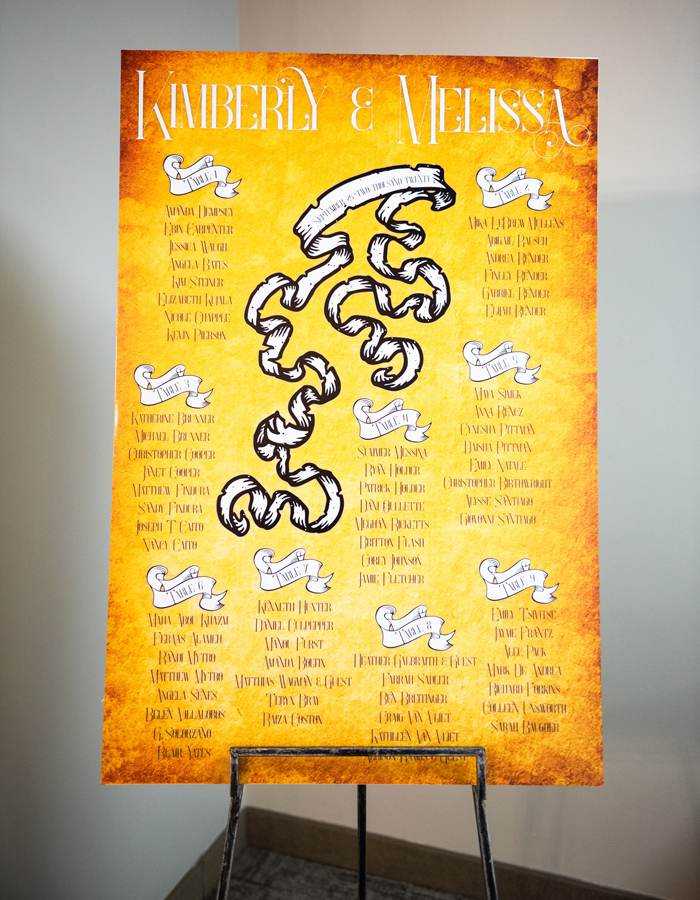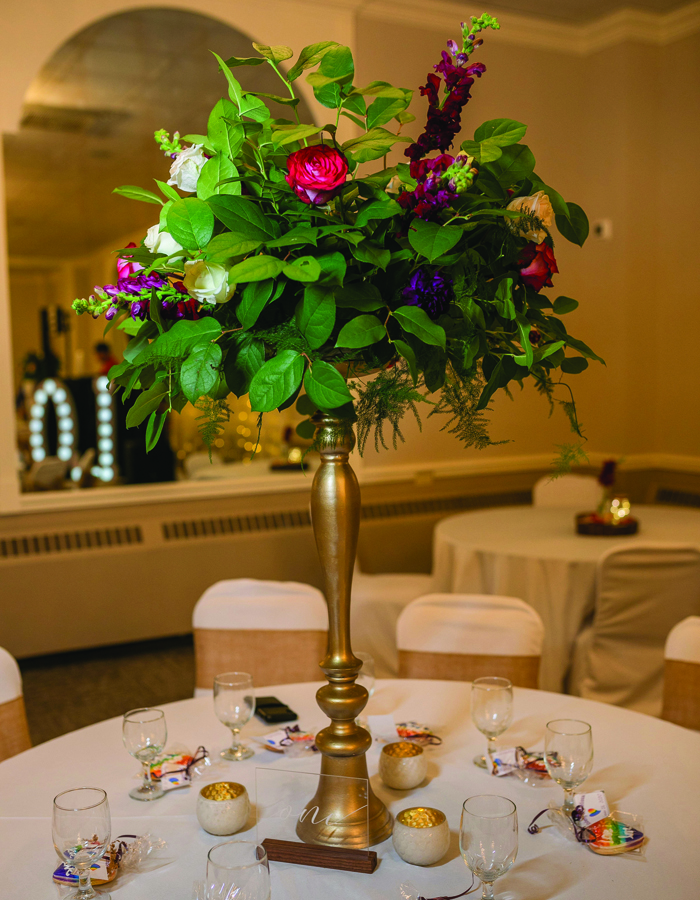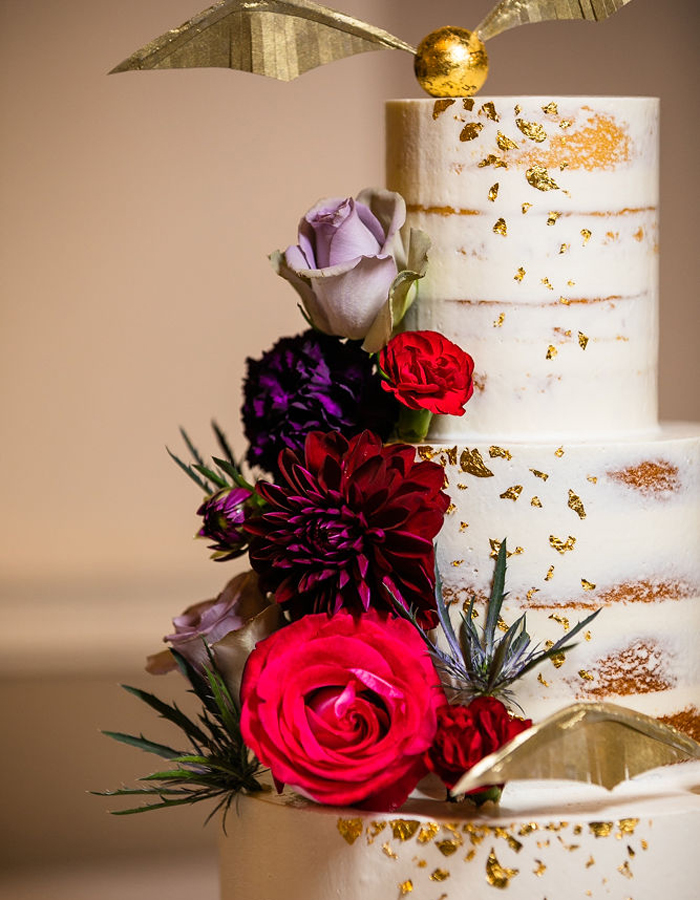 ---
MElissa and Kim's Vendors
Alterations: Cara's Alterations
Bridal Dress Designer: Melissa – Justin Alexander. Kim – Mikaella.
Bridal Dress Preservation, Bridesmaid Dresses, & Menswear: David's Bridal
Bridal Shop: Melissa – Belle Amour Bridal. Kim – Medina's Dress Rack.
Cake/Bakery: Canela Bakeshop.
Caterer: Trevi Catering
Ceremony Venue: Coulby Park
Entertainment & Lighting: Christian Dela Vega
Florist: Diana Elizabeth Designs
Hair Salon: Melissa – Carla Marcelle & Hair by Malaija. Kim – Kelly Jenkins at KellyJ Hair Cle.
Head Table Signage: Laser Pop Studio
Invitations & Stationery: Brittney Nichole Designs
Makeup Artist: Melissa – Beauty by Carelicha. Kim – Bombshell Beauty.
Photographer: Jodi Hutton Photography
Vendor shoutout: Kim and I were both blown away at EVERY photo done by Jodi Hutton. While we are completely in love with the results, it's the process that makes Jodi stand apart. We spent our time laughing with each other and with Jodi as well; we felt like she was not only photographing our story, but also became a part of it. If you want to enjoy every aspect of your experience with a photographer, are nervous about feeling comfortable and genuine, or just want to know you'll look back on your photos and smile, I encourage you to hire Jodi." -Melissa




Reception Venue: Trevi Catering

Signage: Plume and Paper

Staging: Rough Diamond Studio

Transportation: New Wave Limousine

Videographer: Work Shed Weddings
---
PHOTOGRAPHERS & NEWLYWEDS: WANT YOUR REAL WEDDING FEATURED ON TODAY'S BRIDE? SUBMIT YOUR PHOTOS FOR CONSIDERATION!*
*Due to the high number of submissions, we cannot guarantee we will be able to feature your wedding. The selection and publication of Real Weddings is subject to TodaysBride.com.