Kaelin and Jesse's Winery Wedding
Kaelin and Jesse's Real wedding | chagrin falls, OH
Kaelin and Jesse's wedding is a picture-perfect example of that gorgeous autumn wedding that you can't help but fall in love with.  From the backdrop of autumn leaves painted in shades of yellow, orange, and red to a romantic photo session under the stars at the evening's close, this real wedding truly has it all.
Peruse our gallery of favorite shots from Kaelin and Jesse's special day. However, be warned! You just might find yourself planning your own October wedding by the end of this blog.
---
Kaelin and Jesse met in college, as many couple's do. But, there's a twist to their story! Shortly after meeting, the couple realized that they actually had lived down the road from each other for years. Talk about fate!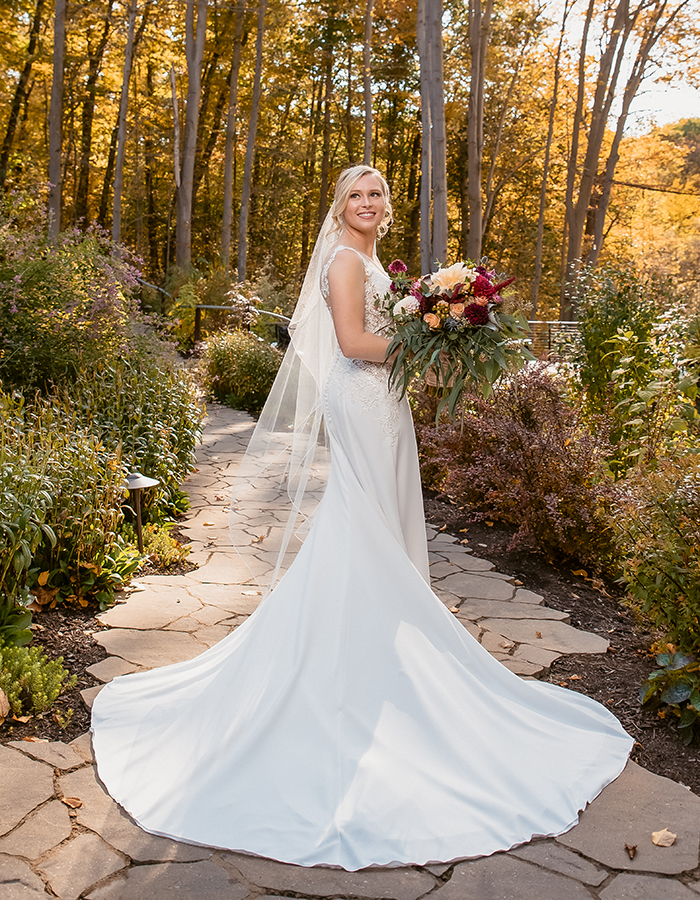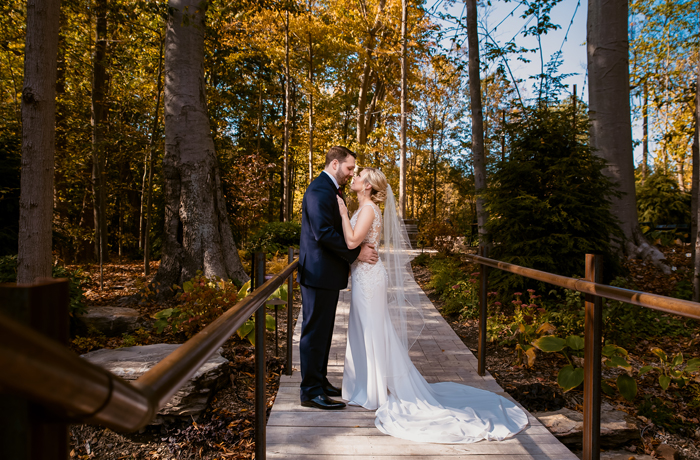 Jesse proposed over Memorial Day weekend of 2019. "Jesse and I took a last minute trip to Niagara Falls, just to use our new passports," recalls Kaelin. "That night, we had booked a dinner at the Skylon tower overlooking the falls. Having some spare time before dinner, we went to see the falls at dusk. As I got up to leave, I quickly realized that Jesse was not following. So, I turned around to see what the hold up was, and as I did he got down on one knee and asked me the question that I was not at all expecting: to spend forever together and marry him! The rest of the evening was just as magical, with dinner over the falls and a firework finish."
---
Their ceremony was held on a perfect October morning. The warm tones of the changing leaves were juxtaposed by a cloudlessly blue sky over Sapphire Creek Winery & Gardens.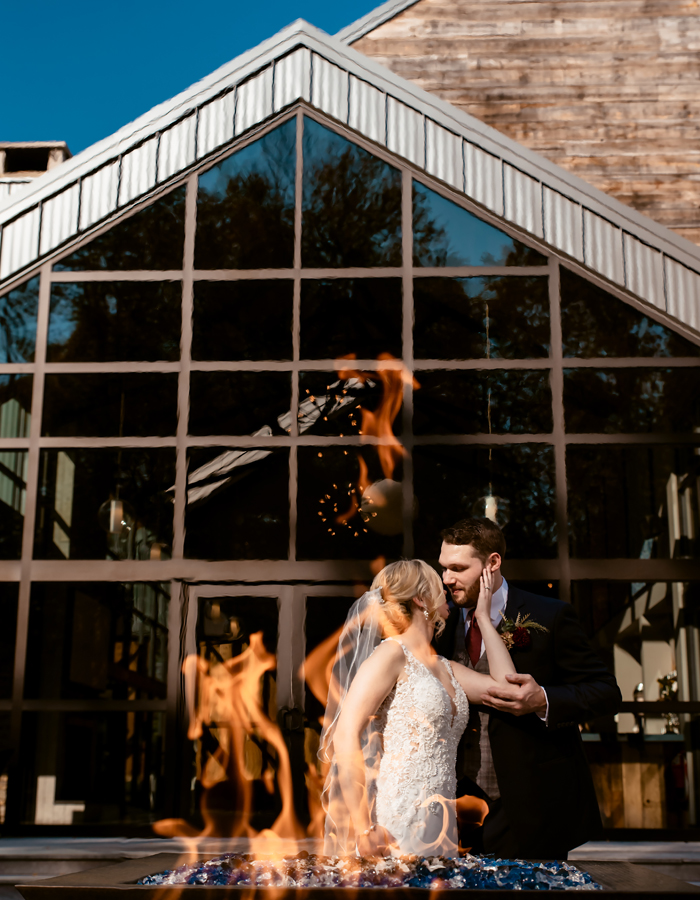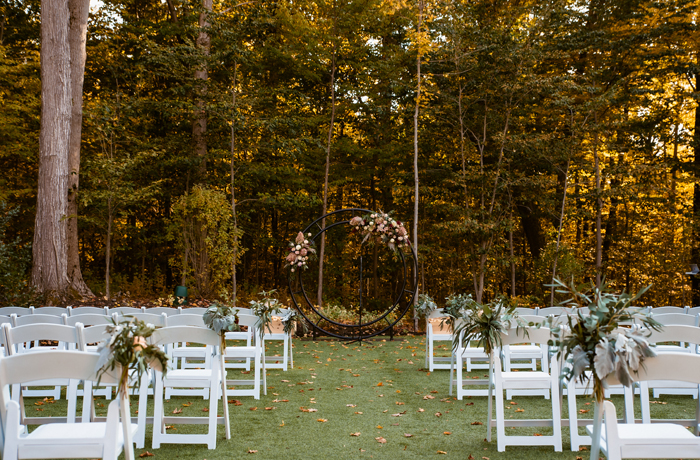 Kaelin's beaded lace dress is from All Brides Beautiful in Hudson. To get her look, shop Isabel from Eddy K's Dreams Collection. Her accessories were from Vera's Ladies Apparel. The bridesmaids wore different styles of the same shade, all from David's Bridal.
The men all wore suits from Boumadi Men's Clothier and Tailoring. Jesse's vest was actually a pair of pants that were transformed into a custom outfit!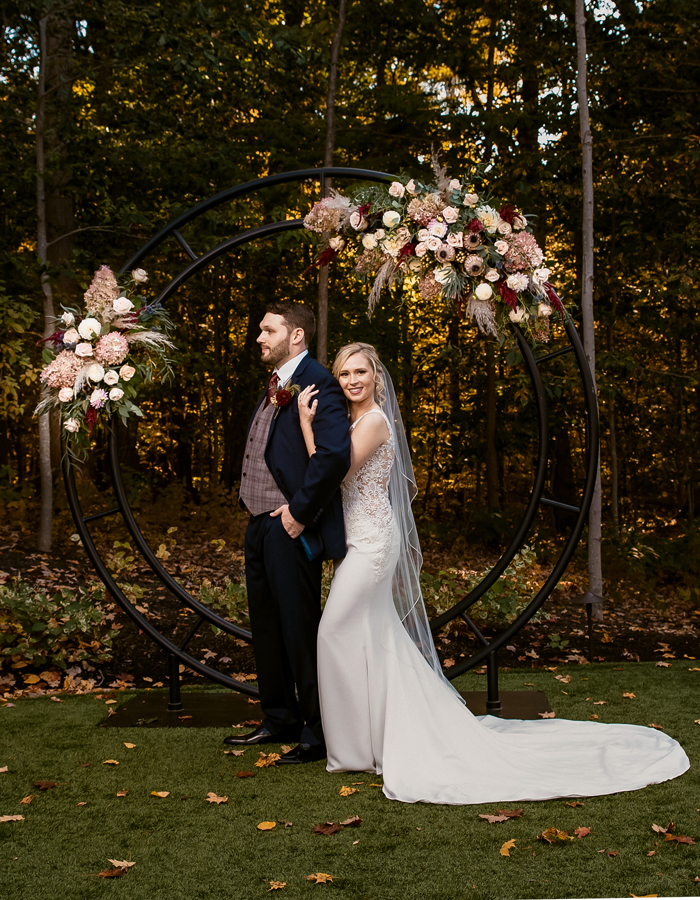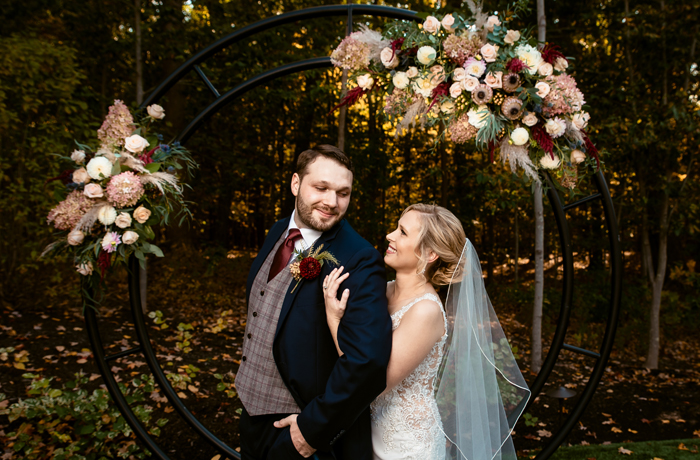 ---
Kaelin and Jesse's wedding colors were wine and navy — perfect for a winery wedding.
This couple did an exceptional job of incorporating their venue into their décor, without seeming overly theme-y. The berry accents in their stationery and florals blend seamlessly with the style and colors of the rest of their décor, and wine barrels and corks are the only on-the-nose decorations you'll see. A little bit goes along way! Take a look.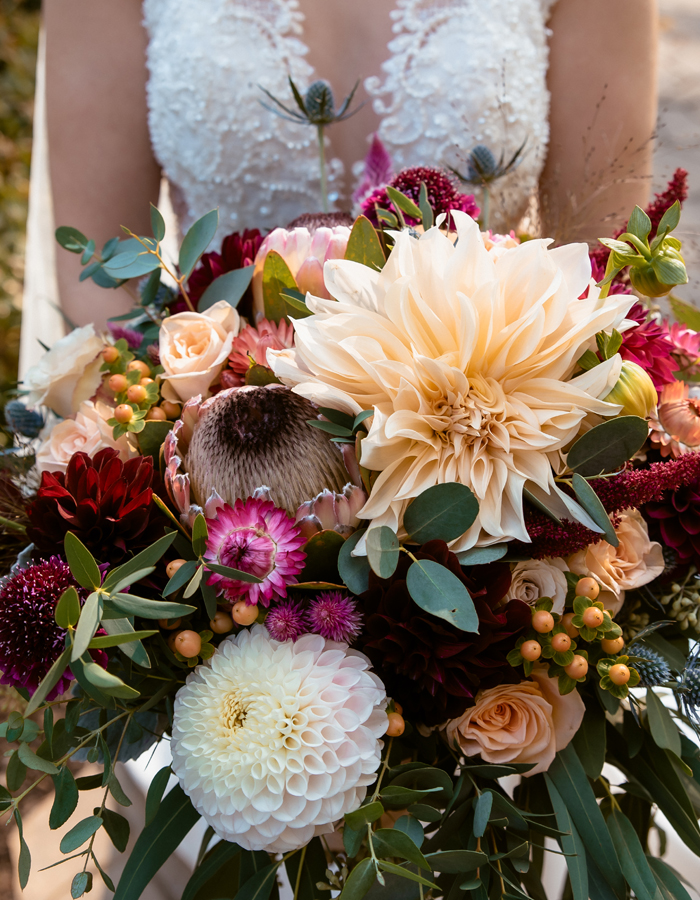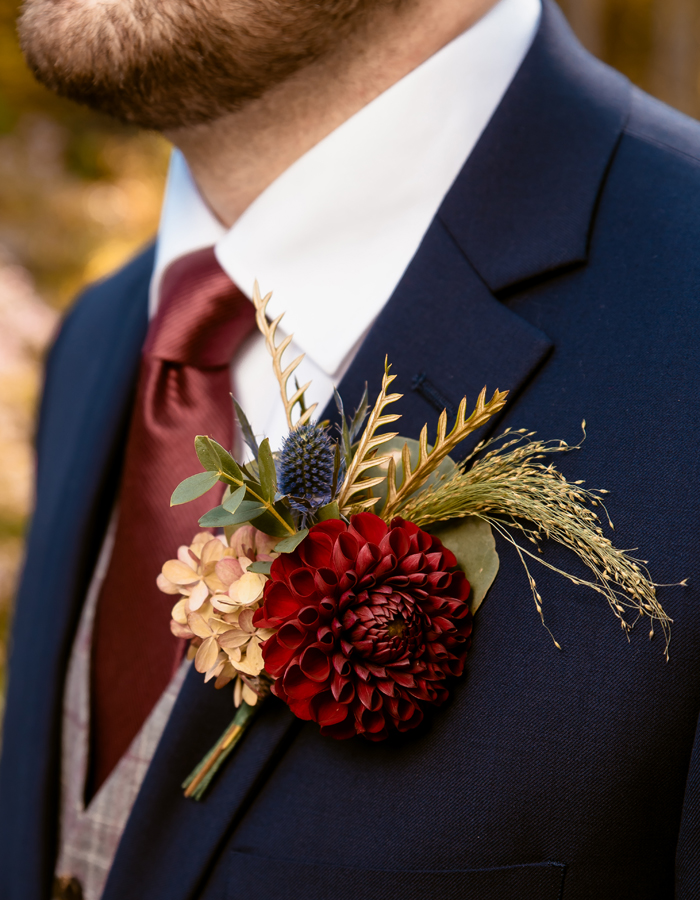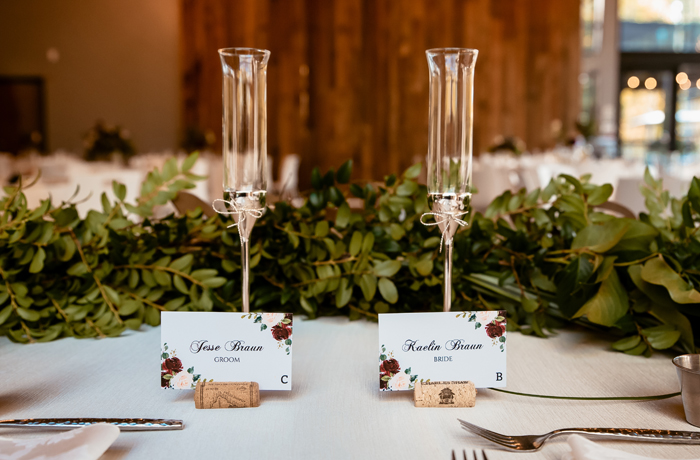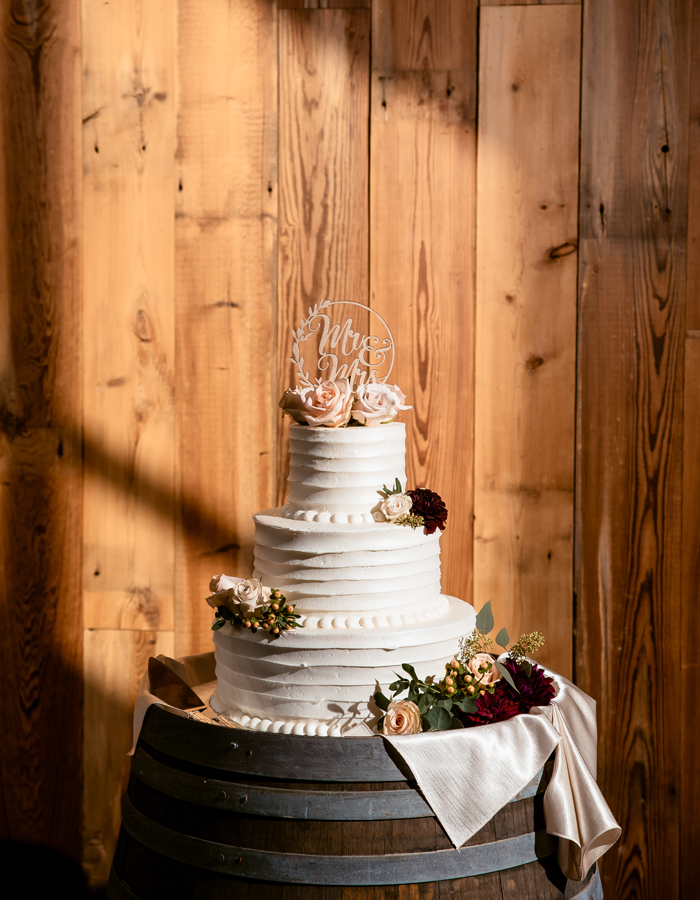 ---
The couple ended their night with a portrait session under the stars, and the results are nothing short of dreamy.
Advice from the bride: "Start early! We learned that there is no such thing as planning 'too early' when it comes to your wedding day. Interview your vendors, and have your questions written down before your meeting — and bring a notebook to jot down your thoughts! We had a lot of success with making a spreadsheet to track our payments/finances and vendor due dates as well as our guest list and RSVPs. Finally, if you're going to splurge on anything, we highly recommend to pick a photographer that makes you feel comfortable, has a style that you like, and is not afraid to help with planning or take the lead! Your day will go by in a blink of an eye (just as everyone says), and having pictures you are IN LOVE WITH to cherish forever, and a photographer that helps you with your day-of plan, is priceless."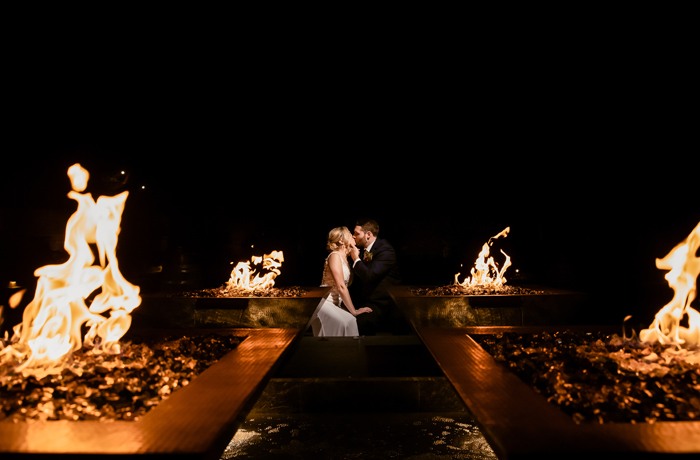 ---
WEDDING vendors
Alterations, Dress Preservation, and Bridal Shop: All Brides Beautiful
Bridesmaid Dresses: David's Bridal
Cake: Michael Angelo's Bakery
Catering, Venue, and Planning: Sapphire Creek Winery and Gardens
Entertainment: Midnight Music DJ Services
Florist: Berry's Blooms
Hair and Makeup: VCS Salon
Jewelry, Accessories, and Mother-of Dresses: Vera's Ladies Apparel
Men's Attire: Boumadi Men's Clothier and Tailoring
Photography: Kropp Photography
Registry: Amazon, Target, and Bed, Bath, & Beyond
---
PHOTOGRAPHERS & NEWLYWEDS: Want your real wedding featured on TodaysBride.com? Submit your photos for consideration!*
*Due to the high number of submissions, we cannot guarantee we will be able to feature your wedding. The selection and publication of Real Weddings is subject to TodaysBride.com.