Kait and Tanner's Industrial Modern Wedding

Kait and tanner's Real wedding | north lawrence, OH
"Forty degrees and rainy" wasn't exactly what Kait and Tanner had in mind for their outdoor wedding ceremony in late May; but their love for each other was shining bright and illuminated the day! Check out our gallery of favorite shots from their breath-taking wedding.

---
Kait and Tanner met at a mutual friend's party. That night, they had no idea that in just a few years they'd be married and living in the same neighborhood where they first met.
If that's not serendipitous, I don't know what is!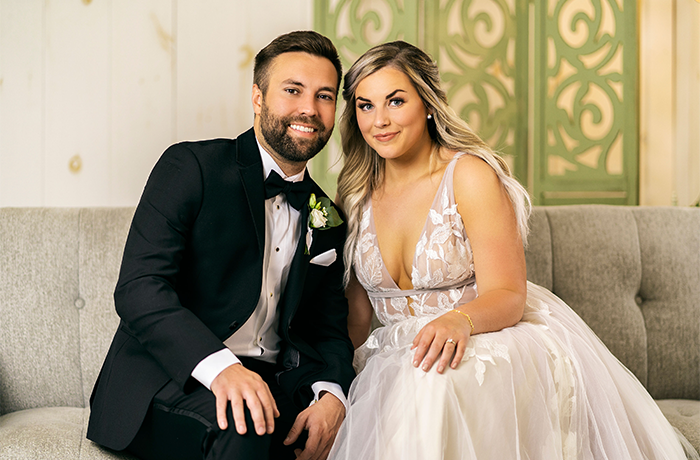 Tanner proposed to Kait at the downtown square in Medina while their families were getting holiday photos taken. During the photoshoot, their doodle ran up to Kait wearing a bandana that read: Will you marry my dad?
"I laughed it off," Kait said. "It didn't even process!"
But then she turned around to see Tanner down on one knee with a beautiful ring. Not only was the proposal caught on camera by the photographer, but both of their families were there to celebrate and pop champagne. Well done, Tanner!
---
Kait's stunning dress, from The Dress Bridal Boutique, had an elegant, floral pattern.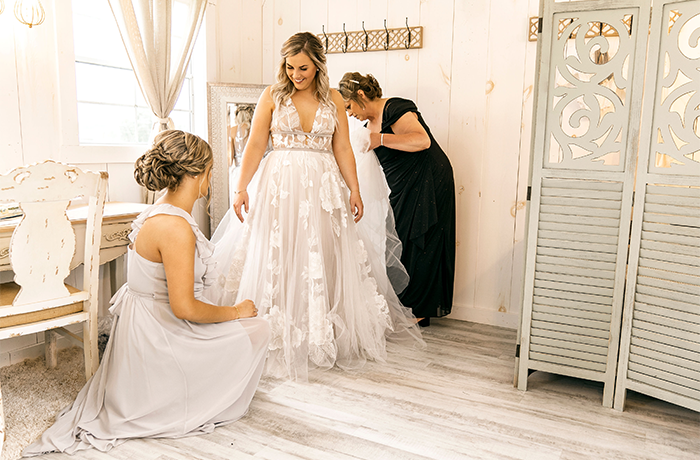 The bridesmaids wore different styles of the same shade from Revelry.
The guys wore suits from Men's Wearhouse.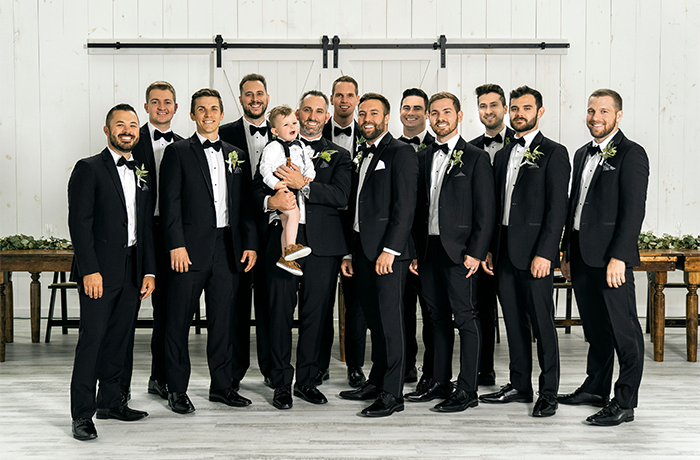 ---
Kait and Tanner's wedding colors were black, white, gray, and sage.
They did a phenomenal job at executing their theme: industrial modern.  The black, gray, and sage décor created the perfect mix of contrast and warmth against the crisp brightness of the venue's features.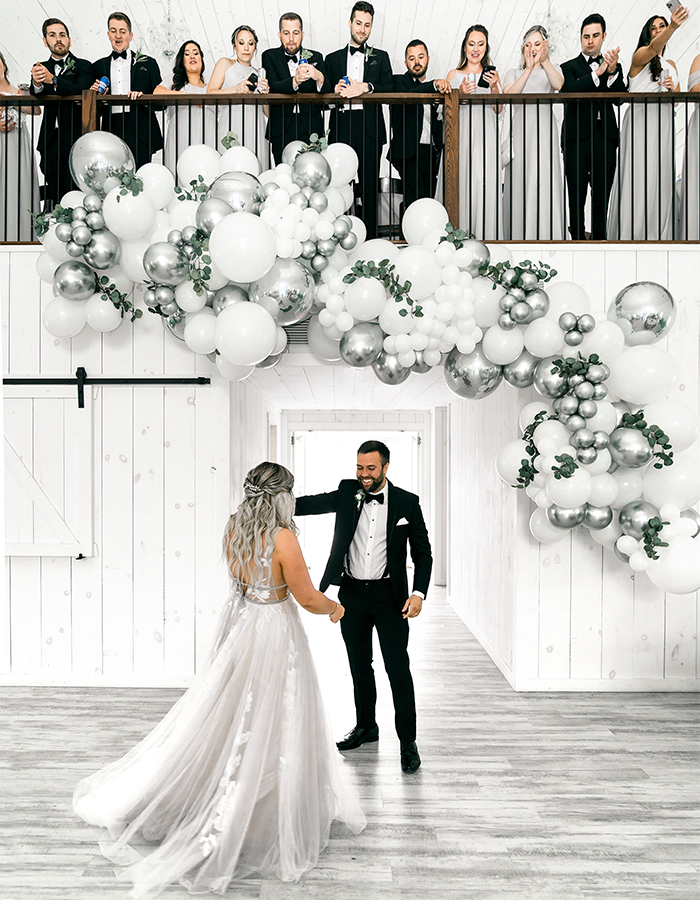 ---
We're in LOVE with all the special features this couple incorporated to make the wedding perfectly and uniquely "their own." Check it out for yourself!
They had not only one — but TWO — food trucks: Swenson's and Bahler's Street Pizza.
A sophisticated bourbon and cigar bar.
And last, but certainly not least, a BUBBLY BLASTER! How cool is that?!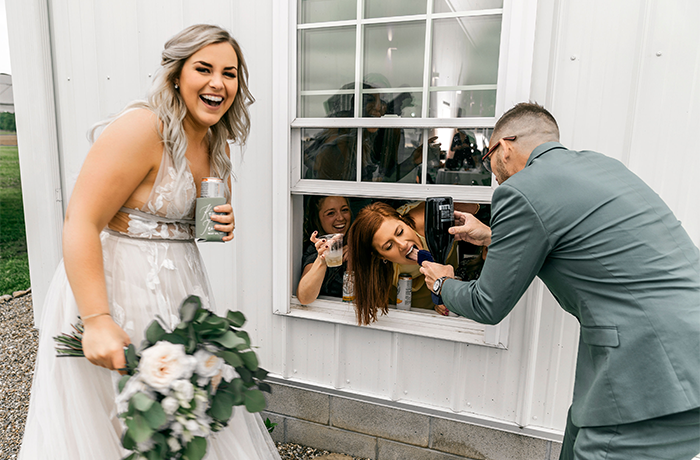 ---
The newlyweds spent the rest of the evening dancing the night away surrounded by their friends and family.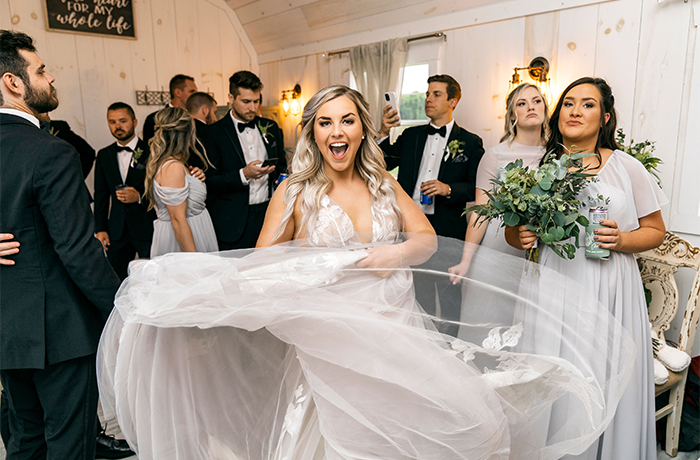 And there you have it! There's no raining on Kait and Tanner's parade!
---
Advice from the bride: "Decide early on what's really important to you and your partner for your wedding and let the rest go. For us, the music, food, and drinks were most important so we could make sure our guests had an amazing time – so we spent a lot of time curating an evening that really fit our vibe. If the ceremony, cocktail hour, and desserts are most important to you, then focus on that and make sure it's perfect. Not everything is going to go right the day of, but knowing that going in and understanding the most important things are taken care of is super helpful!"
---
WEDDING vendors
Bridal Shop, Jewelry, & Accessories: The Dress Bridal Boutique
Bridesmaid Dresses: Revelry
Day-of Wedding Coordinator: Dakota Hoffman
Donuts: Circles on The Square
Catering: Swenson's & Bahler Street Pizza
Entertainment: Ryan Layman from Ohio DJ Pros
Florist: Kay Perrine
Guest Accommodations & Transportation: Hilton Akron / Fairlawn
Hair and Makeup: Renne Marie Salon & Sunny Douglas with MAC Cosmetics
Men's Attire: Men's Wearhouse
Photography: Justin Gamble Photography
Registry: Amazon
Venue: White Rose Barn
---
PHOTOGRAPHERS & NEWLYWEDS: Want your real wedding featured on TodaysBride.com? Submit your photos for consideration!*
*Due to the high number of submissions, we cannot guarantee we will be able to feature your wedding. The selection and publication of Real Weddings is subject to TodaysBride.com.