Abby & Shane's Real Wedding
Abby & Shane's Real Wedding | mogadore, Ohio
What do you get when you combine the great outdoors, a playful sense of humor, eight nieces and nephews, and tacos? Abby and Shane's dream wedding day! Read below to learn how they perfectly and uniquely incorporated the things they love into their special day.
---
their story
Abby and Shane met in 2018 through mutual connections: Abby worked with Shane's cousin, and Shane was the Athletic Director and baseball coach at Abby's nephew's school. They hit it off immediately and quickly learned how much they had in common: they both love being outside, they have a shared sense of humor, and they deeply love their families. And although Shane wasn't a fan of Mexican food at first (which is Abby's absolute favorite), that gradually changed over time — phew! They dated for two years before Shane popped the question during the sunset over Lake Chautauqua in June of 2020. 
---
THEir LOVE FOR THE GREAT OUTDOORS
Abby and Shane's wedding planning journey started with the search for their ideal venue. They wanted a venue with breathtaking scenery, as well as a beautiful indoor space in the event that the ceremony had to be moved inside (you never know with Ohio weather). They visited The Barn at Walnut Drive and fell in love with it immediately. The venue sits on a strawberry farm in a quaint township halfway between Abby and Shane's hometowns. They loved its stunning outdoor views, open sky, the surrounding lush greenery, and strawberry fields.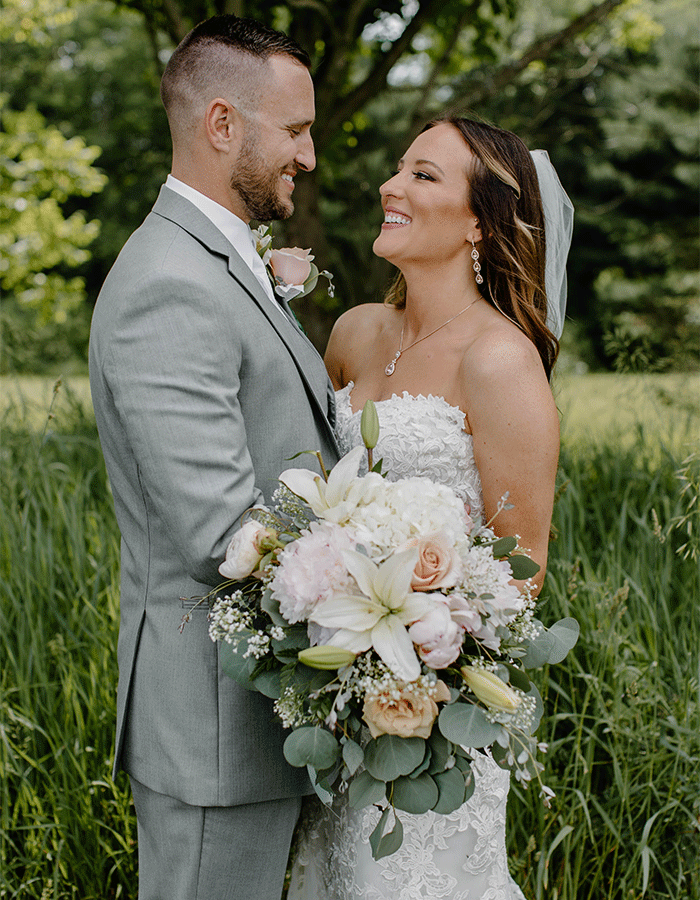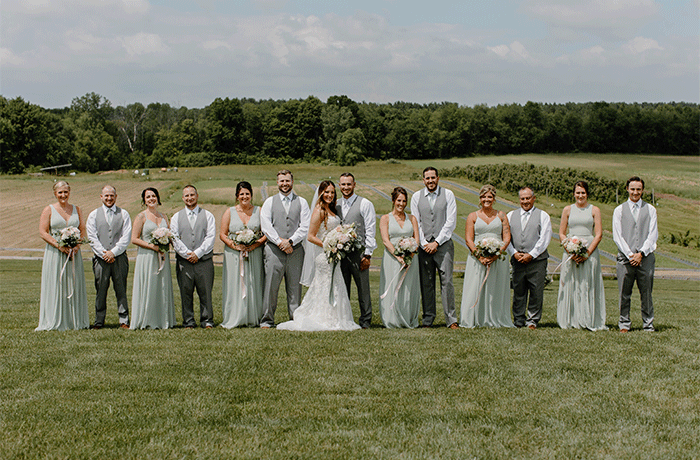 To go along with their love of nature, they chose earthy tones as their wedding colors: deep navy and sage (and just a touch of light pink).
---
CALMING THE pre-wedding JITTERS
To make the "intimate" first look EXTRA memorable, Abby arranged for Shane's best man to surprise him in a white dress.
"Shane isn't the type to get nervous, but it's normal to have at least SOME jitters on your wedding day," Abby said. "Shane and Erick have a 'bromance,' and I knew this would crack him up."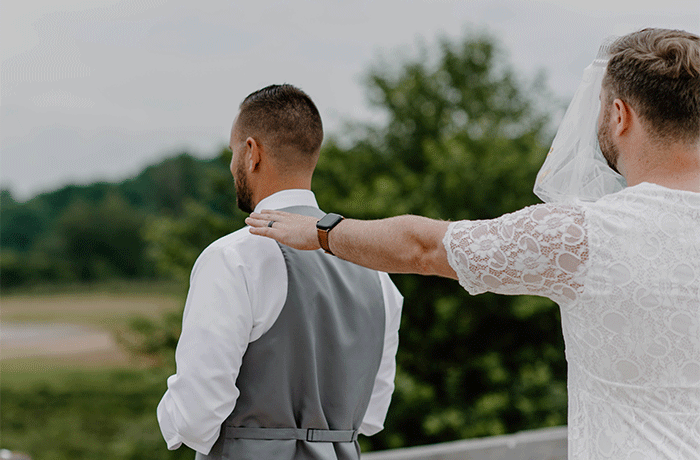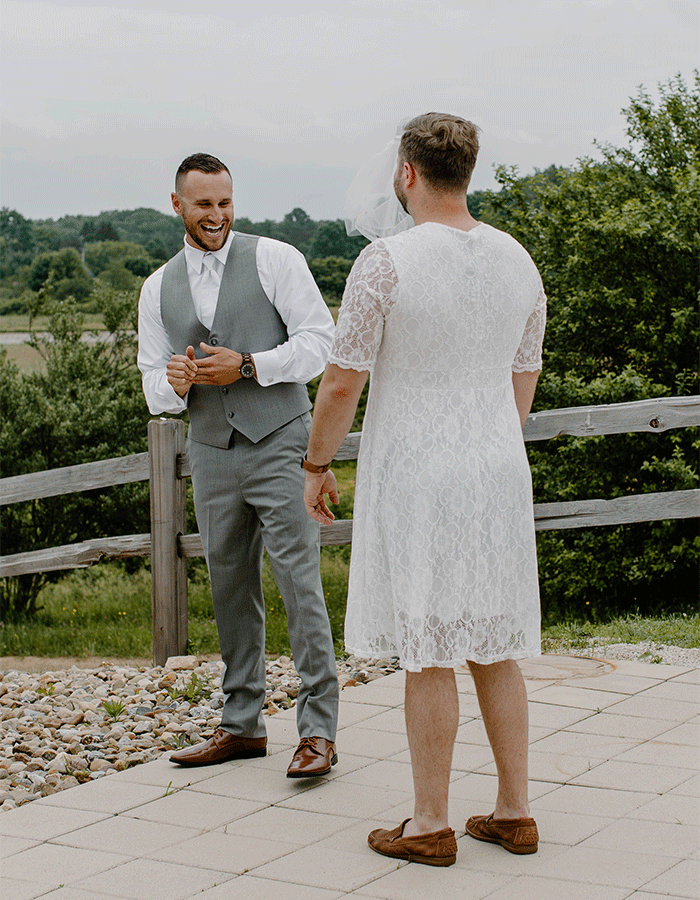 ---
AUNT & UNCLE LIFE
Family is everything to Abby and Shane — and with one niece and seven nephews, they incorporated all of them into their special day. Their two oldest nephews, Jackson and Ty, were ushers; Levi and Nolan were the official ring bearers, with Jake and Josiah as their assistants; their Niece, Nora, was the flower girl; and as a six-month old, Gavin didn't have any responsibilities other than to look cute — easy enough!
---
TACO 'BOUT A GOOD TIME
Another special touch to Abby and Shane's wedding was their choice in caterers: The Barrio Food Truck. "Having Barrio cater our wedding was awesome, and all of our guests loved it too," Shane said. "We eat there at least once a week, so it was just another way we made our wedding special."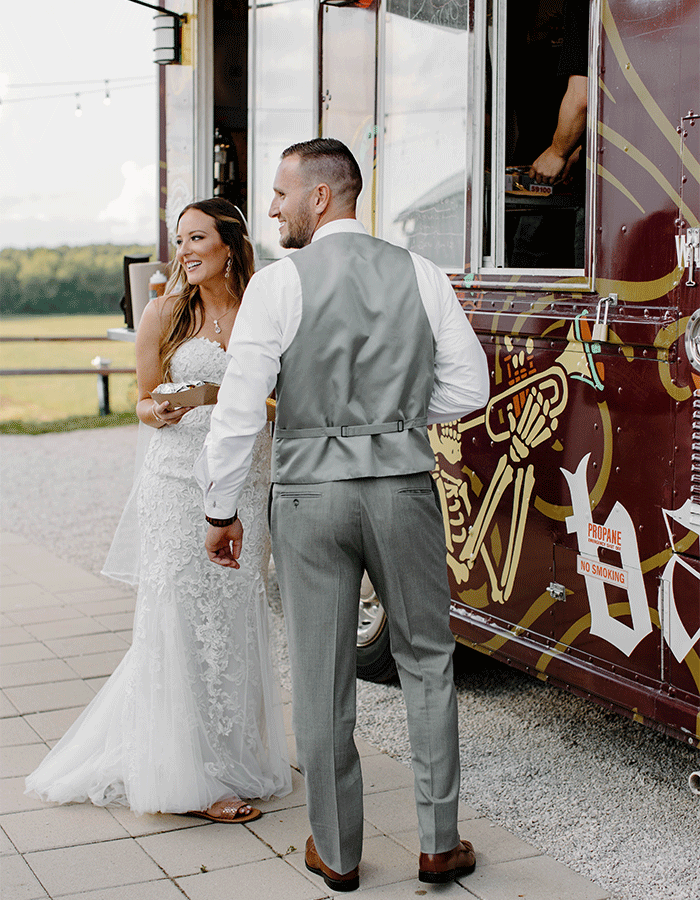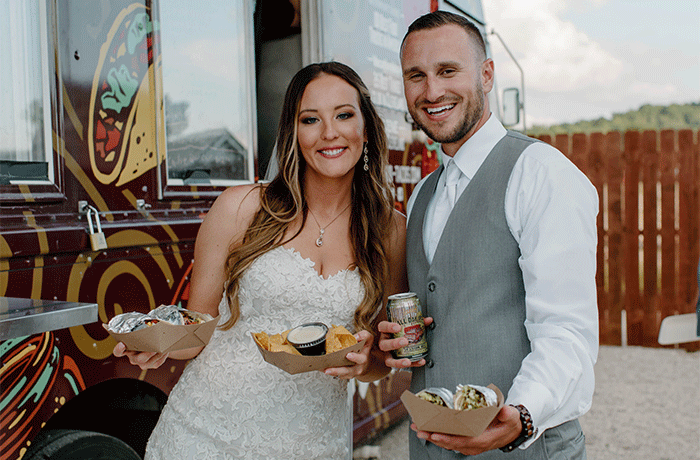 ---
HONORING LOVED ONES
In honor of loved ones who have passed away, Abby and Shane displayed their photos at a memorial table.
Another special detail was having Abby's grandpa's beloved '53 Oldsmobile Rocket 88 at the venue. She and her grandpa had a special bond, and he unfortunately passed away a few months before the wedding. "To say that my grandpa absolutely loved his cars would be an understatement," Abby said. "Having his car parked in front of the venue was like having a piece of him there."
---
IT'S ALL IN THE DETAILS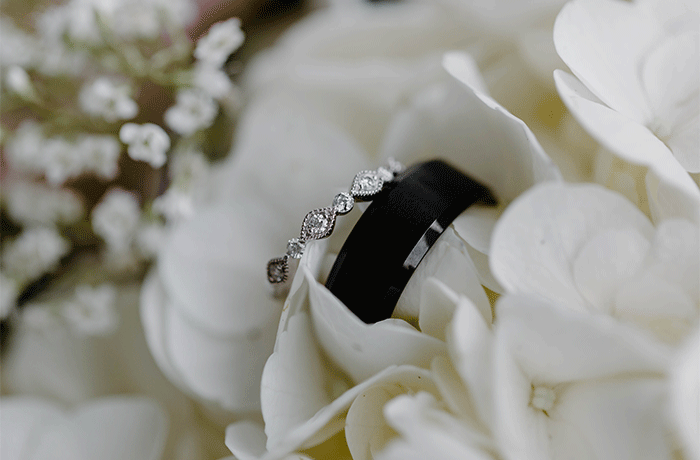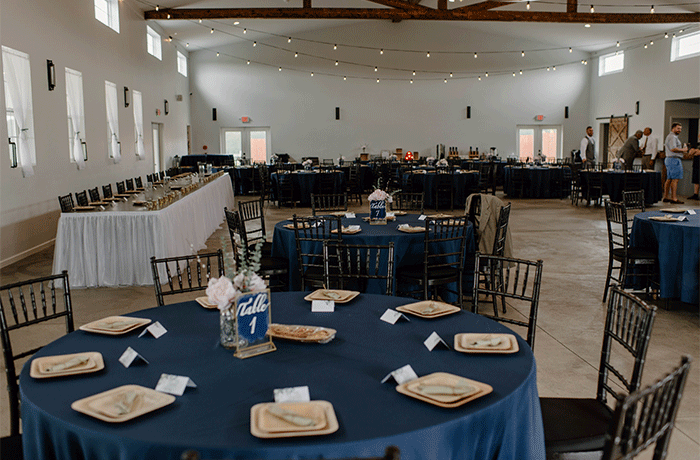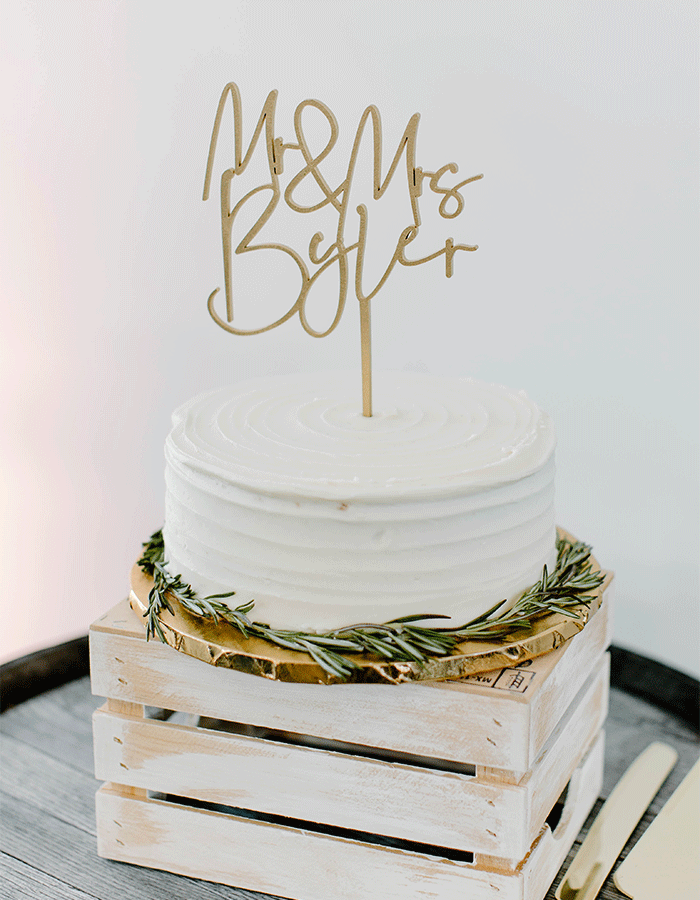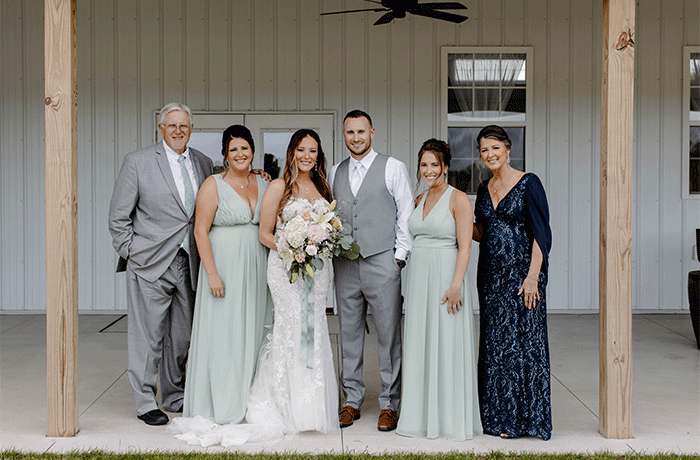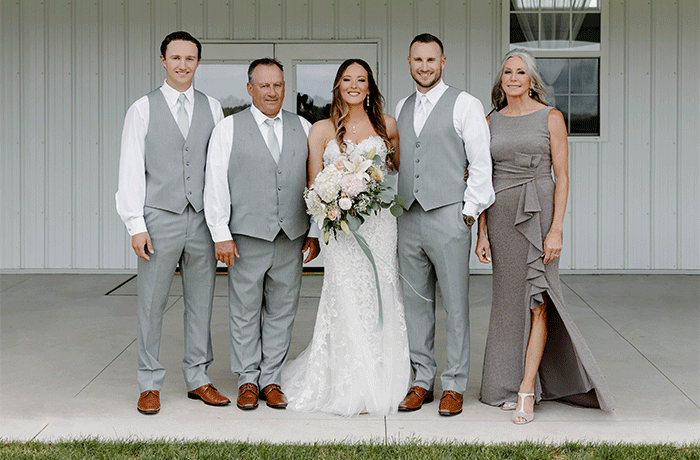 ---
ADVICE FROM THE BRIDE
"You will never regret adding as many significant details as possible into your wedding day. Put intentional thought behind every decision you make, no matter how big or small. When everything comes together, it will make the day THAT much more special, memorable, and uniquely "you."
---
---
Vendors
Photographer: Hannah Donze Photography
DJ: Brooks Music
Linens / Rentals: Miller's Party Rental Center
Videographer: Rogan Productions
Men's Attire: Men's Wearhouse
Bridesmaids' Gowns: Azazie
Venue: The Barn at Walnut Drive
Caterer: Barrio Food Truck
Bar: Drink Slingers
Bakery: Schroll's Bakery
Make-Up Artist: Coco Miletti-Hall
Hair: Jozie Styles
Florist: Flowerama
Gift Registry: Target, Amazon, Bed, Bath & Beyond