Spooky Styled Shoot
STYLED SHOOT | OHIO
This spooky styled shoot is sure to get you in the spirit of the season! The collaborating vendors considered each and every detail to make this design absolutely haunting – from the eerie fog to the creepy moss hanging from the vintage chandelier. To brighten up what could be a very dreary color scheme, they added accents of purple in the flowers, napkins, candles, and cotton candy! Though you don't immediately think of a black dress when you think wedding, the delicate lace and nude bodice scream bridal while simultaneously anchoring the entire theme. Check out the photos below, captured by Sabrina Hall Photography, to show how you can host a holiday wedding in an elegant and eye-catching way.

reInspired Bride tied the whole shoot together with little details and special touches like this skull and tapered purple candles.

How cool is this arch and chandelier provided by Sitting Pretty Linens?!

Nikki's Perfect Petals did a great job of adding bright reds, pinks, and purples to this bouquet while keeping the moody, dried-flowers feel.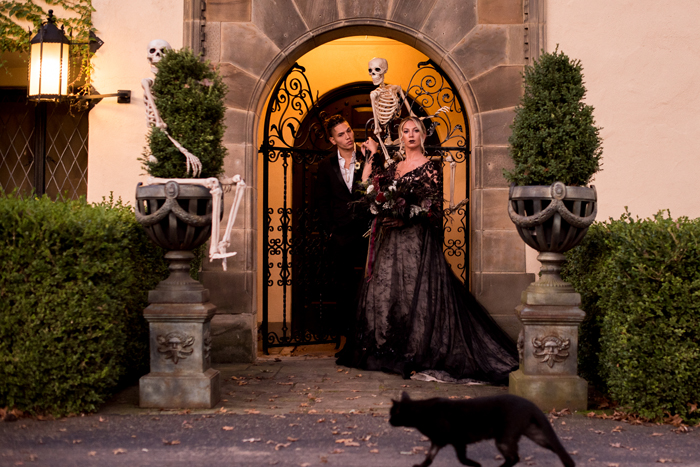 This black cat was completely unplanned, but it definitely added a spooky vibe!
Vision, Flowers, and Design: Nikki's Perfect Petals
Dress: The Dress Bridal Boutique
Flowers: Solis Agro Flower Farm
Arch and Linens: Sitting Pretty Linens
Invitations: Impress Event Branding
Photography: Sabrina Hall Photography
Coordinating and Rentals: reInspired Bride
"Dancing on the Clouds" fog: One T Entertainment
Cotton Candy: Art of Sucre
Bride's Hair and Makeup: Beauty Therapy Inc.
Groom's Hair: SonnieV