Four Must-Know Tips for Trying a Color Dress Code
Have you ever seen photos of a wedding party dressed in all white and thought to yourself, "Wow, they look STUNNING"? If so, you're not alone — more and more people are experimenting with a color dress code.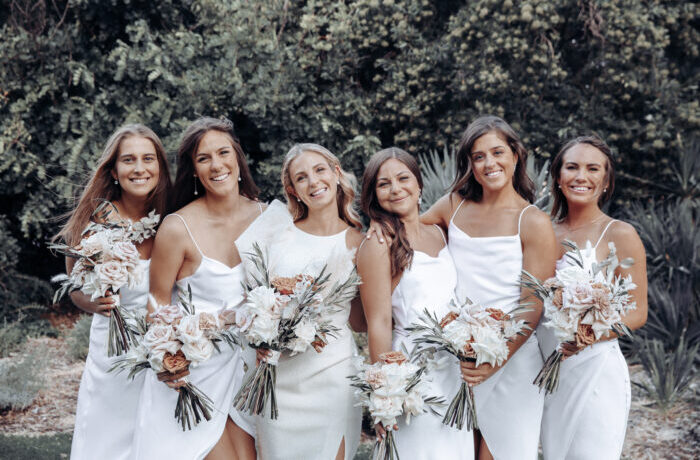 There is something about a monochromatic wedding that ties everything together in a classic and classy way. Now, imagine for a moment what it would look like if all of your guests wore one color as well. Successfully executing a color-oriented dress code for your wedding is an undeniably impressive feat. But it can make for gorgeous wedding photos and a generally stylish, elegant, and curated vibe for your day. 
But how do you pull it off? Whether it's an all-white wedding you're after, or you'd simply prefer for your guests to sport blue at your beach wedding, you'll have to put in some extra effort to make sure your ceremony is monochromatic. On top of that, you might need to brace yourself for some not-so-happy in laws. Samantha Twist provided some insight on this in this viral TikTok: "Basically, everybody was enraged … one of my aunts even told me that if I care so much about what she wears, she's just not going to show up," Samantha recalled. But in the end, what she ended up with were beautiful, cohesive wedding photos that really didn't cause any lasting damage to her relationships with her loved ones. (What's wedding planning without a little in-law drama, anyway?)
If you love this idea, but you're nervous about seeming over-demanding about your dress code request, don't be. Your wedding should be your vision, and there's a way to go about it so you don't put people off with your request. Read on for our three must-know tips on implementing a color dress code at your wedding.
Color dress code Tip #1: Ask, don't tell
You want to tell your guests to wear a certain color without actually telling them to wear a certain color? First, get the wording right. 
Your wedding guests will be looking for your dress code on your invitations and wedding website. But, they might not love being told exactly what to wear. Some guests may be on a tight budget, have a staple dress that they wear to every wedding, or just not put a lot of thought into what they wear most of the time. Thus, you should be careful with your phrasing. 
Alongside your attire, try something along the lines of, "Please indulge us by dressing in white, if you don't mind." Or, you could try something like, "Our theme colors are neutrals and near neutrals, like shades of beige, baby pink, and sage green. If you're interested in color matching, we would be delighted!" This way, you are asking rather than telling — it's a little gentler, and stubborn guests are less likely to be put off by the request!
color dress code Tip #2: Spread the word strategically.
The key word here is "strategically." What do we mean by that? We're glad you asked.
You should spread the word about your color dress code by including it on your wedding website, invitations, and even save-the-dates. Duh! But we also recommend that you not underestimate the power of word-of-mouth communication. Enlist your wedding party members (or whoever else is in your communication plan, like coordinators, planners, or relatives) to spread the word about your dress code by mouth. This ensures that in the myriad of info you include online and on your papeterie, your dress code isn't lost or forgotten. 
Moreover, it gives your guests the option to ask questions about the dress code — and gives you a platform on which to defend the dress code. If Aunt Susie wants to know why you feel the need to tell your guests what to wear, you can gently remind her that you would like the photos that you're spending thousands of dollars on to look exactly how you envisioned them. You can say, "It's not you, it's me! I'm sure you would wear something beautiful either way. I just would be so grateful if my loved ones would help to make my vision a reality." If people understand where you're coming from, they will have no reason to be offended by the request! 
color dress code Tip #3: Provide examples.
If this idea is new to you, it will undoubtedly be new to your guests. So, enlighten them!
It's 2021. Inspiration is everywhere. All you have to do is say the words color dress code and you will undoubtedly be seeing them pop up on your Instagram Explore page, your TikTok For You Page, your Facebook Ads, you name it. Take advantage of this! If you see something you like, screenshot it, download it, save it, and show it to your guests!
Providing people with example photos, color swatches, and videos of exactly what you're imagining will make your color dress code seem a little less foreign and daunting to them. Ideally, you'll inspire your guests just like you were inspired. They'll be just as excited to be a part of your vision as you are to see it brought to life. 
Another tip is to make sure you are showing your guests LOTS of options. If you want everyone in blue, don't just post a couple navy color swatches. Post navy, dusty blue, sky blue, baby blue, and a soft turquoise. Throw in some neutral swatches too, like shades of gray or black, for your guests who shy away from color. (Plus, who doesn't have a little black dress in their closet?) You can even offer your guests creative ideas like a dress with blue flowers or seersucker fabric. 
Post these examples directly on your wedding website, or even craft a Pinterest Board of inspiration and link to that. It shouldn't feel like a chore for your guests — it should be fun! 
Most importantly, plan ahead. 
This one speaks for itself. A color dress code is usually NBD. But don't decide to do this on a whim a month before your nuptials. You'll risk inconveniencing people who've already shelled out money for wedding outfits that probably don't fit your new dress code. Give your guests enough time to find an outfit that is in line with your dress code and their budget. This could mean purchasing a new look, renting one, finding something already in their closet, or borrowing from a friend. You're asking them for a favor — don't put them in a difficult position!
In the end, a properly executed color dress code is sophisticated, cohesive, and all-around stunning. It will make for gorgeous photos that you will look back on for a lifetime. Plus, it can give your day exactly the vibe you are looking for! It's not for everybody. But, if it's something you're loving the sound of , then don't be afraid to give it a shot! Just remember to be flexible, be polite, and be open with people, and you can't go wrong.