Dreamy and Romantic: A-Line Gowns
When shopping for your wedding gown, so many different things come into play. What kind of dress will look best on me? What style gown is my favorite? In order to help you find your dream dress, we've created this guide to one of the most popular dress styles: A-line gowns.
How It Began
The name A-line describes this type of gown perfectly. The triangular silhouette of this kind of dress is fitted at the top and flows out as it descends. The structured gown flares out to form the shape of the letter A, hence the name.
The term A-line entered the fashion world in Christian Dior's 1955 spring collection which he named, you guessed it, the "A-Line." Since that spring collection, the A-line dress has stood the test of time and remained a classic style as the decades went by.
Is An A-Line Right for Me?
Perhaps the best thing about A-line gowns – they can work for anyone! The trim on the top with a skirt that gradually widens is compatible with many different body types. No matter your figure (hourglass, inverted triangle, square, etc), you can find an A-line dress that compliments you! The design of this type of gown is also especially flattering for wide hips as it balances shape by slimming the top half of your body before flaring out as it descends.
You can find stunning A-line gowns from dozens of designers including Stella York, Casablanca, Maggie Sottero, Adrianna Papell, Simply Val Stefani, Bill Levkoff, Christina Wu and Sorella Vita.
Since A-line gown are such a popular and classic style, they are not hard to find. Find and try on these gowns at Lavender's Bridal Salon in Dover!
Duchess of Cambridge, Kate Middleton's iconic gown for her wedding to Prince William in 2011 was an A-line style. More recently, Priyanka Chopra wore an A-line style dress by Ralph Lauren that she paired with a dramatic 75ft long veil.
Fabrics and Accessories
Casablanca Style: Liliana

Maggie Sottero Style: Matilda Lynette
A-line gowns are compatible with many different fabrics and styles, from silk to lace to strapless or sleeved. The overall compatibility of these gowns makes them a perfect choice for a bride who might not have a specific gown in mind.
As for accessories, they can be as eclectic as you want! Whether you want an elaborate updo with minimal jewelry or statement jewelry with your hair down, there's an A-line dress to go with any style.
One classic look that best accompanies A-line dresses is to wear your hair half up-half down with a pair of dangling earrings. This looks especially flattering with a v-neck gown. The combination of half up half down helps to soften the lines and angles of a v-neck dress as well as keeping your hair away from your face and showing off a pair of statement earrings.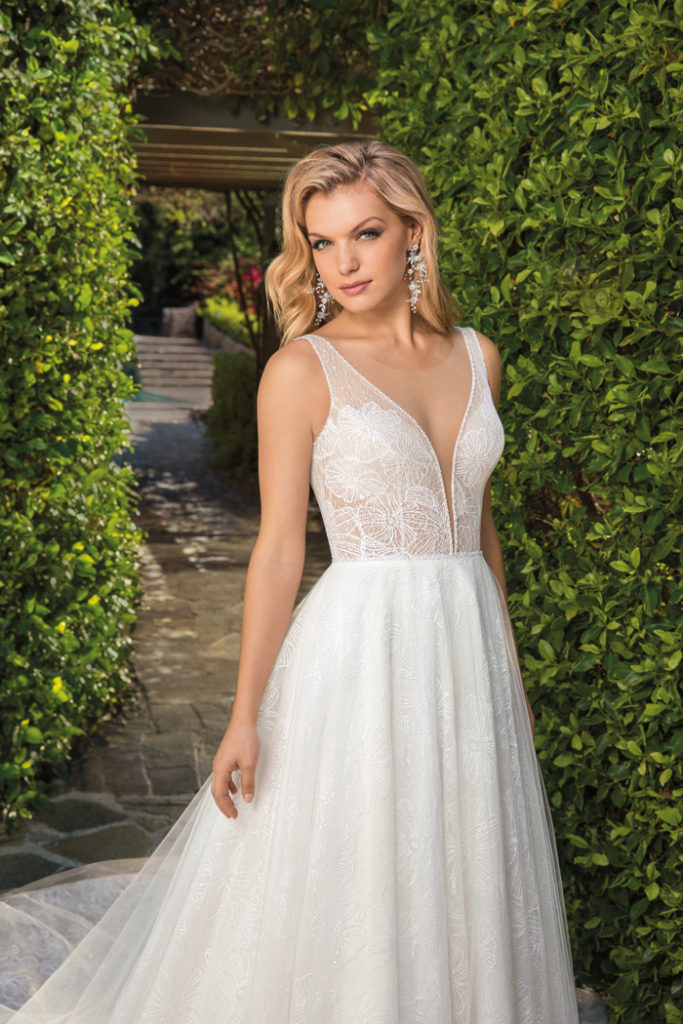 Dresses such as the one above, with dainty or cap sleeves, pair well with a free-flowing hairstyle. Long loose curls or classic Hollywood glam are perfect for gowns like these. If your dress is more of a simple style, add an intricate braid or hair clip. If your dress makes a statement, keep your hair simple and accentuate the details of the gown.
---
This blog is sponsored by Lavender Bridal Salon. Choosing a wedding dress is a big deal, and Lavender makes shopping for your gown special. Lavender is determined to help brides feel 100% happy and confident in their dress choice. With the help of their experienced bridal stylists, the option of custom designs, and their overall knowledge of the industry, Lavender is dedicated to helping brides find the perfect dress for their big day. Lavender has dresses from a number of top-notch designers such as Stella York, Casablanca, and Christina Wu.